Borgnine found love in Las Vegas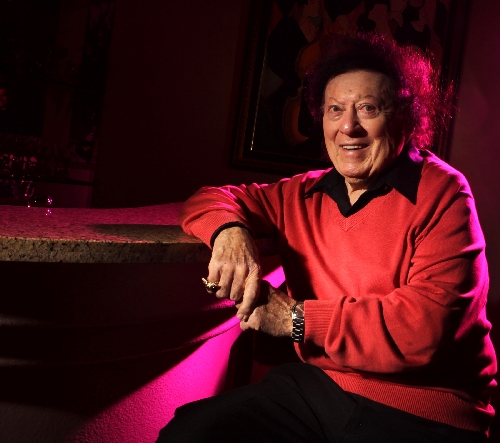 After four failed marriages in 16 years, Oscar-winning actor Ernest Borgnine finally met his match when introduced to a Norwegian makeup artist from Las Vegas.
Comedian Marty Allen remembers it well because he was the matchmaker.
"I was opening at the Flamingo with Mama Cass, and my wife, Frenchy, was getting her hair and makeup done for opening night," said Allen, a longtime Las Vegas resident.
Someone called Caesars Palace and "they sent over a girl from the beauty parlor," recalled Allen, best known for his many appearances on "The Ed Sullivan Show" as half of the Allen & Rossi comedy team with Steve Rossi.
When the attractive 30-something makeup artist arrived, Allen thought about setting her up with his friend Borgnine.
He asked her if she was married. She wasn't. He mentioned a birthday party in Los Angeles. Would she be interested in joining Allen and his wife and Borgnine.
Tova Traesnaes agreed to the blind date.
Allen arranged to have Borgnine pick her up for the dinner at Chasen's, a West Hollywood hot spot known for its entertainment A-list crowd.
Allen offered his movie star pal some advice.
"I told Ernie, 'As soon as she opens the door, don't say, "Will you marry me?" Just say, "I'm here to take you to dinner." ' "
It went well, and Ernie and Tova were married Feb. 24, 1973, and were together until Borgnine's death July 8 at 95.
It turns out it wasn't technically a blind date after all.
Tova told longtime friends Mel and Marilyn Larson that well before their introduction, she had worked on Borgnine in the Caesars Palace salon, and they both later remembered it.
THE SCENE AND HEARD
To most of her neighbors at the Regency Towers at the Las Vegas Country Club Estates, Anna Kelly was known as the frail octogenarian often seen pushing a baby stroller with her favorite pet onboard.
Few knew her real story.
She was among the nurses in the 67th Field Hospital that treated the worst of the wounds while supporting the 9th Army on its push across Europe from Normandy to Berlin.
She met Gen. George Patton, helped save American lives during the Battle of the Bulge, and cared for men and women who were barely alive in liberated Nazi death camps.
She died June 19 at age 91. She wasn't forgotten.
A memorial was held Sunday at the Regency Towers to remember a woman with an amazing story.
SIGHTINGS
Actors and best friends Leonard DiCaprio and Tobey Maguire, dining at CUT (Palazzo) on Saturday with friends. Maguire, who teams up with DiCaprio in Baz Luhrmann's "The Great Gatsby," ordered vegan items while the others dined on U.S.-style and Australian-style Kobe beef. DiCaprio ordered a Raspberry Velvet with Grey Goose. … New York Jets quarterback Mark Sanchez, at Marquee (Cosmopolitan). … Music mogul Sean "Diddy" Combs, revving up the crowd at Lavo (Palazzo) for an appearance by Cassie, who sang her new single, "King of Hearts." Also spotted: Singer Ray J, Whitney Houston's ex, at Cassie's table. … At the Amir Khan-Danny Garcia fight at Mandalay Bay on Saturday: boxing figures Oscar De La Hoya, Bernard Hopkins and Paulie Malignaggi and Los Angeles Lakers forward Metta World Peace, formerly known as Ron Artest. … At the Burlesque Hall of Fame on Saturday: members of the "Absinthe" cast, including Penny Pibbets, The Gazillionaire, Melody Sweets and tightrope walker Tony Hernandez.
THE PUNCH LINE
"Kobe Bryant said that this year's Olympic basketball team could beat the 1992 Dream Team. Of course they could. All the guys from the '92 Dream Team are, like, 50 years old." – Jimmy Fallon
Norm Clarke can be reached at 702-383-0244 or norm@reviewjournal.com. Find additional sightings and more online at www.normclarke.com. Follow Norm on Twitter @Norm_Clarke.