AG Sessions: 'I'm not taking sides' in Bundy case
Updated July 12, 2017 - 8:09 pm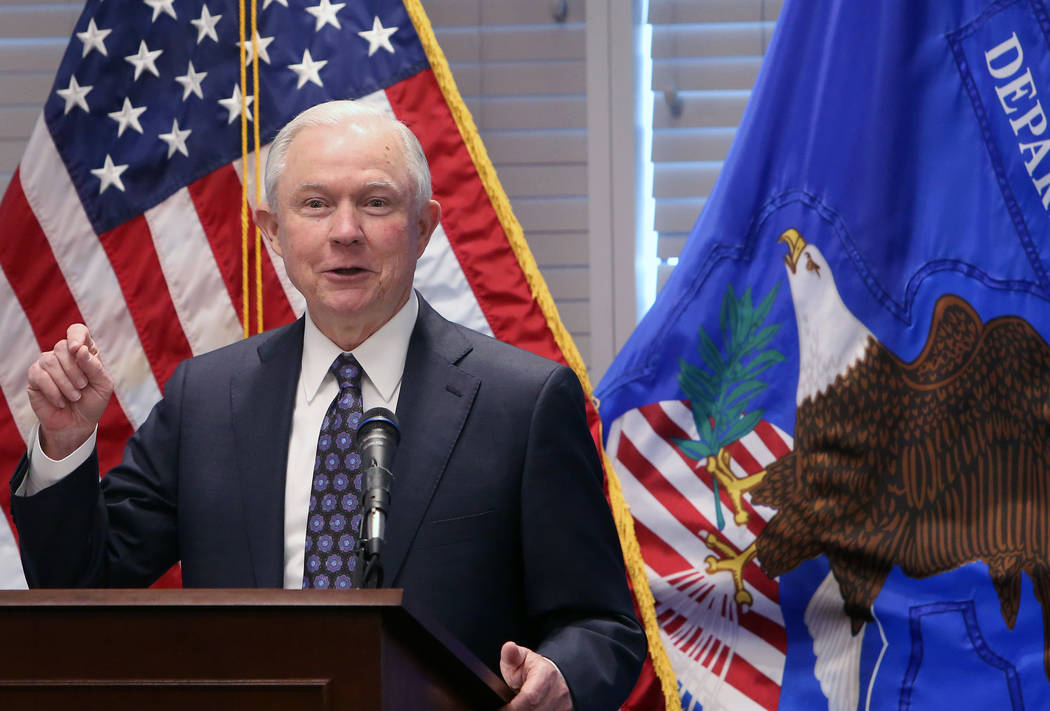 U.S. Attorney General Jeff Sessions made a brief reference to the ongoing Bunkerville standoff trial Wednesday when he offered praise to the lead prosecutor, but he declined to take a side in the case that his Justice Department is prosecuting.
"I've got to tell you, it's impressive when you have a tough case, a controversial case, and you've got the top guy leading the battle, going to court, standing up and defending the office and the principles of the law," Sessions said of Nevada Acting U.S. Attorney Steven Myhre.
"I'm not taking sides or commenting on the case," Sessions said. "Just want to say that leadership requires, a lot of times, our people to step up and be accountable."
Sessions' comments were significant because supporters of rancher Cliven Bundy previously have signaled that they see a potential ally in the Trump administration.
Bundy is a leader of a small-government movement that espouses individual rights principles. Supporters of the movement tend to represent a small faction of conservative libertarianism, one that is viewed as extremist in mainstream political circles, but their views on the role of government align more closely with current administration policies than was the case when former President Barack Obama was in office.
That was evident in the throngs of Bundy supporters who rallied outside the U.S. attorney's office when Sessions gave his remarks Wednesday. The supporters held signs supporting both Bundy and President Donald Trump. They called for the release of more than a dozen defendants who were arrested in the case.
Meanwhile, Roger Stone — the longtime on-and-off adviser to Trump — is scheduled to speak at a pro-Bundy rally in Las Vegas this weekend to raise money for the rancher's legal defense fund.
"The Bundy Ranch case hasn't gotten the proper coverage it deserves and what's more outrageous is the Govt's conduct towards 17 men arrested at a Rally in support of the Bundy family," Stone said in an emailed statement.
The event is scheduled for Saturday evening at the Rainbow Gardens of Las Vegas, is described in a promotional YouTube video as "a benefit for the Patriots who stood up for the natural rights of all Americans currently serving time as political prisoners under the corruption of federal bureaucracies.
Contact Jenny Wilson at jenwilson@reviewjournal.com or 702-384-8710. Follow @jennydwilson on Twitter.
Bundy-BLM Battle
Read complete coverage of the feud between the Bundy family and the BLM