Bundy, Paul met in private after Mesquite campaign stop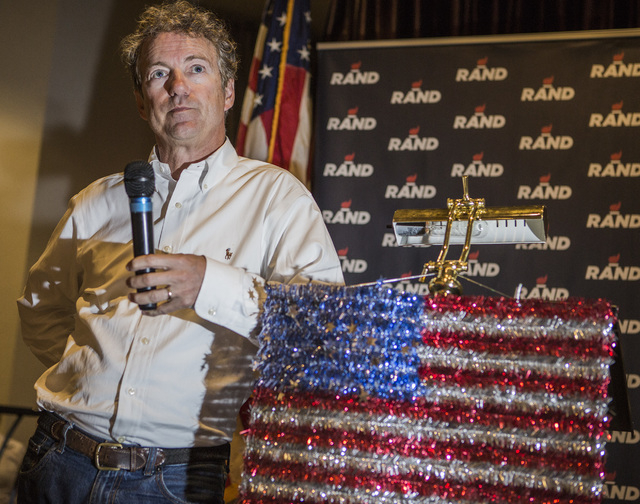 Bunkerville rancher Cliven Bundy wasn't looking for a private meeting with Republican presidential candidate Rand Paul at a campaign event Monday. All he wanted to do was shake his hand.
Bundy said Tuesday the Kentucky U.S. senator's staff made unexpected arrangements for a private meeting after the Mesquite town hall.
Bundy made national headlines in April 2014 when his armed supporters were involved in a standoff with federal agents near Bunkerville, about 80 miles northeast of Las Vegas. The Bureau of Land Management had rounded up his cattle from federal public lands after he failed to pay grazing fees for more than 20 years. The cattle were released from a pen after federal agents feared bloodshed. No shots were fired.
Bundy said he was looking forward to shaking hands with the senator after the event, and staffers offered to move him to a back room of the Eureka Casino. A Review-Journal reporter saw him standing in a back room.
"They made arrangements, I guess, at the hotel to have a private room," Bundy said, adding he met with Paul along with his wife, Carol Bundy, his son, Ryan Bundy, and two bodyguards for about 45 minutes. "After he got done dealing with people in the media, they took me in the private room."
The two chatted about state sovereignty and public lands issues in the West, Bundy said.
"I think we had a really good visit as far as trying to understand each other's views," Bundy said.
Asked about the meeting, a Paul campaign spokesman sent an emailed statement that didn't shed much light on Bundy's account.
"There were no scheduled meetings at Sen. Paul's stop in Mesquite," the spokesman said. "He spoke to many people who came to this public event, none for 45 minutes and none planned."
Pressed by the Review-Journal to confirm or deny that a private meeting took place, a campaign spokesman simply referred a reporter back to the statement.
Bundy, for his part, said there was a meeting and agreed on the campaign statement's point that it wasn't scheduled.
Paul's interaction with Bundy attracted the attention Tuesday of the Democratic National Committee, which sent out a statement blasting Paul and seeking to tie him to Bundy, who made racist comments that drew fire in April 2014.
Bundy had said "the Negro community" living in Las Vegas Valley public housing appears like slaves to him and that he's "a-wondering" if they're better off now having abortions and watching their young men go to prison.
At the time the comments drew strong criticism from his supporters and politicians, including Paul who called them "offensive," according to numerous media accounts.
If Paul is seeking Bundy's endorsement, that hasn't happened.
"I'm not endorsing him for president at this point," Bundy said. "I was just happy to have the opportunity to meet with him."
Contact Ben Botkin at bbotkin@reviewjournal.com or 702-405-9781. Find him on Twitter: @BenBotkin1