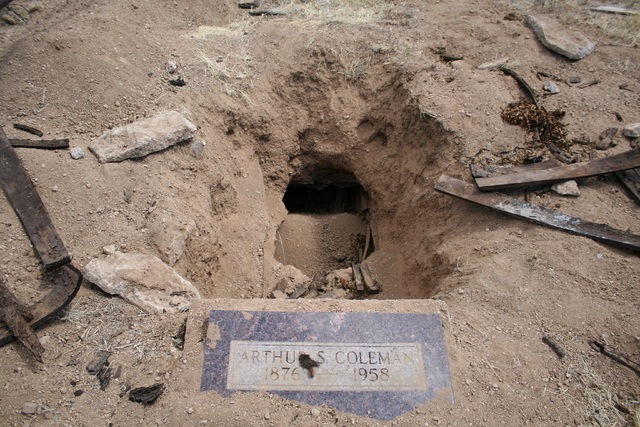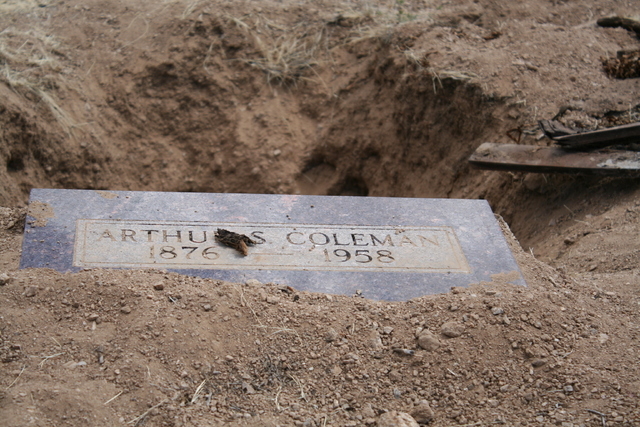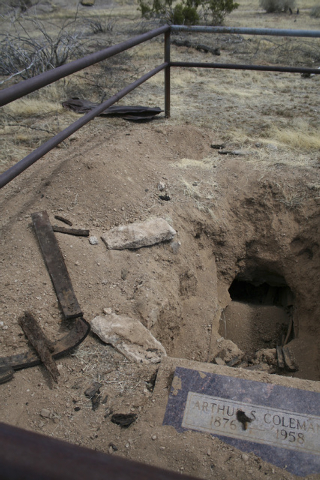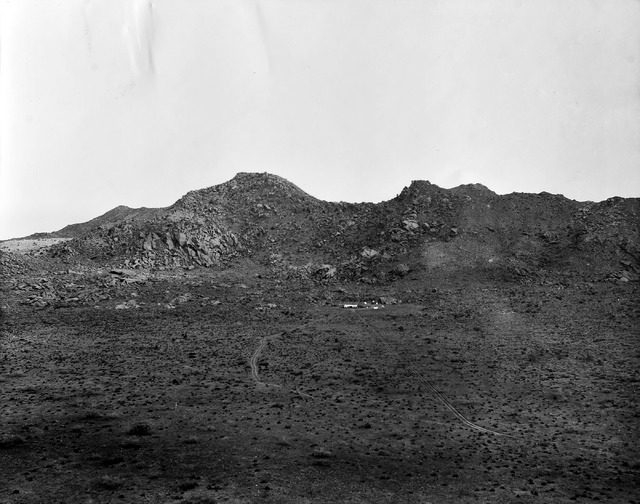 As a noisy livestock dispute unfolded in northeastern Clark County, someone with a shovel decided to disturb the rest of one of Gold Butte's most peaceful residents.
For more than 50 years, the grave of Arthur Coleman sat undisturbed at the long-abandoned Gold Butte town site, roughly 100 miles from Las Vegas. But sometime in the past week or weeks, Coleman's final resting place was dug up, leaving a deep hole surrounded by pieces of wood and other debris.
Some of the dirt was tossed across the headstone of the only other person buried in the tiny, fenced graveyard: Coleman's close friend and business partner, William Garrett.
"It looks like they burrowed right into the coffin for sure," said Mark Boatwright, an archaeologist for the U.S. Bureau of Land Management in Southern Nevada. "They were probably looking for historic artifacts."
Terri Robertson, a long-time local conservationist and advocate for the protection of Gold Butte's natural and cultural treasure, said the grave robbers chose poorly.
"Like those two poor old guys would have anything on them," Robertson said. "That's just a shame. I'm sick about it."
The "illegal excavation," as Boatwright called it, was discovered Friday by an outdoor enthusiast who snapped a few photographs and left before she got sick. The woman, who didn't want her name used, said the dirt was fresh and unmarked by wind or animal tracks. She said it looked like the grave was opened within hours of her arrival, but she couldn't be sure. She said she didn't determine what, if anything, was taken from it.
BLM officials first learned of the damage when they were contacted by the Review-Journal this week.
Gayle Marrs-Smith, manager for the agency's Las Vegas field office, said the matter would be investigated as soon as BLM special agents decide it is safe to enter the area, which is still being patrolled by armed militia members after a failed federal roundup of trespass cattle belonging to Bunkerville rancher Cliven Bundy.
"I don't think anybody is going to be out there soon," Marrs-Smith said.
It's unclear whether the grave was disturbed while the BLM had almost 600,000 acres of public land closed for the roundup or whether it happened after federal authorities hastily released the cattle they had collected and retreated from the area on April 12.
The mountains and desert along the Nevada-Arizona border south of present-day Mesquite were prospected for gold, silver, copper and lead at least as far back as 1873. Activity at Gold Butte peaked in 1905 and quickly faded.
According to a paper by Mark Hall-Patton, museums administrator for Clark County, the mining camp was substantial enough to have its own post office from 1906 to 1911, a period that "covered the entire boom of the Gold Butte gold rush."
The glory days were gone by the time Garrett and Coleman met there around 1916, but they would spend decades together running cattle, scratching for gold and brewing moonshine around the home they shared.
They made for an odd team: Coleman, a 5-foot-1 miner, and Garrett, a notorious 6-foot-1 rancher out of Texas whose uncle may have been the famed lawman who shot Billy the Kid. Hall-Patton said locals took to calling them "the long and the short of it."
The men lived at Gold Butte until Coleman's death in 1958 at age 82. Garrett died three years later, at age 81, and joined his old friend in the ground behind their home.
The two graves were later fenced and marked with marble headstones as part of an Eagle Scout project. They now lie within the BLM's 160-acre Gold Butte Townsite Area of Critical Environmental Concern.
"The whole Gold Butte town site is a cultural site," Marrs-Smith said.
Boatwright said whoever dug up the grave could face a felony charge under the federal Archaeological Resources Protection Act of 1979, which carries penalties of as much as a year in prison and a $10,000 fine. They could also face local prosecution under state laws against disturbing burial sites, he said.
John Lear knows the Gold Butte area better than most, after spending more than a decade trying to restore one of the mines there before giving up for good in 2010. He said finding such nicely marked graves in the desert is rare enough. Seeing them vandalized or robbed is "extremely unusual."
"I can't imagine why they'd dig up Coleman's grave or what they expected to find," Lear said. "That's just terrible."
Contact Henry Brean at hbrean@reviewjournal.com or 702-383-0350. Find him on Twitter: @RefriedBrean.