Charges against radio talk show host dismissed on eve of Oregon standoff trial
September 6, 2016 - 5:56 pm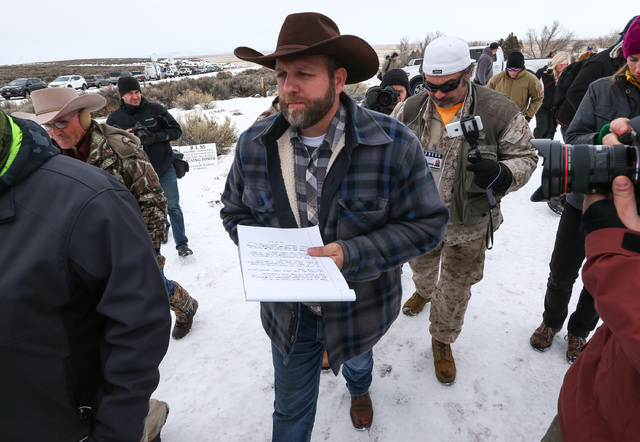 On the eve of trial, a federal judge dismissed charges Tuesday against a key defendant in the armed takeover of a national wildlife refuge in Oregon.
The dismissal came at the request of federal prosecutors in Portland who acknowledged in court papers that they no longer had enough evidence to pursue their case against conservative radio talk show host Pete Santilli. Prosecutors cited rulings that barred them from presenting some of their evidence.
Seven other defendants, including Cliven Bundy sons Ammon and Ryan, are to stand trial in Portland on Wednesday in connection with the 41-day takeover of the Malheur National Wildlife Refuge that ended earlier this year.
Santilli, who hosts the internet-based Pete Santilli show from Cincinnati on YouTube, now will be transported to Nevada to face criminal charges tied to the Bundy-led 2014 standoff with law enforcement in Bunkerville.
"He looks forward to focusing 100 percent of his time defending the charges here in Nevada," his Las Vegas lawyer, Chris Rasmussen, said Tuesday.
A total of 19 defendants — including Cliven Bundy, Ammon Bundy, Ryan Bundy and two other Bundy sons—were indicted in March by a federal grand jury in the Bunkerville standoff. They were charged with conspiring to assault BLM officers on April 12, 2014, and taking back impounded Bundy cattle that had been grazing on federal land.
Their trial is set for February in Las Vegas, after the Portland case.
Santilli contends he was a working journalist during both confrontations, but federal prosecutors have alleged that he was part of the "organizing nucleus" with Bundy family members of the armed assault against the BLM officers in Bunkerville.
Meanwhile, another Bunkerville case defendant, Arizona militia member Joseph O'Shaughnessy, has decided not to plead guilty in Las Vegas on Wednesday.
O'Shaughnessy was to enter his plea before Chief U.S. District Judge Gloria Navarro, but Tuesday afternoon Navarro issued an order calling off his appearance.
"The Court has been informed that Mr. O'Shaughnessy no longer wishes to enter a plea at this time," according to the order.
Two other Bunkerville case defendants, Gerald DeLemus of New Hampshire and Blaine Cooper of Arizona, each pleaded guilty last month to two felony charges, including conspiracy.
Prosecutors recommended six-year prison terms for both men.
Contact Jeff German at jgerman@reviewjournal.com or 702-380-8135. Follow @JGermanRJ on Twitter.
RELATED
Ammon Bundy jury pool shrinks in Oregon with eliminations
Bunkerville standoff figure plays media card in bid for freedom
Judge won't release Internet talk show host in Bundy case
Judge orders key Bundy evidence in Bunkerville case withheld from the public