Cliven Bundy repeats racist comments in press conference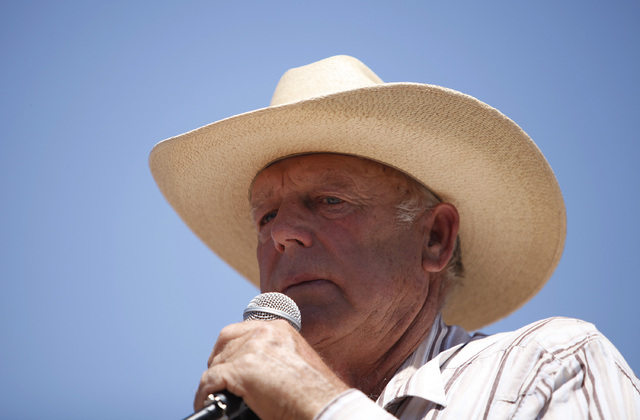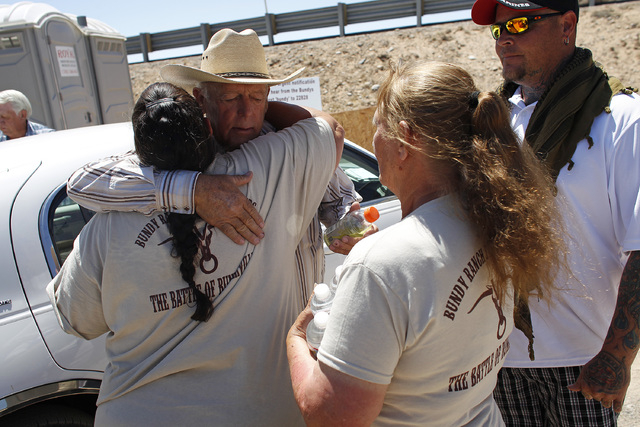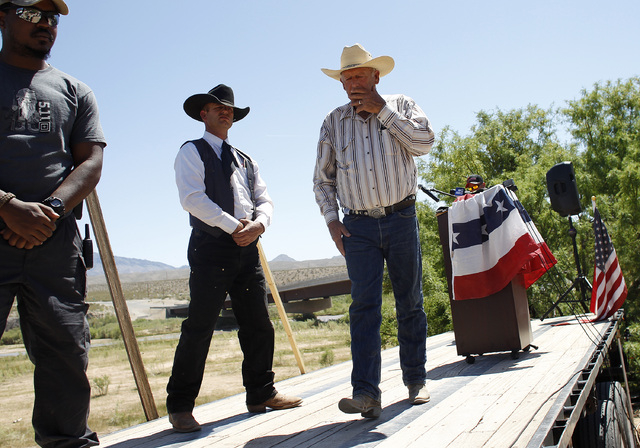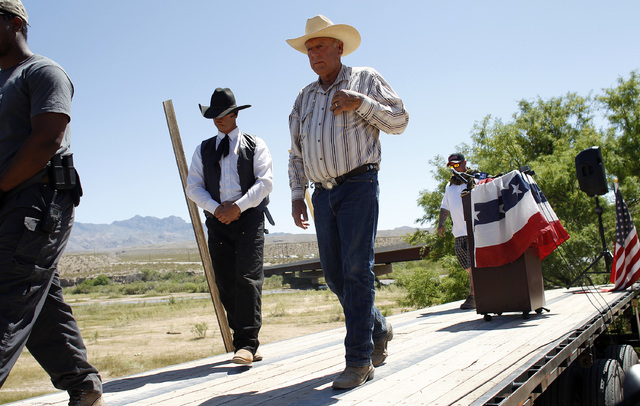 BUNKERVILLE — Cliven Bundy promised big news at a press conference near his ranch Thursday, but there wasn't much new in what he had to say.
The embattled cattleman repeated and then elaborated on racially charged statements he made to the New York Times, effectively doubling down on words that have cost him much of the support he had won from conservative pundits and politicians in his battle with the Bureau of Land Management.
Standing at a podium on a flatbed trailer overlooking the Virgin River, about 80 miles northeast of Las Vegas, the 67-year-old rehashed his sentiments that "the Negro community" living in Las Vegas Valley public housing looks like slaves to him.
During a rambling explanation prompted by questions from reporters, he insisted that he isn't a racist and does not support slavery in any form. All he meant, he said, is that he's "been a-wondering" if black people were better off under the yoke of slavery than they are in today's welfare state, where the women have abortions and the young men go off to prison because they have nothing better to do.
"I don't think they were happy with their government-subsidized homes. They sort of looked to me like they were slaves," Bundy said.
State and federal politicians from Nevada blasted the comments, which have quickly changed the conversation surrounding the BLM's failed attempt to round up about 900 "trespass cattle" Bundy left to roam across hundreds of thousands of acres of public land.
The rancher owes more than $1 million in grazing fees and penalties he has refused to pay the BLM for the past 20 years.
Backed by several court orders, federal authorities and contract cowboys began collecting Bundy's livestock from public land on April 5, but the operation ended abruptly April 12 when the BLM pulled out to avoid a violent confrontation with the family and its heavily armed supporters, including self-described militia members from across the country.
Dozens of those supporters remain camped around the Bundy's 160 acre ranch and the road leading to it. Before Thursday's press conference, Bundy attended a wedding on a hill near the encampment, where the bride wore a white dress and the groom wore a military uniform with patches from a patriot group known as the Oath Keepers.
Meanwhile at Mesquite City Hall, about 15 miles up Interstate 15, U.S. Rep. Steven Horsford met Thursday with local officials to discuss how to get Bundy's army to pack up and go home.
"There are people in this community who don't feel safe because people from other communities have come here with their own agenda," Horsford said during a press conference after the meeting. "We are not a playground for armed militias."
The Democrat from North Las Vegas and first African-American elected to represent Nevada in Congress told reporters he hadn't spoken with Bundy since the rancher's incendiary statements, and he doesn't intend to.
"His comments were hateful, and his comments belong in the dustbin of history," said Horsford, whose 4th Congressional District includes Bundy's ranch and the BLM land in question. "They are statements infused with bigotry and racism and they are not to be tolerated."
Bundy's Thursday press conference wasn't supposed to be dominated by questions about racism.
The Bundy family sent word late Wednesday that nationally known conservative public interest attorney Larry Klayman would be at the ranch the next day to discuss a legal response to the roundup and speak to reporters.
Then the New York Times story broke, derailing Bundy's plans to "announce to the world" who deserved to be hauled into court over the failed BLM operation.
When asked about Klayman at the press conference, Bundy and his son, Ryan, both acted like they didn't know about the previous night's announcement. They said they have received numerous offers of help from lawyers, but they aren't being represented by anyone because Bundy prefers to handle such things himself.
Bundy said he has no legal action planned.
Klayman never made an appearance and could not be reached for comment.
Reporter James DeHaven contributed. Contact Henry Brean at hbrean@reviewjournal.com or 702-383-0350. Find him on Twitter: @RefriedBrean.