Heller warns Obama against Gold Butte action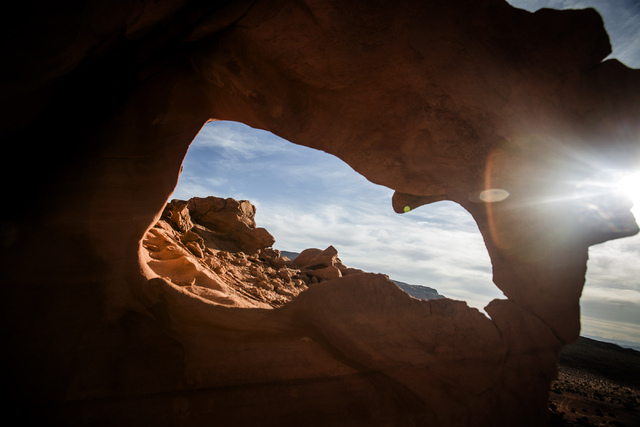 WASHINGTON — Debate over Nevada public land flared anew on Friday when Sen. Dean Heller warned President Barack Obama against designating a national monument in the Gold Butte region of Clark County.
Heller told Obama he should think twice if he was thinking of taking action on Gold Butte, where the Bureau of Land Management engaged in a testy standoff in April with Cliven Bundy and the controversial rancher's armed supporters over cattle rights.
Heller did not mention Bundy by name, but he told the president any move to assert more federal authority "would not serve the area well." He said it would escalate anger and frustration "in a region of our state where tensions are already presently high."
There already is "significant opposition" to bills before Congress that seek to upgrade conservation in the area, Heller added.
There has been heightened sensitivity among Western conservatives since Obama on May 21 designated 500,000 acres in the Organ Mountain-Desert Peaks region of southern New Mexico as a national monument that would allow it to be managed more like a national park. They have bristled at what they regard as federal "land grabs" exercised by the president without approval by Congress, and seek to head off further designations.
Conservationists believe presidential action is justified to protect natural wonders as Congress becomes gridlocked on natural resource bills.
In White House remarks Obama said he was "searching for more opportunities to preserve federal lands where communities are speaking up." A February report by the Center for American Progress lists Gold Butte among "high-profile land conservation bills languishing in Congress," along with the Pine Forest Range in Humboldt County.
In his packet to the White House, Heller included a letter that Nevada Democratic Rep. Dina Titus wrote to Obama in February urging him to use his authority to grant Gold Butte monument status as a way to protect wildlife habitat, artifacts from the region's mining history and Native American petroglyphs dating back more than 3,000 years.
Titus in her letter called Gold Butte "a national treasure in Southern Nevada." The 350,000-acre region sits north and east of Lake Mead and across the border from Grand Canyon National Park in Arizona.
"I believe that the Gold Butte area of Southern Nevada merits consideration for National Monument designation," Titus said.
Heller said: "Unlike my colleague who placed this request, I am extremely concerned about the impact a unilateral designation will have on my state."
Heller said it should be the Nevada delegation that works with local residents on a "grass-roots driven, public and transparent congressionally approved process for public lands designations."
Sen. Harry Reid and Rep. Steven Horsford, both Nevada Democrats, introduced bills last year to designate more than 440,000 acres of Gold Butte and surrounding areas for upgraded wilderness and conservation protections, though not national monument status.
Reid and Horsford have all but given up on those bills because they lack consensus among local officials, conservationists, ranchers and outdoor recreationists.
Contact Stephens Washington Bureau Chief Steve Tetreault at STetreault@stephensmedia.com or 202-783-1760. Find him on Twitter: @STetreaultDC.