Las Vegas judge hints at mistrial in Bunkerville standoff case
December 11, 2017 - 11:30 am
Updated December 11, 2017 - 5:49 pm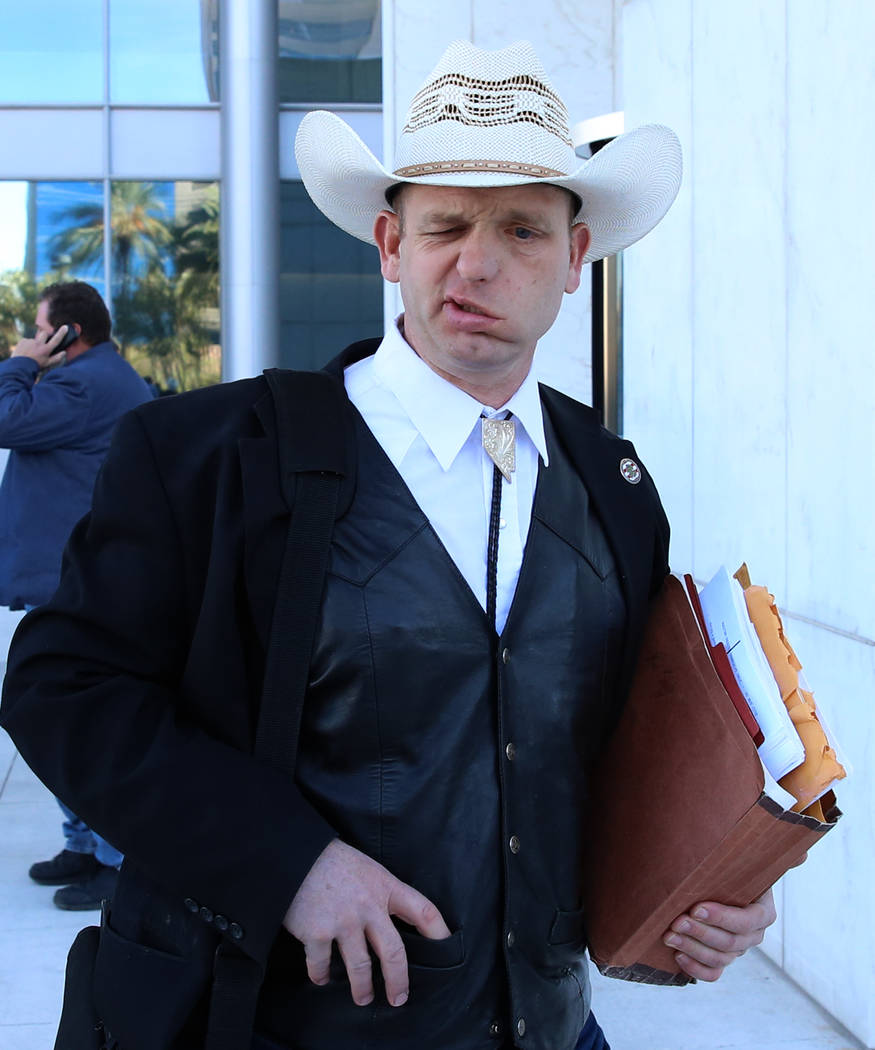 A federal judge in Las Vegas raised the prospect of a mistrial Monday for four main defendants, including lifelong rancher Cliven Bundy, in the Bunkerville standoff case.
The indication from U.S. District Judge Gloria Navarro came three weeks into testimony about the 2014 armed conflict, and after the judge read through a long list of documents, witness names and other information that she said government prosecutors did not provide to defendants in a timely fashion.
That failure to disclose details that could benefit Bundy, sons Ammon and Ryan, and independent Montana militiaman Ryan Payne was "sufficient to undermine the confidence in the outcome of the trial," Navarro said.
She indicated that prosecutors failed to meet deadlines to turn over evidence at least seven times.
Before making a decision, however, the judge dismissed jurors, who had returned for testimony after a weeklong break, and later indicated they would not be called back to court until at least Dec. 20.
After releasing the jury, Navarro closed her courtroom to the public for a hearing with the defendants, their lawyers and prosecutors.
"I hope to get the case dismissed before the jurors come back," Cliven Bundy's attorney, Bret Whipple, later said.
Daniel Hill, an attorney for Ammon Bundy, said he had the same desire.
"That's exactly what dismissal is designed for — when the government proceeds while violating their constitutional mandates," Hill said.
Prosecutors have until Friday to respond to the judge's concern that they missed evidence deadlines, along with questions she had about 14 other possible trial violations.
Earlier this month, Navarro ordered Cliven Bundy, Ammon Bundy and Payne released from federal detention, but Cliven Bundy rejected the conditions of house arrest and remains in custody without bail.
In opening statements of the trial, which had been expected to last through February, Whipple told jurors that Cliven Bundy spent decades trying to negotiate peacefully with federal authorities before supporters of the family arrived in southeastern Nevada, some of them with long guns, and squared off against the Bureau of Land Management.
Acting U.S. Attorney Steven Myhre said the rancher and others conspired with a threat of violence to drive federal agents off public land around his home.
At the time, agents were trying to execute a court order to round up Cliven Bundy's cattle. Prosecutors have said the rancher and sons Ammon and Ryan organized the standoff, while Payne encouraged others to travel to it.
Asked on Monday whether he expected the 71-year-old Gold Butte rancher and family patriarch to be home for the Christmas holiday, Whipple said, "I certainly would hope so."
Ryan Bundy, who is representing himself at trial, was released from custody a month ago. Last week, four more defendants, including two of Cliven Bundy's other sons, David and Melvin, were released while they await trial.
Hill said Ammon Bundy was "ecstatic" to be home after nearly two years behind bars without bail.
As for developments in the trial, the lawyer added: "He's very pleased that the truth he's been talking about for years is finally starting to come out."
Contact David Ferrara at dferrara@reviewjournal.com or 702-380-1039. Follow @randompoker on Twitter.