Rallies support defendants in Bunkerville standoff case
Updated July 18, 2017 - 6:04 pm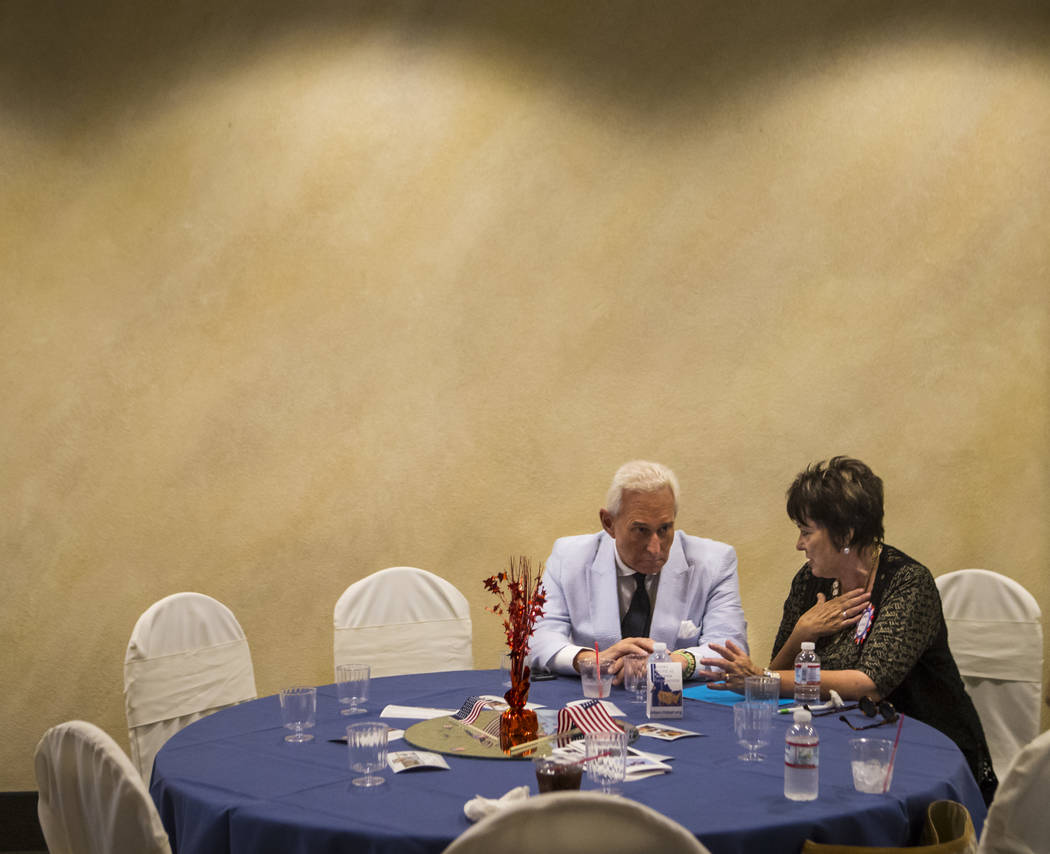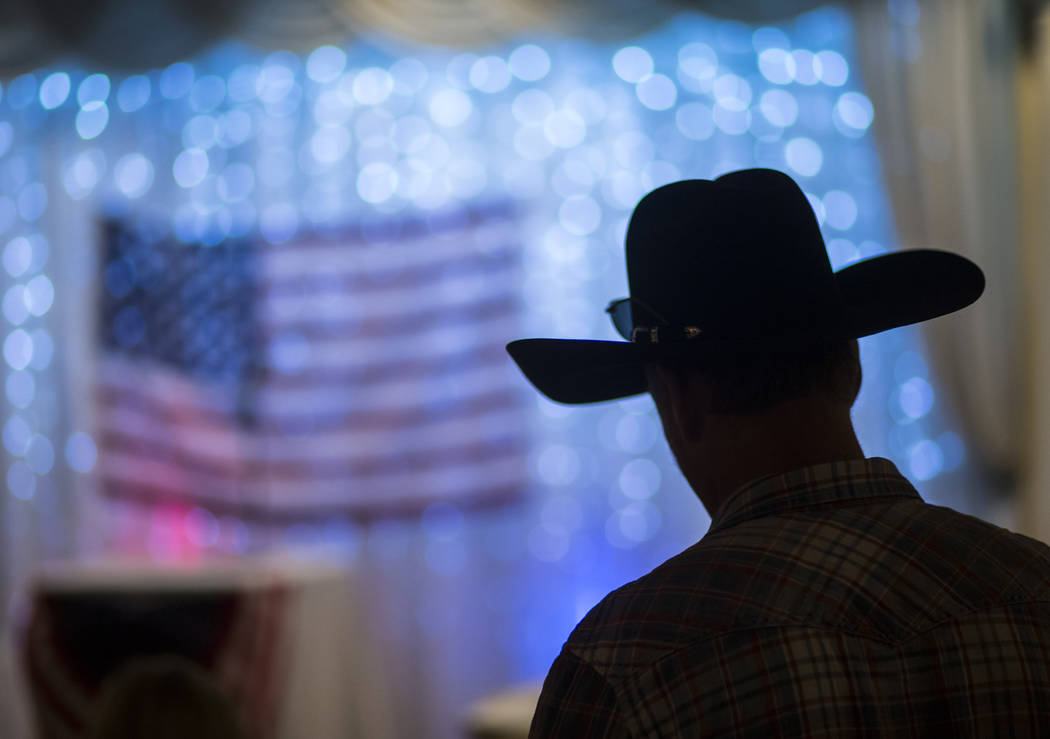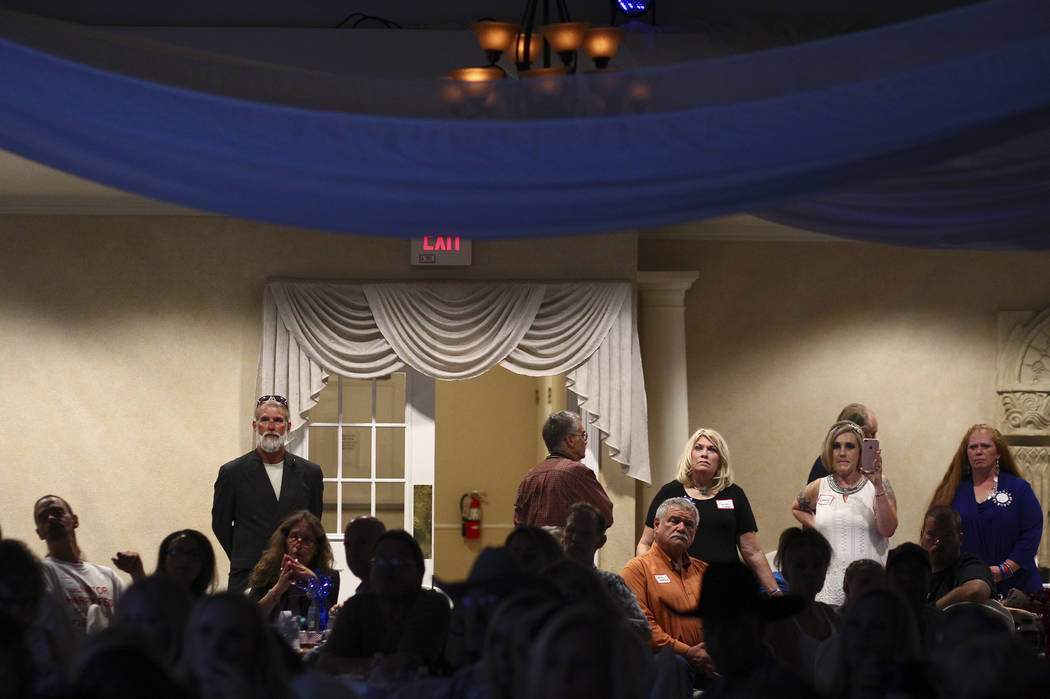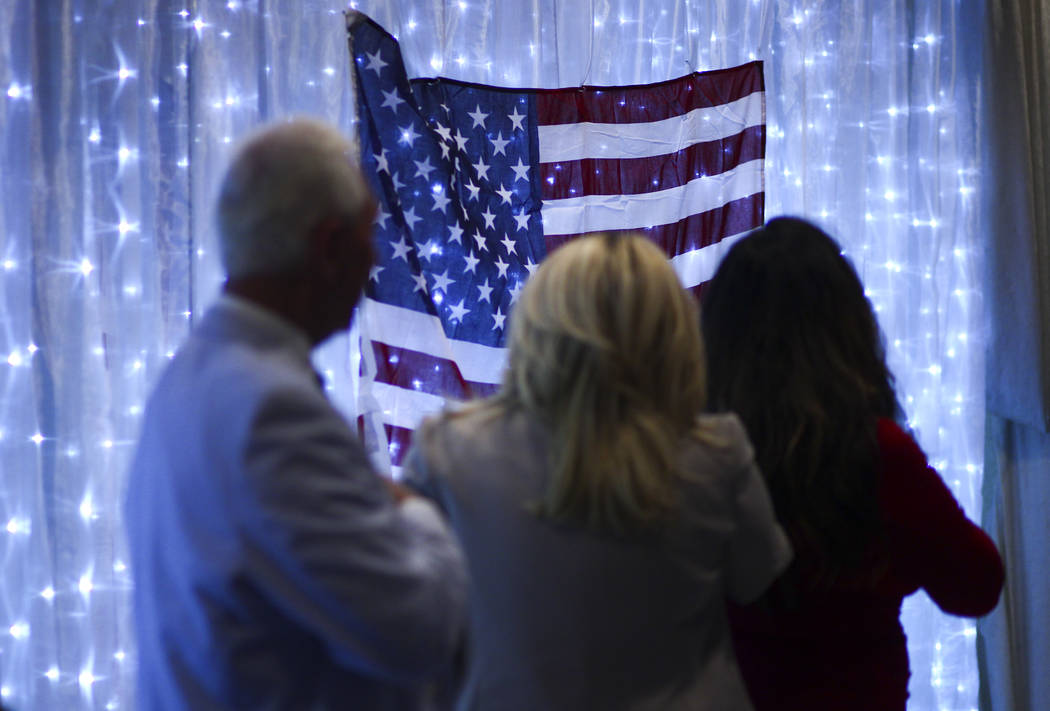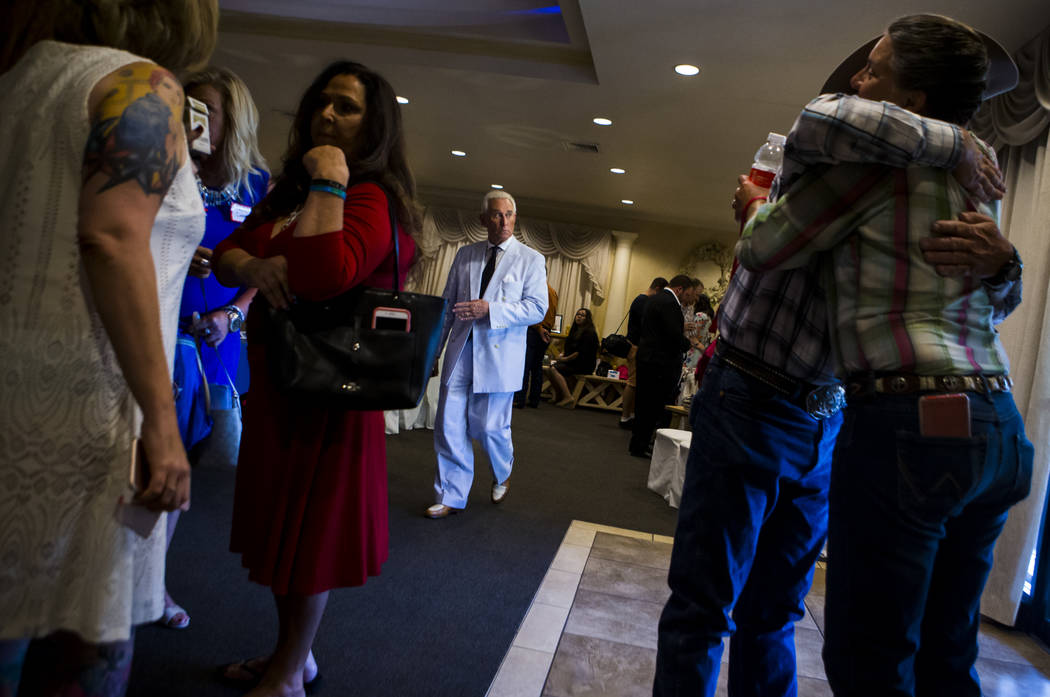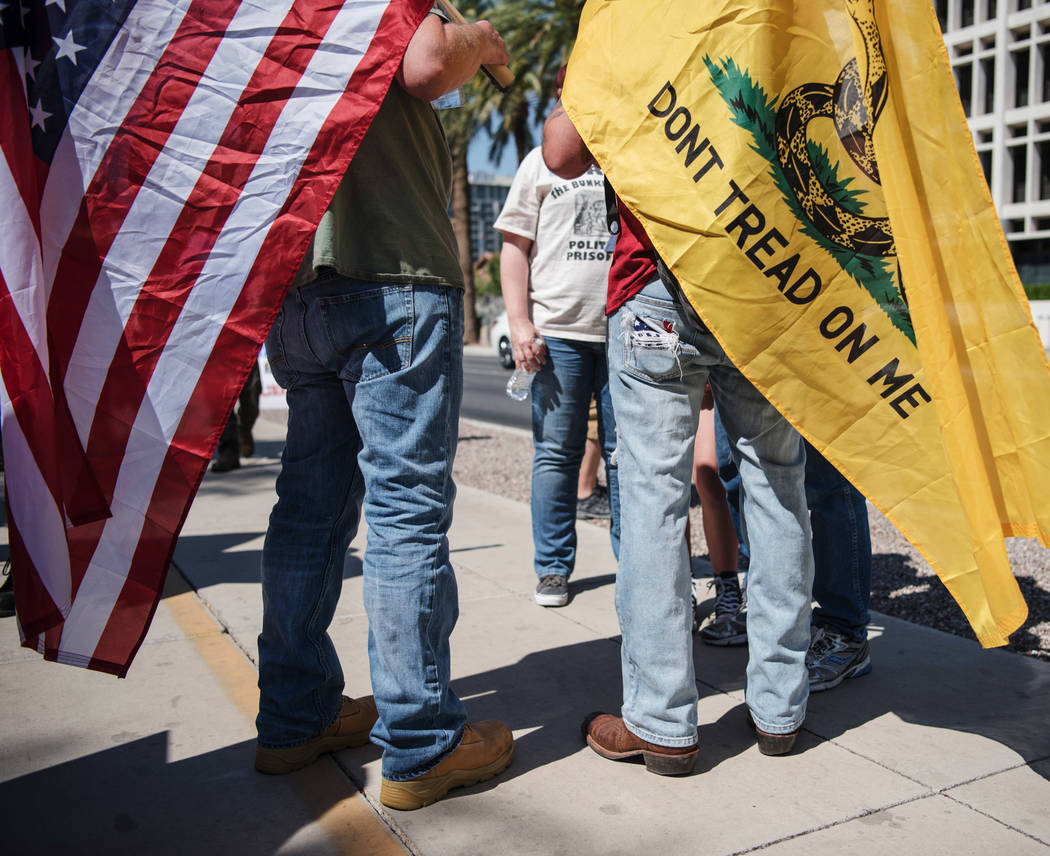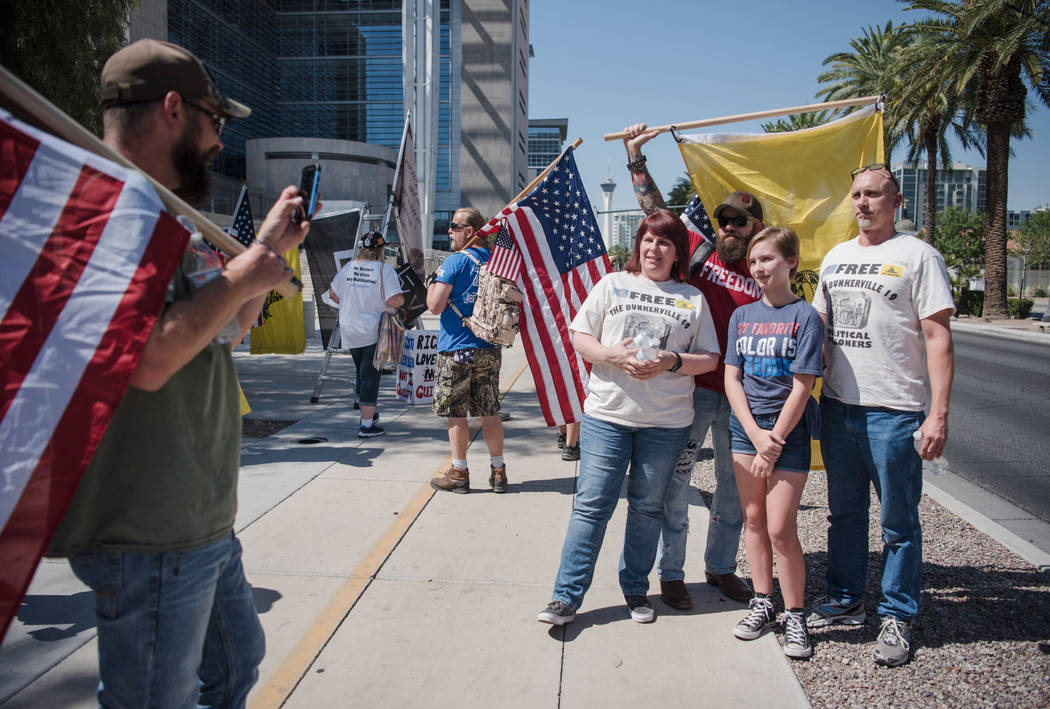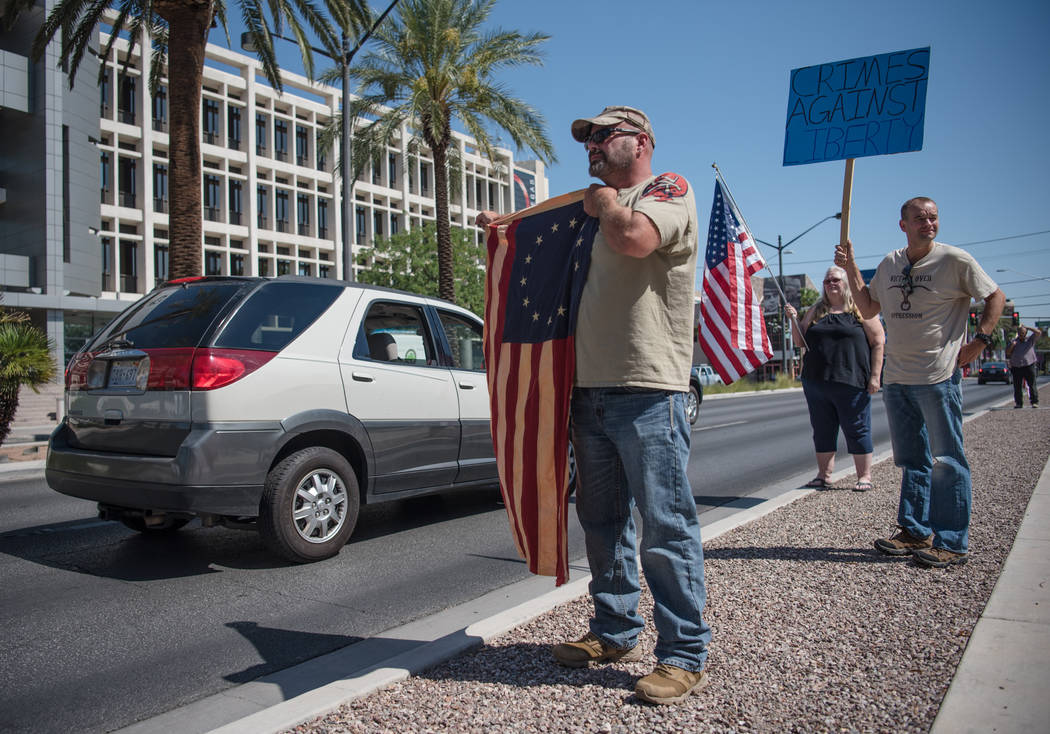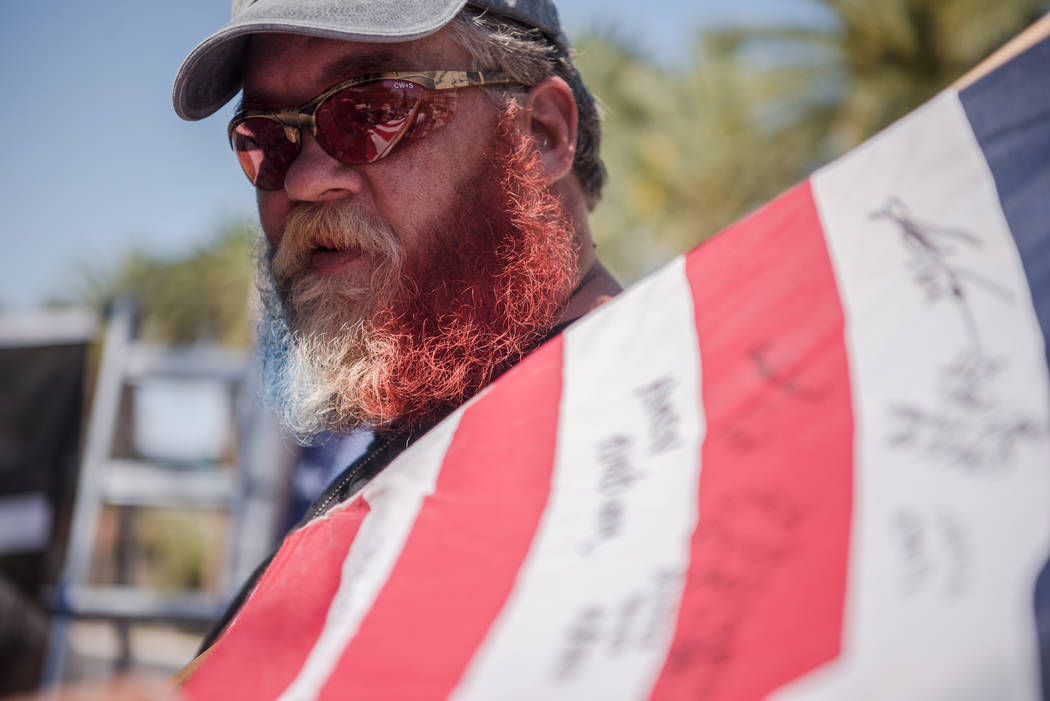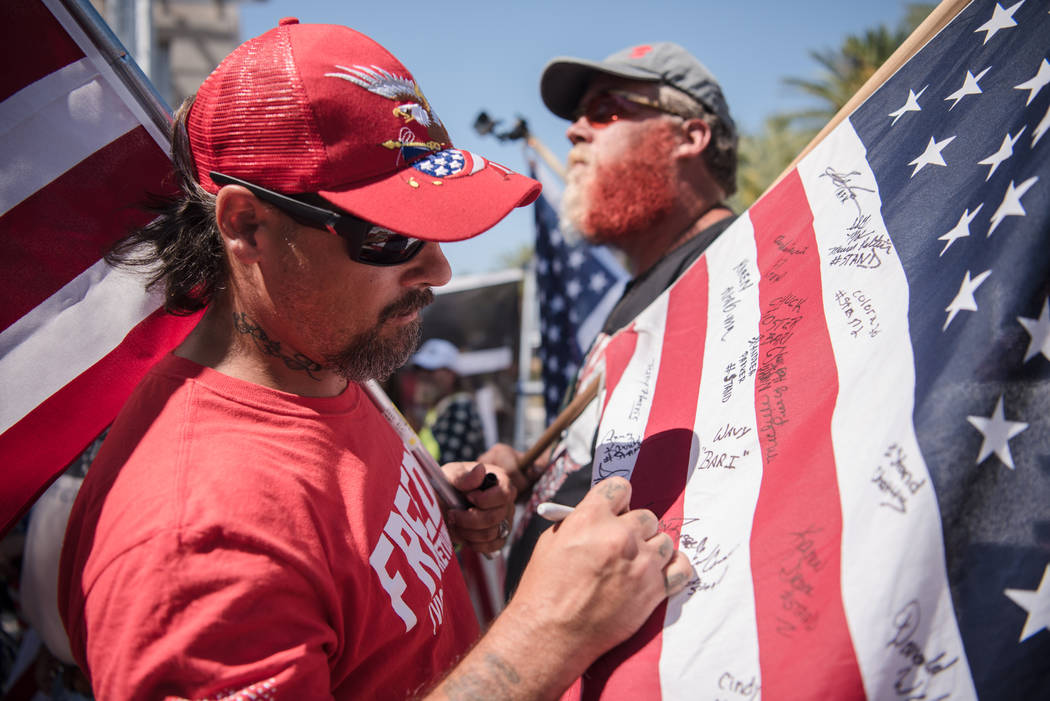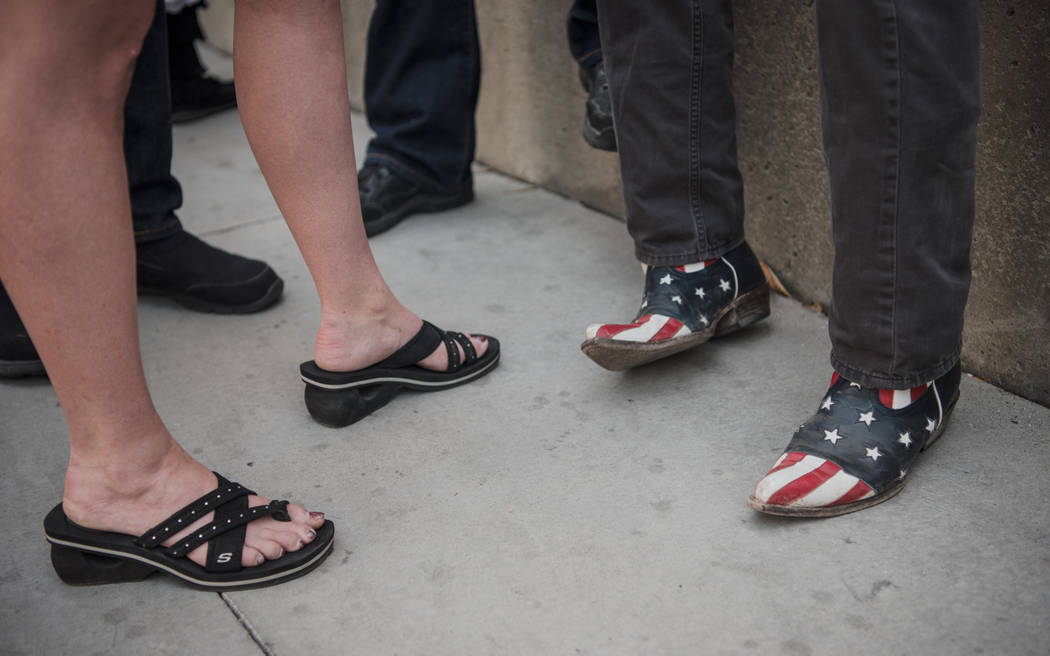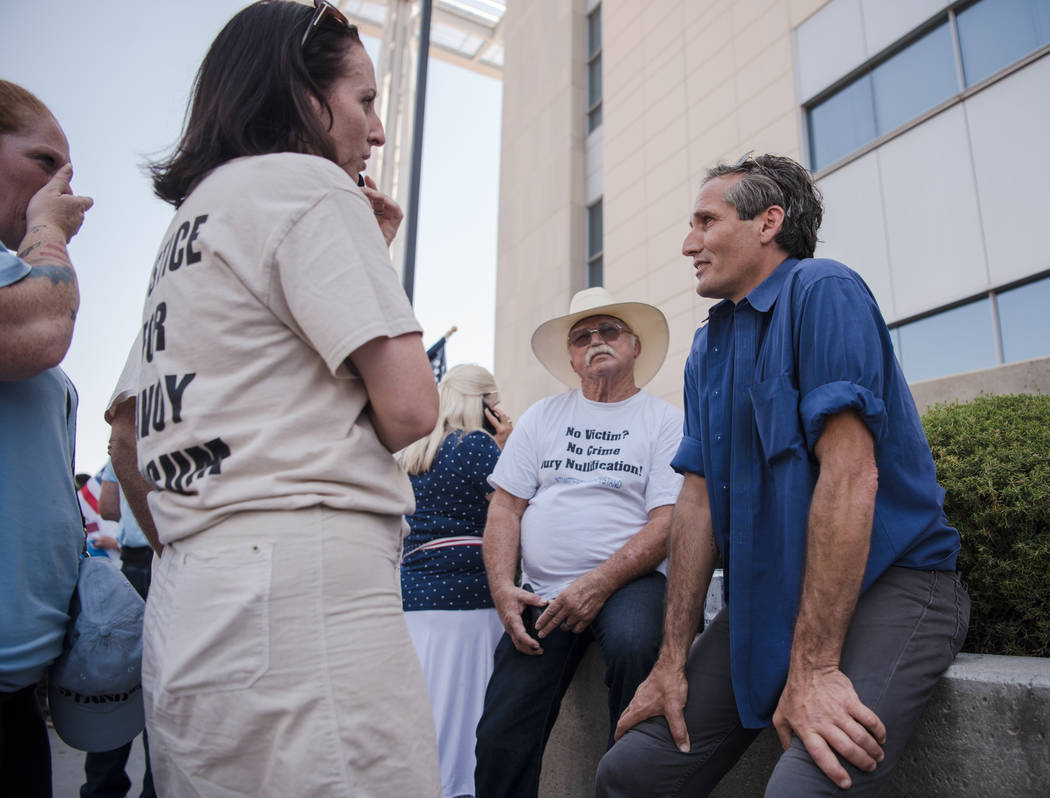 Hundreds of supporters turned out at a Las Vegas event Saturday night supporting the defendants facing trial in the Bunkerville standoff case.
They gathered at Rainbow Gardens to hear speeches from Las Vegas City Councilwoman Michele Fiore, members of the Bundy family and even Roger Stone, an on-and-off adviser for President Donald Trump.
A trial in the Bunkerville standoff case opens Monday at the Lloyd George U.S. Courthouse, but instead of trying a new set of defendants, prosecutors will begin their second attempt to convict four men accused of conspiring against the government with rancher Cliven Bundy.
The retrial comes after an April mistrial, when jurors deadlocked on 50 of the 60 counts against the first group of defendants in the three-part case. Prosecutors eventually plan to try 17 men on charges stemming from the April 2014 armed standoff between individual rights activists and Bureau of Land Management agents, who came to Bunkerville to seize Bundy's cattle from public land over unpaid grazing fees.
The overarching theme at Saturday event: The "mainstream media" hasn't given the Bundy family a voice.
"They're supposed to be unbiased. They're supposed to be dealing with facts and truth," said Jeanette Finicum, wife of the late LaVoy Finicum, who was present at the 2014 Bunkerville standoff and who was shot by an Oregon state trooper during another standoff at an eastern Oregon wildlife refuge last year.
Fiore recalled explaining her understanding of the Bundy case — "the 'B word,'" she said — to constituents preceding her election. "I would say to them, after five minutes, 'Now you support the Bundys,'" Fiore said.
Throughout speeches, members of the crowd shook their heads, clapped and wiped away tears. On and off, they hollered and shouted affirming yeses.
Stone closed the evening Saturday by accusing the FBI and the Bureau of Land Management of "threatening death, … slaughtering livestock and laughing in our face about it."
The crowd whistled and offered a standing ovation to welcome him to the podium.
"I am here for one important reason. I stand in solidarity with every member of the Bundy family," Stone said. The crowd responded by chanting, "Roger! Roger! Roger!"
"I have not followed this case with the intensity that I might have," Stone said. Still, he noted, "The more I read, the angrier I got."
Over time, he said, Americans' constitutional rights have been eroded to the point of being unrecognizable. "This is the oppressive and of a military jackbooted government that has lost all sense of law or morality."
Stone called out U.S. Attorney General Jeff Sessions for commenting on the case during his Wednesday visit to Las Vegas.
Then, he appealed Trump to "review this case in the name of justice, in the name of mercy … pardon every member of the Bundy family."
Again, the crowd chanted his name.
Stone announced he plans to post a petition on the InfoWars website, urging the president to review the Bundy case.
For Carol Bundy, wife of Cliven Bundy, the message was strength, despite feeling that her "heart is in a prison cell."
"God let you hit rock bottom so that you can discover that he is the one at the bottom," she said, choking back tears. "I'm tired, I'm tearful, I don't know how to help everybody that needs help, but come morning time, I pull myself up by the bootstraps and say, 'Yup, I've got this for one more day."
In addition to fighting for the release of the 17 men being held on charges stemming from the April 2014 standoff, speakers advocated for a militia over an organized military and a traditional reading of the constitution that would ban federal control over land.
Doug Knowles, who runs activist group It Matters How You Stand, said the event was, besides a fundraiser, an effort to raise awareness.
"These are real human stories here," he said. "We're not against the government. We're anti-corrupt government."
Peaceful protest
Earlier Saturday, several dozen people rallied peacefully in front of the federal courthouse in downtown Las Vegas in solidarity with defendants.
Ace Baker, a rally organizer who said he was with the American Warrior Revolution, said the morning rally participants wanted to send a message to Judge Gloria Navarro and prosecutors in the case: "We, the people, the fourth branch of government, have you in our sights and all we're asking for is a fair, constitutional trial."
"Everything's at stake here — for any American, anyone who's a proud American," Baker said. "If they think you're too proud or too patriotic, suddenly you're being charged for terrorist acts."
Maureen Peltier, who said she was a citizen journalist and a retired staff sergeant with the National Guard, said she believes the "mainstream media" has done a poor job covering the issues surrounding the case.
"We see men taking a stand and we see their plights and the mainstream media is ignoring it," Peltier said.
"This is much bigger than a few individuals. This is much bigger than us all," she said. "Our First Amendment right has been attacked. All our rights are at stake."
Billy Sessions of Arkansas expressed skepticism about the upcoming trial.
"They're not gonna give them a fair trial," he said. "They're going to make an example of them — anyone who stands up against the federal government is labeled a domestic terrorist."
Contact Jessie Bekker at jbekker@reviewjournal.com or 702-380-4563. Follow @jessiebekks on Twitter. Contact Max Michor at mmichor@reviewjournal.com or 702-383-0381. Follow @MaxMichor on Twitter.
A previous version of this story incorrectly characterized Roger Stone's comments about Jeff Sessions.
Bundy-BLM Battle
Read complete coverage of the feud between the Bundy family and the BLM