Review-Journal, other media fight order keeping Bundy evidence secret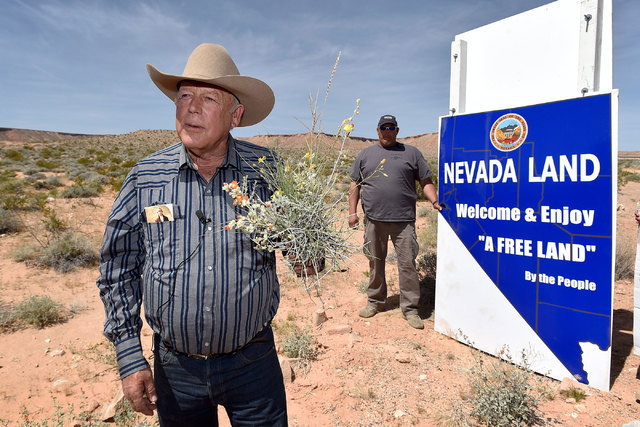 The Las Vegas Review-Journal and other news media Friday sought to overturn a federal judge's protective order withholding the bulk of the government's evidence from the public in the Bunkerville standoff case.
In court papers, Review-Journal lawyer Maggie McLetchie objected to the protective order signed by U.S. Magistrate Judge Peggy Leen, calling it too broad and a blow to transparency in the closely watched case.
The four-page order prohibits defense teams for all 19 defendants from publicly disclosing grand jury transcripts, FBI and police reports, witness statements and other documents the government collected during its investigation into the 2014 armed standoff between Bundy family forces and law enforcement.
Any documents considered confidential under the order also must automatically be filed under seal by both prosecutors and defense lawyers without a public explanation of why the documents should be sealed, McLetchie said in her court papers.
"This ignores the heavier burden a party bears in keeping court filings secret and hidden from the public," she wrote.
McLetchie, who also represents Battle Born Media and The Associated Press, said Leen's order "subverts longstanding presumptions that court records are presumptively public."
Leen issued the order this month without a public hearing and in the face of opposition by most of the defendants, including Bunkerville rancher Cliven Bundy and his four sons, and the news organizations represented by McLetchie.
The judge concluded prosecutors were within their constitutional authority to obtain a protective order because of security concerns in the high-profile case. Among the concerns Leen cited was a death threat against prosecutors.
"The government has made a sufficient threshold showing of actual and potential threats, intimidation and harassment to victims, witnesses and law enforcement officers to show good cause for a protective order restricting dissemination of pretrial discovery," Leen wrote.
McLetchie, however, suggested in her filing that the examples of the social media threats Leen cited were really examples of constitutionally protected expression against acts of government overreaching in the Bundy family's confrontation with federal authorities.
McLetchie agreed that witnesses and law enforcement must be protected, but added "a court cannot rely on stale evidence and speculation about possible threats or intimidation to limit access to virtually all discovery in a criminal case."
The 19 defendants are charged with conspiring to assault Bureau of Land Management agents on April 12, 2014, and take back impounded Bundy cattle that had been grazing on federal land.
They are to stand trial Feb. 6 before Chief U.S. District Judge Gloria Navarro.
Contact Jeff German at jgerman@reviewjournal.com or 702-380-8135. Follow @JGermanRJ on Twitter.