Sandoval chastises BLM for creating 'atmosphere of intimidation' in cattle roundup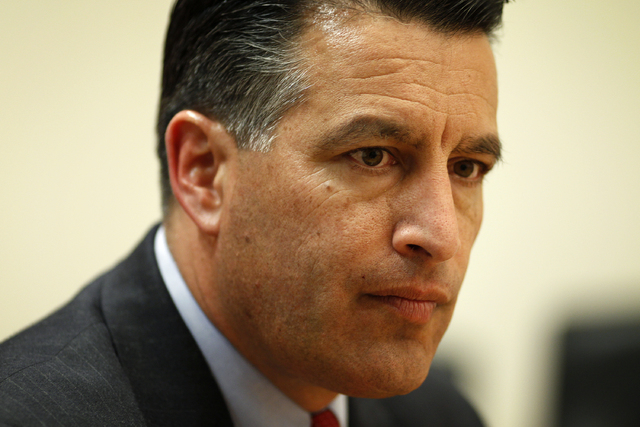 Gov. Brian Sandoval on Tuesday accused the Bureau of Land Management of violating Nevadans' constitutional rights to protest a BLM roundup of cattle on federal land and slammed the agency for creating an "atmosphere of intimidation."
Sandoval called on the BLM to dismantle a so-called "First Amendment Area" the agency designated to allow demonstrators to protest the gathering of rancher Cliven Bundy's 500 head of cattle. The federal government is rounding up the cattle around Bunkerville because Bundy has refused for 20 years to pay grazing fees.
"Due to the roundup by the BLM, my office has received numerous complaints of BLM conduct, road closures and other disturbances," Sandoval said in a statement. "I have recently met with state legislators, county officials and concerned citizens to listen to their concerns."
"I have expressed those concerns directly to the BLM," he added. "Most disturbing to me is the BLM's establishment of a 'First Amendment Area' that tramples upon Nevadans' fundamental rights under the U.S. Constitution."
A former federal judge, Sandoval said he told the agency "that such conduct is offensive to me and countless others and that the 'First Amendment Area' should be dismantled immediately."
"No cow justifies the atmosphere of intimidation which currently exists nor the limitation of constitutional rights that are sacred to all Nevadans," the Republican governor said. "The BLM needs to reconsider its approach to this matter and act accordingly."
The BLM didn't respond to Sandoval's criticisms. Agency spokeswoman Kirsten Cannon said the BLM and the National Park Service would address his statement during a planned conference call today with media.
But National Park Service spokeswoman Christie Vanover said Tuesday the First Amendment zones were created to promote free speech and not be a burden.
"While anybody can express their free speech anytime on open public lands in accordance with the codes and ordinances that exist, there are temporary closures of some of the public lands related to this impound operation, and those are in place for public safety," she said.
On Sunday, Bundy's son, Dave, was arrested during the roundup on public land 80 miles northeast of Las Vegas. The 37-year-old said heavily armed federal agents roughed him up and arrested him for exercising his constitutional rights on a state highway in northeast Clark County. He was released on Monday.
"They got on their loudspeaker and said that everyone needed to leave," Dave Bundy said Monday, explaining he was taking photos and protesting peacefully at the time.
"I stood there and continued to express my First Amendment right to protest, and they approached me and said that if I didn't leave, they'd arrest me."
Bundy was cited on misdemeanor charges of "refusing to disperse" and resisting arrest, according to the Nevada U.S. attorney's office.
The BLM's Cannon said Bundy was taken into custody to "protect public safety and maintain the peace."
"The Bureau of Land Management and National Park Service support the public's right to express opinions peacefully and lawfully. However, if an individual threatens, intimidates or assaults another individual or impedes the impoundment, they may be arrested in accordance with local, state or Federal laws," Cannon said in a statement Monday.
On Tuesday, the BLM and National Park Service said 277 cows have been corralled since Saturday from a 1,200-square-mile area closed to the public for the operation.
The roundup could cost the federal government at least $1 million, according to government contracting records reviewed by the Review-Journal.
The BLM said Bundy has racked up more than $1.1 million in unpaid grazing fees while losing federal court cases on the matter.
Rangers contend his cattle also are treading on protected habitat of the threatened desert tortoise.
Reporters Henry Brean and Sean Whaley and The Associated Press contributed to this report.