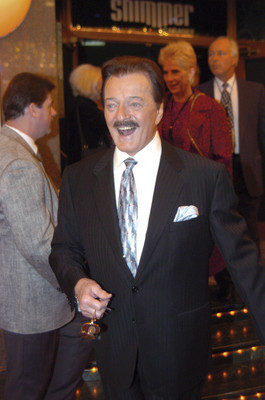 Wild-child heiress Courtenay Semel is in trouble after whacking a Caesars Palace security guard during an argument after losing her cell phone, sources said.
Semel, whose father, Terry Semel, is a former CEO and chairman of Yahoo!, was partying earlier Tuesday with Kourtney Kardashian, who had co-hosted a BestofVegas.com launch party with Nicky Hilton.
The incident occurred after 3 a.m., after Semel left Pure Nightclub at Caesars Palace with friends. She returned after the club closed and complained to a security guard that she had lost her cell phone.
Semel, who has been romantically linked to Lindsay Lohan and reality TV star Tila Tequila, was cited for battery after slapping the guard on the back of the head, according to a source.
She was detained by Caesars Palace security and given an early October court date.
Semel, 28, appeared in E!'s reality TV series "Filthy Rich: Cattle Drive" in 2006 with Kardashian and a roster of super-rich kids. Semel and Lohan dated late last year before the "Mean Girls" star developed a relationship with DJ Samantha Ronson.
THE SCENE AND HEARD
Legendary baritone Robert Goulet will be posthumously inducted into the Nevada/Artist Hall of Fame on Sept. 18 at UNLV's Artemus Ham Concert Hall. Other honorees will be entertainer Clint Holmes, architect-developer Tony Marnell, Nevada Dance Theatre co-founder Vassili Sulich and the rock group The Killers. Goulet, a Grammy, Tony and Emmy award winner as well as a Las Vegas headliner, died in October of pulmonary fibrosis.
SIGHTINGS
Supermodel/actress Elle Macpherson and her family, taking their seats as the lights darkened Wednesay at the 7 p.m. performance of "Mystère" (Treasure Island) … Rap/R&B singer Ciara, dining at Gallagher's Steakhouse on Tuesday evening with a party that included her manager Johnny Wright, prior to attending "Zumanity." …At Pure (Caesars Palace) on Tuesday: Rapper Flo Rida, giving a surprise performance. Also there: Hilton. Earlier, Hilton co-hosted the BestofVegas.com launch at SushiSamba (Palazzo) with Kardashian, and "Beacher's Madhouse" producer Jeff Beacher, who joined Hilton and Semel's parties during the night. Also at the BestofVegas.com launch: Miss USA 2007 Rachel Smith and NBA All-Star Baron Davis.
THE PUNCH LINE
"Has nine lives and ten chins." — From David Letterman's Top Ten Signs Your Cat is Too Fat.
Norm Clarke can be reached at (702) 383-0244 or norm@reviewjournal.com. Find additional sightings and more online at www.normclarke.com.