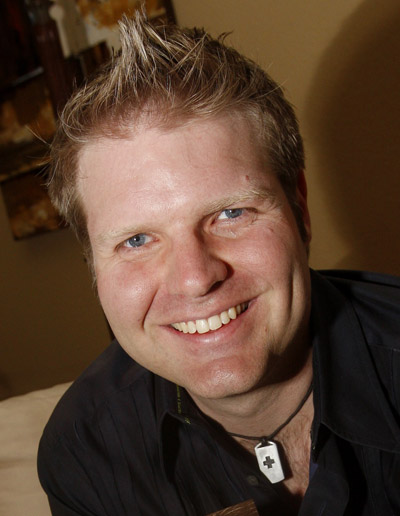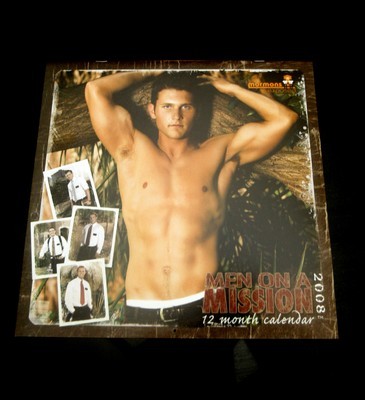 SALT LAKE CITY — A Las Vegas man who devised a calendar that features shirtless Mormon missionaries is facing a disciplinary hearing and possible excommunication because of the project.
Chad Hardy, a lifelong member of The Church of Jesus Christ of Latter-day Saints, was summoned by letter to a meeting Sunday with a council of elders to discuss his "conduct unbecoming a member of the church."
A copy of the letter from Frank E. Davie, the senior leader over a group of Mormon congregations in the Las Vegas area, was provided to The Associated Press. It was sent early this week, days before the 2009 version of the "Men on a Mission" calendar went to press, Hardy said in a telephone interview.
A takeoff on calendars of firefighters and returned U.S. servicemen, Hardy's project debuted with a 2008 calendar featuring 12 returned church missionaries in mostly modest poses, minus their trademark white shirts, ties and black plastic name badges. It has sold nearly 10,000 copies.
"You see more in a JCPenney catalog," said Hardy, 31, who once worked for Utah Jazz owner Larry Miller and now has his own entertainment company. "I just feel like my right to free speech is being violated."
The calendar was designed to shake up Mormon stereotypes, Hardy said. The pages include photos of the men dressed in standard missionary garb. In biographical sketches, each missionary talks about his beliefs.
"It's not tearing anybody down," Hardy said. "I wondered what would happen if we took that perfect Disneyland image that the church spends millions of dollars cultivating each year and shook it up a little bit."
Davie on Friday confirmed sending the letter and the plans for the meeting. He said the calendar was the primary concern.
"I prefer not to say anything else about it," he said. "There is more involved, and he and I will have our meeting."
The outcome of a council meeting could include excommunication, probation "or exoneration," Davie said.
A returned missionary himself, Hardy acknowledged he has not been an active member of the church since 2002.
"I'm still a good Mormon boy in many ways," said Hardy, who says he bears no animosity toward Latter-day Saints but never felt he fit in. "I still want to hold onto my heritage."
Blog entries on the social networking sites MySpace and Facebook show a range of reactions to Hardy's work. Some find it offensive and say that it degrades the church by displaying missionaries as sex symbols and that it contradicts church teachings about modest dress for all members.
Others praise the effort for rattling perceptions that Mormons are "stuffy." Some who identified themselves as younger Mormons said the calendar might make it easier for their non-Mormon friends to consider exploring the faith.
Some of the missionaries in the calendar, many of whom were recruited by Hardy's friends at church events, have been asked by their church leaders about the project, but none has faced disciplinary action, Hardy said.
"The biggest concern was, whether this was an attack on the church, and when they determined it wasn't, it was no big deal," said model Jonathan Martin, a 25-year-old Utah Valley University student who was contacted by a church elder in May. "When you don something outside of the norm, it doesn't matter what group of people you're in, it's going to unsettle them."
The Mormon church takes disciplinary action when leaders believe a person's behavior or actions are openly incompatible with the faith's teachings and could damage the church.
Church spokeswoman Kim Farah declined to comment on Hardy's specific situation, but said that "any church discipline is the result of actions not beliefs." Decisions are made at the local level and are based on individual circumstances and merits, she said.
The 2009 calendar, which drew 100 inquiries from interested missionaries, will be released in September.
Disciplinary meeting letter sent to shirtless Mormon missionary calendar-maker Chad Hardy (PDF)