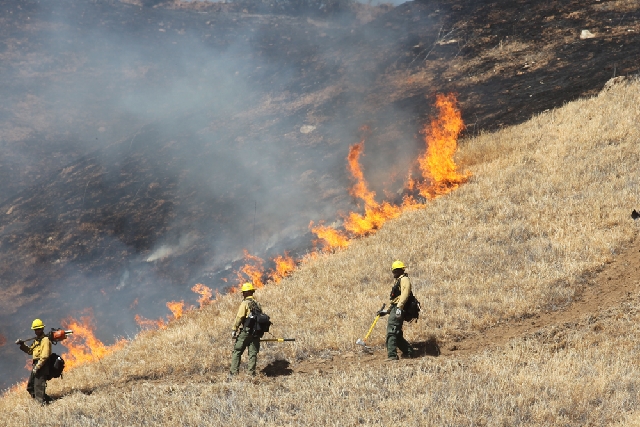 BANNING, Calif. — Firefighters were able to beat back a powerful wildfire that bore down on a dry Southern California city, limiting the damages to a single house and curbing the threat to hundreds more.
But the difficult conditions that helped fuel the 4 ½ square-mile blaze in Riverside County on Wednesday could be even worse in parts of the state Thursday.
Winds at the fire site were hitting 30 mph and could gust to 40 mph, which could halt progress crews made overnight in battling the blaze, said Riverside County fire spokeswoman Jody Hagemann. The fire was 40 percent contained on Thursday morning, with only sporadic flame showing.
"It makes fire conditions unpredictable and more dangerous," Hagemann said of the winds.
Forecasters said high pressure would send strong winds through Southern California's passes and canyons and near coastal foothills Thursday. That combined with dry conditions was heightening the fire danger.
The Riverside County fire broke out just after noon about 90 miles east of Los Angeles in the largely undeveloped foothills of the San Bernardino Mountains north of the city of Banning, where hundreds evacuated their homes.
More than 400 firefighters helped by six helicopters and six air tankers turned the orange open flame near the city into sheets of white smoke and had the fire 35 percent contained by nightfall, county fire officials said.
The aircraft were grounded for the night and all evacuations were called off.
But the fire remained large and volatile as it moved away from Banning and toward the nearby communities of Beaumont and Cherry Valley.
The stand from firefighters came too late for Joe Kiener, 53, who lost the house he lived in since his mother bought it in the 1970s.
Kiener was home on a lunch break when he stepped outside to check on his barking dog and saw heavy smoke approaching. He took the dog and started to leave just as a deputy arrived to tell him to evacuate, but it wasn't easy.
"When I left I went around the corner and I got engulfed in a big cloud of smoke," said Kiener, who could see so little the deputy had to yell to him how to get out.
He got out safely, but the next time he saw the house was in a cellphone picture sent by his neighbor. The roof was on fire, and he knew it would be destroyed, but he shrugged off the loss.
"My mom passed away a month ago. The day before Easter," Kiener said. "So that was the biggest thing that hurt my heart is losing her. Losing the house is just minimal. We can rebuild."
Elsewhere in Southern California, a wildfire was burning in dry brush on a ridge next to a freeway in Ventura County.
The blaze broke out Thursday morning along U.S. 101 in the Camarillo area. Flames were burning uphill toward a suburban neighborhood, with winds sending up huge plumes of smoke.
In Northern California, crews were able to hold the line against two wind-whipped wildfires, but one in Tehama County continued to grow.
The Panther Fire north of the town of Butte Meadows had spread to 1,700 acres with no containment by Thursday morning. The fire is burning in a very remote area of brush and timber and is not threatening any homes, said state fire spokesman Daniel Berlant.
A fire in Sonoma County that has burned 125 acres did not grow overnight. Full containment on the Yellow Fire is expected later Thursday, Berlant said.
Two smaller fires totaling 165 acres are burning in Glenn and Butte counties. Berlant said crews were also able to hold the line against one of those fires, the 55-acre Cedar Fire in Butte County, but wind was going to be a factor again on Thursday.
"The continued wind throughout much of the north state is going to help fan these fires," he said.