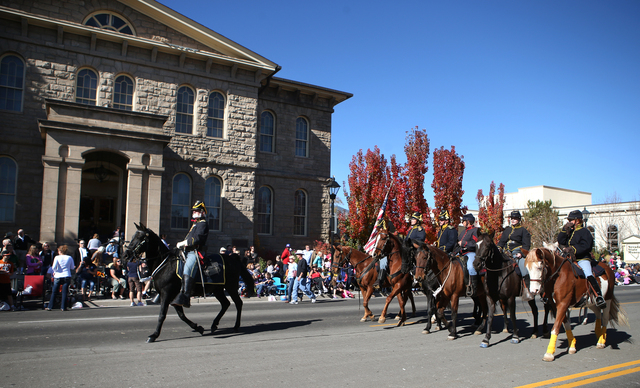 Editor's Note: Nevada 150 is a yearlong series highlighting the people, places and things that make up the history of the state.
Some locals still occasionally call it Eagle Valley, and others may remember it as Ormsby County, but by any name, Nevada's state capital has a reputation as a great place to live or visit.
Filled with history primarily through its connections to the discovery of the Comstock Lode next door in Storey County in 1859, Carson City is known for the state Capitol, the rebuilt Virginia &Truckee Railroad and as a one-time home to American author and humorist Mark Twain.
It has great museums, the Governor's Mansion on the historic west side, wide- open public spaces and a small-town charm.
Toss in Lake Tahoe, the city's backyard a few miles to the west, and it is no wonder the city gets nods for livability.
"What makes Carson City special is that it is geographically compact," Mayor Robert Crowell said. "It's a true community in every sense of the word. It's a place where one minute you can be in the heart of the state's urban and political environment and 15 minutes later be hiking on one of our trails."
Crowell, who came to Carson City in the 1950s from Tonopah, said the mix of urban and open space makes the community special.
The smallest county in Nevada in terms of square miles, Carson City was inhabited by the Washoe people before its humble start as a trading post named for an eagle killed by an early settler. In 1858, it was renamed Carson City for famed scout Kit Carson, who never actually visited the community.
It became Nevada's territorial capital in 1861 and the state capital on Oct. 31, 1864, a position it has held ever since.
Carson City and Ormsby County, named for early settler William Ormsby, who died in a conflict with Paiute Indians in 1860, were consolidated in 1969.
Longtime resident Guy Rocha, the former state archivist, said Carson City is the perfect size for a community, large enough at 50,000-plus residents to offer mass transit and other amenities but small enough to navigate easily.
A native of Las Vegas, Rocha said he likes that the city has kept its mostly horizontal landscape, without a large number of high rises blocking the views of the surrounding mountains and hills.
As the community rebuilds after the Great Recession, Rocha said it is important for people who have moved in from elsewhere to embrace the city and become partners in its economic future.
Tourism will continue to play an important role in its future, and Rocha said an untapped market is urban Las Vegas to the south.
With all the surrounding attractions nearby in northwest Nevada, Carson City is the gem in the setting, he said.

Celebrating the Silver State