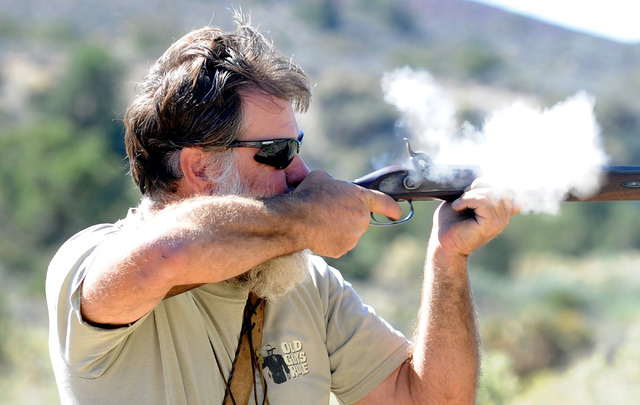 Despite appearances, area 12-year-olds will have nothing to fear if Daniel Trousdale happens to walk into their middle school classroom with a hatchet and a 5-foot-long rifle this fall.
The 62-year-old Navy veteran will likely arrive heavily bearded, covered head-to-toe in the type of fur, calfskin and beartooth get-up that would make anyone look like an extra from Robert Redford's mountain man classic "Jeremiah Johnson."
But Centennial Hills resident Trousdale, a longtime member of the Las Vegas-based Spring Mountain Free Trappers, will be there to teach, to act as a sort of living window into the lives of 19th-century fur trappers on the western frontier.
He and a handful of other Trappers plan to visit four or five middle schools by the end of the school year. The idea, Trousdale said, is to get students as close as possible to the everyday life of an antebellum fur trapping entrepreneur.
That's why this year, as in years past, he hopes schools will let him set up a stump for tomahawk throwing and a dutch oven for cooking and laundry.
The "hawk throwing," he added, also happens to be a lot of fun.
"The kids love it," Trousdale said. "I bring in about 18 pelts, some bear hides, fox and beaver (pelts). If the class is small enough, we let the kids touch them.
"Most of these kids have never seen any of these things. All they know is what they've seen on TV, so I think teachers like that it's a more hands-on (experience)."
Known to his fellow trappers as "Buffalo Rump" — a nickname earned under largely unprintable circumstances — Trousdale is a good tomahawk thrower but far from the best.
That distinction belongs to group co-founder Frank Brown, a serial tomahawk contest champion and one of the original three Trappers to help square away the group's nonprofit status in 1976.
Trousdale claims that Brown, a fellow Navy veteran, is a crack shot and, at 75, still a formidable senior league softball player.
Brown, he said, could "split a knat's (behind)" with a tomahawk thrown from 20 feet away.
The man known to Trousdale and others as simply "Atasi," the Cherokee word for tomahawk, didn't bother to deny it.
"Some people say I'm pretty good at it," Brown said with a smile. "I won the Nevada state (tomahawk throw) championship at our rendezvous last year, so I guess I'm pretty hard to beat."
In the 37 years since the Trappers were founded, Brown said group membership has ebbed and flowed but usually hovers somewhere between 150 and 200 members.
Around 50 of those count as true stalwarts, the kind of devotees who show up to every weekend black powder shoot and help organize the group's big draw: the annual Mountain Man Rendezvous at Spring Mountain Ranch State Park in Red Rock Canyon National Conservation Area.
Brown, an admitted history buff, keeps a watchful eye on every detail at the November rendezvous, right down to the "trade goods" in fellow trappers' tents.
Everything, he said, has to be historically accurate. There shouldn't be an item in sight that wasn't around before 1840.
All that attention to detail tends to throw off outsiders, who have been known to wander across the group's weekend black powder shoots looking a lot like Marty McFly from the "Back to the Future" movies stumbling out of the DeLorean.
Brown always gets a kick out of that. The Trappers, he said, haven't changed much in the decades since they first gathered in Lovell Canyon, but that's kind of the point.
"You can't help but get into it, once you start to learn about how (mountain men) lived," Brown said of his weekends with the group. "We can have nothing of convenience showing in the primitive area. So not much has changed (with the Trappers) that I can think of.
"I enjoy it. It's just like walking back in time."
The Spring Mountain Free Trappers meet the first full weekend of the month at Lovell Canyon Road, just off state Route 160. The annual rendezvous is scheduled for Nov. 8-11 at Spring Mountain Ranch State Park.
For more information on the group, contact Trousdale at 702-645-2658 or visit smft.org.
Contact Centennial and North Las Vegas View reporter James DeHaven at 702-477-3839 or jdehaven@viewnews.com.