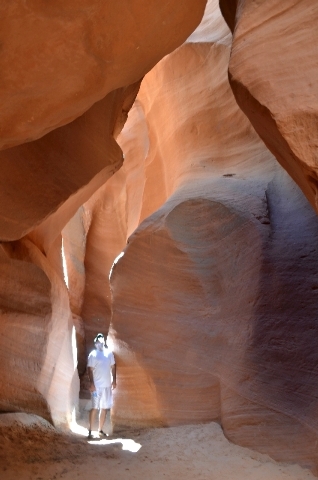 When we paddled into a side branch of Lake Powell's Face Canyon, we finally escaped the hot sun and rising desert wind.
High, flat sandstone walls cast a shade over the calm lake water. It was a welcome relief after about a mile of paddling under the late-morning July sunshine.
The kayaks could finally glide effortlessly through the smooth water, giving everyone in the group the chance to relax, feel the canyon walls for the gritty sandstone that characterizes northern Arizona geology while gravity-defying lizards scurried just above the waterline.
This was the Lake Powell that's pictured in countless travel guides, brochures and nature photographs: serene, picturesque, grand.
And the best part was still ahead.
Our group of six — this writer, a friend, a husband and wife and their college-age son, and a guide — paddled to the end of the canyon and beached the kayaks on the sandy bottom.
From there, we hiked about a half-mile farther into the rocks. At the beginning, the entire canyon felt cooled by the sand, which was dampened by receding lake water.
Farther along, the sand dried and, in the sunny spots, the temperature rose. In between, the
canyon walls, hundreds of feet high and narrowing, provided plenty of shade and visual highlights.
Eventually, the walls closed in until they were close enough that we could touch each side of the slot canyon with outstretched arms.
Beams of sunlight slammed into the canyon through a crevice high above. Walking into the light and peering upward created the effect of a hapless earthling trapped in the tractor beam from some Hollywood UFO.
The canyon looked a lot like nearby upper Antelope Canyon, billed as the most photographed and visited slot canyon in the Southwest and through which thousands of tourists tromp each summer.
Unlike Antelope Canyon, this didn't require a fee to enter, and during our hike through, we saw just one other small group.
With no crowds shuffling through, we had all the time we wanted to explore the canyon. It eventually reached a dead end we found only after wading through a waist-deep pond and shimmying through a crevice that opened to a cylindrical cavern with a splash of sunlight just big enough to make the walls visible.
It's tough to think of another hike with a more favorable reward-to-effort ratio, although we would find one later that day.
The paddle back from the canyon to the sandy, rock outcropping where our guide from Hidden Canyon Kayak parked the boat was more of a workout than the trip out. The afternoon breeze was stronger and the sun warmer than on the trip in.
But all was forgotten once we arrived back at the boat and our guide, Clint Spahn, busted out a bucket of fresh ingredients, including grilled chicken and vegetables that he chopped and mixed into a fantastic chicken salad. There was more than enough food for everyone, and we had a choice to add cheese, mayonnaise, mustard, spices and herbs, and whether to use pitas, wheat bread or tortillas.
The group also had plenty of time to swim in the small bay while we watched boaters, skiers and personal watercraft cruise around about 100 yards away.
After the kayaks were loaded onto Hidden Canyon's pontoon boats, we cruised the 10 miles or so back to Antelope Point Marina and were on the dock with several hours of daylight to spare.
As a parting gift, our guide mentioned we should go see Horseshoe Bend, which he characterized as the best free scenic overlook in the area.
Just a few miles south of Page, Ariz., Horseshoe Bend Overlook, as it turned out, was no mere scenic view. It's one of the most iconic views in the West, a panoramic overlook of the Colorado River as it encircles a tower of stone hundreds of feet tall.
After a hike that includes about a half-mile of deep sand, that's total out and back, visitors can walk to the edge of Glen Canyon. No signs. No steps. No railings. Just a steep cliff and stunning scenery.
Then it's just a short cruise back to Page, which has plenty of restaurants, including the garishly decorated but excellent El Tapatio. There's also Big John's Texas BBQ, which offers a sampler that's essentially a large, disposable plate heaped to the breaking point with chicken, pork and beef.
Page is home to Glen Canyon Dam, which holds the water that forms Lake Powell and includes a visitor center that's free to explore, complete with exhibits on the geology, wildlife and history of the area.
The town also has plenty of hotels. But if you're looking to save money bring a 4×4 and some camping gear. There are back roads galore coming off U.S. Highway 89 that wind through scenic, desolate stretches of Bureau of Land Management property where camping is free.
We found a spot just north of the dam with a view of Lake Powell and the mountain ranges beyond.
There's also plenty to explore between Las Vegas and Lake Powell, depending on the route you choose. After leaving Interstate 15 at State Route 9 for Hurricane, Utah, travelers can head the direct route to Kanab, Utah, or veer north and go through Zion National Park.
Another side trip possibility, which we chose, was to head into Mount Carmel Junction, Utah, to see the Thunderbird Restaurant, a fixture since 1940 that's known mostly for the campy, midcentury sign out front that boasts it as "Home of the Ho-Made Pies."
It's attached to a Best Western Hotel and adjacent to a pleasant, executive-length golf course.
The trip, which began about 8 a.m. on a Saturday and ended back in Las Vegas by noon Monday, covered 673 miles of driving, a round of golf, about seven hours of kayaking, hiking, boating and swimming in Lake Powell, a glimpse of one of the Southwest's top scenic overlooks, Mexican food, barbecue and homemade pie.
It could have easily gone longer and covered more ground, especially considering we didn't stop in Zion, the Grand Staircase-Escalante National Monument, Snow Canyon or Coral Pink Sand Dunes state parks or Paria Canyon and the Vermillion Cliffs National Monument.
Instead of using a long weekend for a Lake Powell trip, it might be better to set aside an entire summer.
Contact reporter Benjamin Spillman at bspillman@reviewjournal.com or 702-383-0285 .
If you go
Location: Page, Ariz., is about 275 miles from Las Vegas and takes about four hours and 20 minutes to reach. Directions: Take Interstate 15 to State Route 9 and Hurricane, Utah; continue on Route 9 to the junction of U.S. 89 and Mount Carmel Junction, Utah; continue on U.S. 89 to Page, Ariz. The drive goes through or near Zion National Park, the Grand Staircase-Escalante National Monument, Snow Canyon and Coral Pink Sand Dunes state parks, and Paria Canyon and the Vermillion Cliffs National Monument and Kanab, Utah. Lodging: Home to Glen Canyon Dam and Glen Canyon National Recreation Area, lodging is plentiful in Page, Ariz. There are also numerous places where camping is free on Bureau of Land Management property. Dining: Dining in Page is easily found along Lake Powell Boulevard. We ate at El Tapatio, which has fantastically garish decor, delicious Mexican food and huge margaritas. There's also Big John's Texas BBQ which for $15 offers a huge sampler plate of beef, chicken and pork. Mount Carmel Junction: This is a must-see if you like quirky, mid-century signs. The Thunderbird Restaurant is famous for its "Home of the Ho-Made Pies" sign. The pie lives up to the billing and the executive length, 9-hole golf course can be played for as little as $10. More if you need clubs, golf balls and want a cart. Horseshoe Bend Overlook: is easy to find, just south of Page, and provides a view of one of the most iconic vistas in the country. Glen Canyon Dam visitor center is also free. Kayaking: A full-day kayak trip with Hidden Canyon Kayak is $175 per person and includes ample food, gear and transportation by boat from Antelope Point Marina to remote kayaking sites around Lake Powell. http://hiddencanyonkayak.com/ Helicopter tours: Adventurous travelers can spend $245 for a helicopter trip to the top of Tower Butte, which looms large over Lake Powell. http://www.grandcanyonhelicopter.com/tower-butte Houseboats: Discounts of as much as 60 percent are available for houseboats beginning Aug. 16 and continuing through the fall. tinyurl.com/Powell2013Discounts