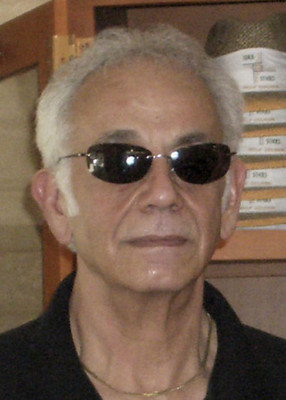 Jimmy Chagra, a Texas drug kingpin who attained legendary high roller status in Las Vegas, is dealing with another health setback.
Chagra, 63, had a tumor removed from his brain Thursday during surgery in Phoenix. He underwent a lung cancer operation in November.
"He's hanging in there and says he won't check out until he attends the premiere of our movie," said Las Vegas writer Jack Sheehan.
The film, titled "Do A Nickel," is based on Chagra's life as a major drug smuggler in the 1970s, his high-flying gambling days in Las Vegas and his alleged ties to the assassination of federal judge "Maximum" John H. Wood.
Chagra allegedly hired hit man Charles Harrelson, the father of actor Woody Harrelson, to assassinate Wood, who was about to preside over Chagra's smuggling trial. Chagra and Harrelson met in Las Vegas in the 1970s. Wood was fatally shot in the back outside his Texas home on May 29, 1979.
Las Vegas attorney Oscar Goodman, now the city's mayor, represented him.
Chagra was sentenced to 30 years for drug smuggling. He was released for health reasons in Atlanta on Dec. 9, 2003.
Harrelson was sentenced to two life terms and died in a federal prison in Colorado on March 15, 2007.
Sheehan interviewed Chagra about a year ago while he was living under an assumed name in the Federal Witness Protection Program. After purchasing all the exclusive movie, book, and television rights for Chagra's story, Sheehan wrote the screenplay and lined up partners for the film.
"We have producers interested," Sheehan said.
BEACHER ON THE MEND
Entertainment producer Jeff Beacher is checking into a second medical treatment center in a month after a weight-loss program went awry.
Beacher said he recently spent two weeks in a Los Angeles medical center but left after a dispute over how to treat the liver damage he said he suffered while working with a Las Vegas-based weight-loss treatment center.
His "Beacher's Madhouse" productions will be put on hold temporarily, he said. He had been on the weight-loss program for about a year "when I realized bad things were happening to my body."
He leaves today for a one-month stay at an undisclosed treatment center on the East Coast. He thanked "friends who stepped up and helped me. They couldn't have been more supportive."
THE SCENE AND HEARD
Here's the rest of the story from the November 2005 "American Idol" audition at the Renaissance Hotel: Vegas Confidential readers may recall that judges Simon Cowell and Randy Jackson were raving about a female singer from San Diego. "I thought she was a Top 10er," Jackson told me at the time. Cowell added: "A Top 1er." Although she was chosen to advance to the Hollywood rounds, she never made it because of visa problems. Turns out it was Carly Smithson of Ireland, who has made it to the top nine.
SIGHTINGS
The 2008 Miss USA field, along with reigning Miss USA Rachel Smith, dining at the Lava Lounge and taking in Jimmy Hopper's show Friday at Trader Vic's (Planet Hollywood Resort). … Stand-up comedian and actress Wanda Sykes, in the audience at the early "Love" performance at The Mirage on Saturday. … British music star Joss Stone, purchasing a hot pink Chio swimsuit with Swarovski crystals at Love Jones (Hard Rock Hotel) on Friday. … At Thursday's birthday celebration for music star Fergie and movie producer Quentin Tarantino at Revolution lounge, Bare Pool Lounge, Cirque du Soleil show, "Love," and Jet nightclub at The Mirage: her fiance Josh Duhamel, Kid Rock, rapper Rza of the Wu-Tang Clan, actor Eli Roth, actresses Daryl Hannah and Vivica A. Fox, supermodel Esther Canadas, actress Stacy Keibler, Oscar-winning screenwriter Diablo Cody ("Juno") and celebrity hair stylist Kim Vo. … MTV reality stars Spencer Pratt and Heidi Montag, at the lounge at Cut restaurant (Palazzo) on Thursday.
THE PUNCH LINE
"The Spears women have a long history of getting their marriage licenses before their driver's licenses." – Jimmy Kimmel, on rumors that Britney Spears' 16-year-old sister Jamie Lynn Spears is engaged to her boyfriend, Casey Aldridge.
Norm Clarke can be reached at 383-0244 or norm@reviewjournal.com. Find additional sightings and more online at www.normclarke.com.