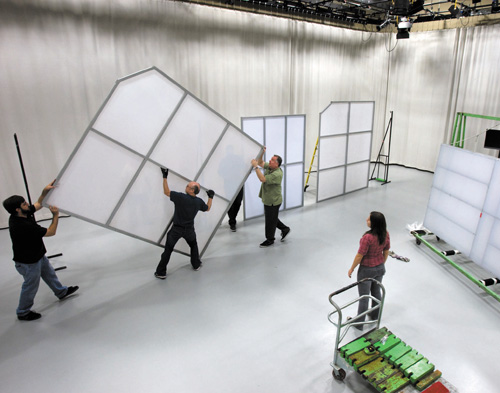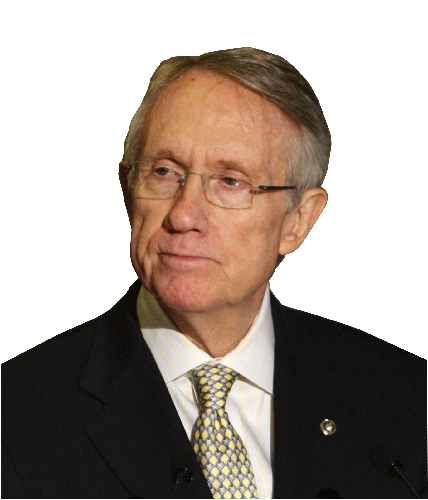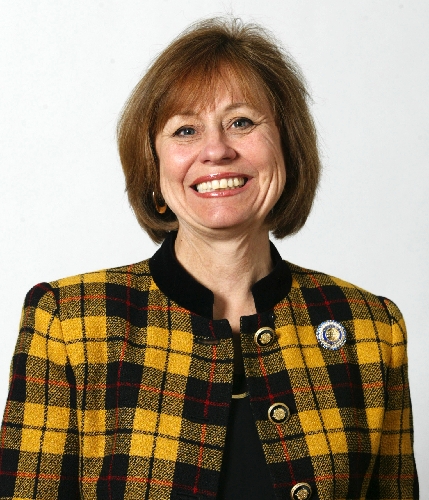 Sharron Angle has the most to lose in the only debate in the most-watched race in the nation. And Sen. Harry Reid has to try to knock out his GOP challenger, who has survived four months of blistering attack ads and is threatening to end the Democratic incumbent's political career.
That's the upshot from pundits and insiders ahead of Thursday's hourlong face-off, which will be televised live at 6 p.m. on host Vegas PBS, most stations across Nevada and nationally on C-SPAN.
Just two days before early voting begins, the debate will be a high-wire act for both candidates in the dead heat race. The Senate majority leader and the Tea Party favorite are prone to verbal gaffes and awkward answers to tough questions outside of the friendly audience venues they prefer.
"They both have the same strategy — not to say anything stupid," said David Damore, political science professor at the University of Nevada, Las Vegas. "I think that's a little more trouble for Angle. And they need to draw some sort of contrast for the few undecided voters just now starting to tune in."
Angle needs to show voters she can "speak lucidly and clearly about what she believes" and explain why she has moderated some of her hard-core conservative positions since she won the June 8 primary, said Mark Peplowski, political science professor at the College of Southern Nevada.
"What she needs to avoid is coming off as a flip-flopper," Peplowski said.
"This is all the chips for Angle," he added. "She has to deliver a solid performance that speaks volumes that she can understand the job and hang tough in a place where the weak don't last very long. She also has to score well enough that people will not feel that they are throwing Reid over for a second-stringer who just happens to know the talking points."
The four-term senator must convince voters he has not forgotten them and has delivered for Nevada, including big-money projects and jobs despite a recession that has devastated the economy. In Washington for nearly three decades, he also will seek to highlight his experience and grasp of issues.
"Reid's got to make the case that you may not like what we've done, but it would have been way worse" if Democrats hadn't passed the $787 billion stimulus and bailed out failing banks and the auto industry, Damore said. Polls show a majority of Nevadans aren't sold on that message.
The candidates' demeanor will count, too. The debate will be the only chance for voters to see Reid, 70, and Angle, 61, side by side. How they present themselves could counter what surveys show are highly negative views: half of voters holding unfavorable opinions of them both.
"If Angle puts on a plaster smile, she's going to come across as a phony," Damore said of the candidate whose advisers have told her not to smile so much. "If Reid is impatient or overly harsh, that could go against him," he added of the senator, who's been known to dismiss opponents with a scowl.
The campaigns sought to lower expectations, a common strategy so that both sides can declare victory no matter the performance and no matter the instant media reviews and reaction.
"The bloggers, tweeters, YouTubers and talk radio, cable talk … will all be circling like sharks for blood," said Peplowski, who predicted no big race shake-up unless there's a major "melt-down."
The two sides clearly telegraphed their strategies ahead of the debate.
Reid will focus on Angle's shifting stances, and she will deflect his attacks as a distraction from the No. 1 voter concern: Nevada's worst-in-the-nation economy, including its record high 14.4 percent jobless rate.
"The debate is an introduction for many voters to Sharron. They have seen the 30-second television ads from both sides, but the debate is a chance for voters to see Sharron beyond short sound bites," said Angle spokesman Jarrod Agen. "Harry Reid will be personally attacking Sharron all night long because he loses if he sticks to the issues."
A four-term Reno assemblywoman, Angle is well known in Northern Nevada. She built up grassroots support in her last two close GOP primaries: a losing 2006 bid to unseat Rep. Dean Heller, R-Nev., and a 2008 attempt to replace Senate Minority Leader Bill Raggio, R-Reno. She's now widely recognized in vote-rich Clark County, but mostly viewed through the prism of the ubiquitous TV ads.
Setting the bar low for the toe-to-toe tussle, Agen said, "Harry Reid is the majority leader and he debates on the Senate floor for a living. Sharron is a frank and honest grandmother from Reno. Harry clearly has a lifetime of practice at debates, but Sharron fortunately has the voters on her side."
The Reid campaign played down any advantage, saying the debate rules favor Angle since the incumbent won't be allowed to offer long answers to complicated issues. Each candidate will be given one minute to respond to questions, although the first to answer will be allowed a brief rebuttal.
"While the format of 60-second answers is one that benefits her, Sharron Angle's biggest challenge will be closing the credibility gap she created by lying to voters on issues from killing Social Security to privatizing the VA," said Reid spokesman Jon Summers. "She needs to explain why in recent weeks she's claimed that her positions have changed, not just create new ones or deny previous positions."
Summers suggested Reid's quiet way of speaking can be a drawback, but said Reid "has always been substance over style and prefers to explain the details about policy than be flashy and pithy."
"I think people will have an opportunity to see a soft-spoken man who truly cares about the state and has a vision for getting our economy back on track, rather than his opponent who relies on talking points and deceptive attacks," Summers said.
The debate, sponsored by the Nevada Broadcasters Association, will be moderated by Mitch Fox of Vegas PBS. It will be held inside the studio on specially built set for the face-off, which will be covered by dozens of journalists from around the world.
The candidates were allowed to invite only a dozen people each to watch the debate, although hundreds of sign-carrying supporters from both campaigns are expected to gather outside.
Security was beefed up for the event after a fist fight broke out between Reid and Angle supporters a few weeks ago at a Senate candidate forum held inside a private Christian school in Las Vegas.
Thursday's debate is the only one the two candidates agreed on, mostly because it's a neutral forum and Angle's insisted she wouldn't debate after early voting begins because she wanted "an informed electorate." More than half of Nevadans typically vote before Election Day, Nov. 2 this year.
Standing at separate podiums, the candidates will deliver opening and closing statements. TV and radio news directors were asked to submit questions, including from viewers and listeners. Questions were to be selected by Fox and executives from the broadcasters association.
Since the GOP primary, Angle has not wavered in her popular, Tea Party-backed push to extend Bush-era tax cuts for all and to cut other taxes and spending to reduce the record budget deficit.
But Angle has softened her once stark positions on how she would handle popular government programs such as Social Security and on how and where she would trim government.
Angle has called Social Security and Medicare "bankrupt systems" that need to be fixed, a belief she stands by today. But she initially also called for "transitioning out" of Social Security and privatizing it — an unpopular idea the GOP has pushed in the past with no success.
Angle has always emphasized that "government must continue to keep its contract with seniors" and pay all their Social Security benefits since they have already contributed to the system, according to her primary-era website. But the Reid campaigned claimed she wanted to "kill" Social Security.
In the face of the attacks, Angle shifted her focus and position, saying she wanted to pay back the $2.5 trillion owed to the Social Security fund and to allow young workers to "opt out" and open personal retirement accounts instead.
Although the Reid campaign has run ads claiming Angle has called for privatizing Veterans Affairs, she has denied proposing such a plan. There's also no evidence Angle has suggested privatizing the VA in any of her position papers or issue pages on her pre- and post-primary websites.
The Reid claim comes from a radio interview Angle did in May in which she was talking about reforming Social Security and Medicare. She lamented that the VA wasn't covering her father's $800 in monthly prescription bills. Asked by the reporter if the VA should pay those bills, Angle said, "No, not if you're working toward a privatized system."
Angle also initially called for closing U.S. agencies such as the Education Department, the Energy Department and the Environmental Protection Agency. She said the Constitution doesn't specifically call for the federal government to carry out those duties, which she believed should be handled by the states. But since the primary, Angle has modified her position, saying those agencies should be trimmed, starting with an across-the- board federal spending cutback of 5 percent for the next five years.
For Angle's part, she has several potential lines of attack against Reid.
In TV ads and on the trail, Angle has blamed Reid for Nevada's continuing economic slide, noting the state's unemployment rate has more than tripled since he became Democratic leader of the Senate.
In several sharp spots, the Angle campaign also calls Reid the "best friend" of illegal immigrants for pushing for immigration reform that could give them a path to U.S. citizenship. There are an estimated 130,000 undocumented workers in Nevada where 200,000 people are unemployed.
Reid has called the ads false since they include a disputable claim that he voted to give illegal immigrants Social Security and other tax benefits. Following debate on the issue, Reid led passage of a resolution to make it clear that illegal immigrants can't receive such benefits.
The spots have fired up Hispanics, who mostly back Reid and make up a quarter of Nevada's population. But they appeal to nonpartisan voters who largely support Arizona's controversial law giving police more authority to stop illegal immigrants.
Contact Laura Myers at lmyers@reviewjournal.com or 702-387-2919.