Chef Kerry Simon to add burger bar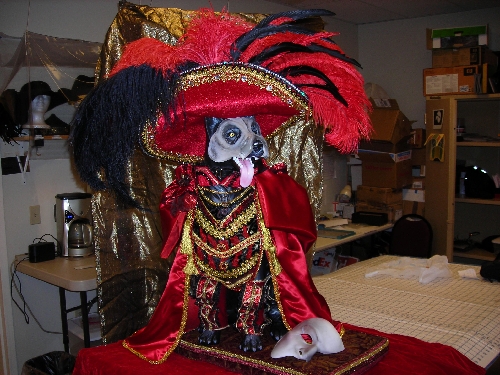 Celebrity chef Kerry Simon is opening a burger bar in Harrah's, based in part on the burger he cooked to win "Iron Chef."
Called KGB: Kerry's Gourmet Burgers, he hopes it'll open by Fourth of July weekend.
KGB will be a burger bar and a vodka bar featuring about 156 seats, he tells me. For the beef, "I'm shooting for all-organic or as local as possible," he says.
He's also opening a steakhouse called Simon Prime in Atlantic City's Hilton.
Sadly, there are no plans to put vodka in the Vegas burgers, but: "You know what I might do for you? Maybe I'll do a marinated vodka burger."
Just for me.
OK, chef, just remember that's called a "promise."
DECORATING DOGS FOR CHARITY
On Sunday, 55 dogs from the animal shelter will go on parade for the "Best in Show" and auction at The Orleans. It's one of my favorite events of the year.
And Strip stars are stepping up to the plate to help. Terry Fator hosts. Holly Madison guest-stars.
Plus, the Lied Animal Foundation gave plaster German shepherds to several Las Vegas shows to decorate. Those plaster pooches will be sold at silent auction Sunday, and will look like this:
■ Cher and her cast flew their plaster dog to L.A., where costume designer Bob Mackie is personally decorating it.
■ Frankie Valli and Bob Gaudio of the Four Seasons signed a plaster dog outfitted in "Jersey Boys" attire.
■ The gang at "Phantom — The Las Vegas Spectacular" decorated their pup head-to-toe in an elaborate replica of the show's "red death outfit" (velvet hat and feathers), mimicking "Phantom's" masquerade scene.
More dolled-up plaster dogs are coming from "KA," "Mystere," "Lion King," "Peep Show," "Chippendales," Fator and Lance Burton.
"Best in Show" was nixed last year, a victim of recession. Now it's back and a bargain ($5-$12). And please, get your dogs and cats spayed and neutered.
ROCKERS LOOK FOR NEW SPOT
Jerry Cantrell of Alice in Chains and Scott Ian of Anthrax are once again looking for a Vegas location to establish a fancy rock club.
Last year, they opened rock club Dead Man's Hand inside The Playground strip club complex. They wanted it to be a mad, rad VIP spot akin to Sunset Boulevard's Viper Room. But it didn't fly, Ian tells me.
"It was great. I just think the location was the wrong location," Ian says.
Playground is a few blocks west of Mandalay Bay on Russell Road. He and Cantrell will be looking for a spot "closer to the Strip or in a hotel."
Ian and Cantrell will take their time relocating. Cantrell is touring with Alice in Chains.
Ian is juggling three bands on tour: Pearl, The Damned and Anthrax.
By the way, Alice in Chains and Deftones will play the Hard Rock Oct. 16. Tickets go on sale Saturday for $65 and up.
ATTENTION HIPSTERS
Jonah Hill and Russell Brand will be doing a red carpet Thursday at Planet Hollywood for a Vegas sneak-peek premiere of "Get Him to the Greek," the sequel to one of my favorite comedies of the past 10 years, "Forgetting Sarah Marshall." Also slated for the carpet: Sean "Diddy" Combs and writer/director Nicholas Stoller. There's a bit of a difference: "Sarah Marshall" was written by Jason Segel (he's Marshall on "How I Met Your Mother"), who (coincidentally) I got half-drunk with a day after he sold the "Sarah" screenplay. Part of "Greek" was shot in Vegas and at Planet Hollywood.
Doug Elfman's column appears Sundays, Mondays, Tuesdays and Fridays. E-mail him at delfman@reviewjournal.com. He blogs at reviewjournal.com/elfman.