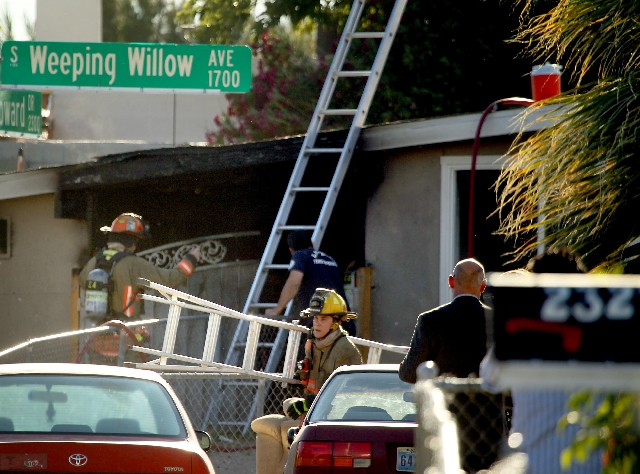 After-school fun turned deadly Thursday in a Las Vegas neighborhood.
One child died and his older brother suffered serious burns after a vacant home went up in flames due to children playing with fire, Las Vegas fire officials said.
Dispatchers started receiving calls about the fire about 4:30 p.m. in the 2300 block of Howard Drive, near Oakey Boulevard and Eastern Avenue, reporting that a young child was trapped in the home.
When firefighters arrived, they were met by a young boy who told them that the his younger brother was inside the house.
It was already too late.
According to officials, firefighters extinguished the blaze within five minutes, but the boy had died by the time they found him.
"The fire flared up so fast that he couldn't make it out," said Tim Szymanski, spokesman for the Las Vegas Fire Department.
According to investigators, the boys set fire to something inside the house and then tried to extinguish it. Instead, the fire quickly intensified.
"The fire flared up so fast that he couldn't make it out," Szymanski said of the boy who died.
Rafael Perez, 15, was on his way home from football practice when he saw the smoke.
"The whole garage was one fire," the Valley High School freshman said.
Perez has lived on Howard Drive his entire life, and had seen the young boys around the neighborhood quite often.
"They played outside every day," Perez said.
According to Szymanski, the boy who died was 7 or 8 years old. His older brother, who suffered serious burns, was about 10 years old.
The boy with burns was transported to a nearby hospital, Szymanski said. His injuries aren't life-threatening.
Neighbors said that the house had been vacant for only one day before the fire.
According to Szymanski, neighbors had heard several boys playing with fireworks for the past few days.
"That's not something that a child should be playing with," Szymanski said, noting that fireworks are illegal in Las Vegas for all but the week of July 4. "A match or a lighter in the hands of a child is as deadly as a gun."
The names and exact ages of the children were not immediately available.
The fire was ruled accidental, but the exact cause is still under investigation.
No other homes were damaged. Damage was estimated at approximately $75,000.
Contact reporter Colton Lochhead at clochhead@reviewjournal.com or 702-383-0264.