Clark County coroner investigators link the living and the dead
February 8, 2014 - 6:59 pm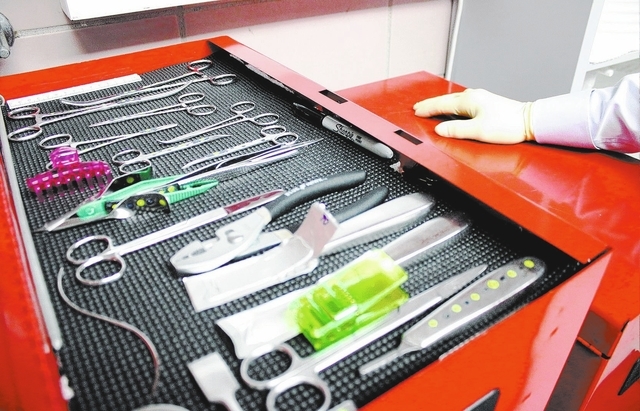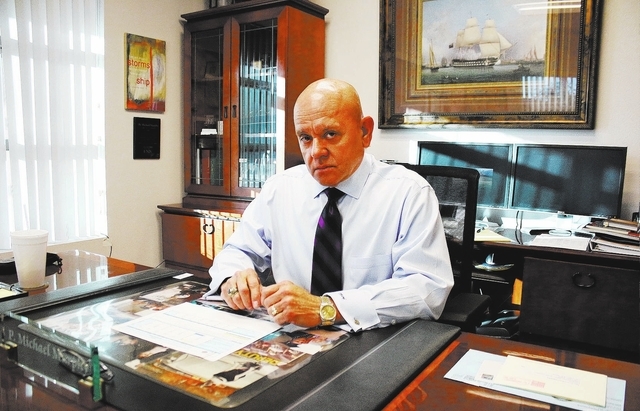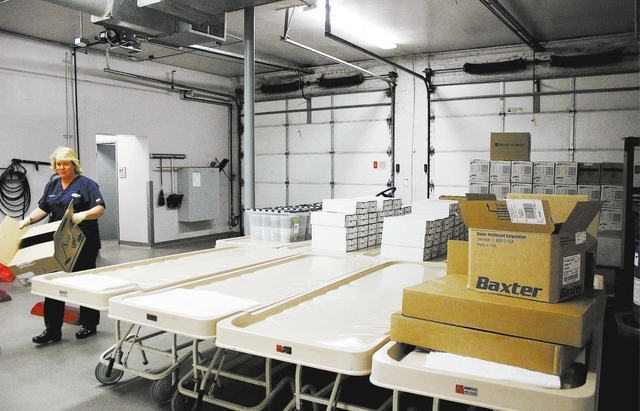 Rick Jones' knuckles struck the door. It was a familiar, stern sound — one he hears each day in the field. The heavy clunks echoed as he waited to tell the woman at home her husband was dead.
She held a newborn in one arm, using the other to open the door. Light poured on her face as she greeted Jones, a man she did not know.
Jones was careful. What he had to say carried weight like his knocks. He insisted the woman sit down, but she refused. Right now, the woman was confused about who Jones was. She wasn't thinking about how she still expected her husband to return to their east Las Vegas Valley home later that day until softly and straightforwardly, Jones told her he never would.
Upon hearing his words, the woman's life shifted, and she felt it, physically. She went weak. The baby fell forward.
On instinct, Jones lunged, reaching his hands out to secure the slipping child.
"There are times we have to pick up severed body parts," Jones, a Clark County coroner's office investigator said, "but the worst part of the job is knocking on the door and telling someone a loved one is not coming home today."
LETTING THE BODY TALK
The facility with two wide, paneled garage doors houses the gurneys on which an average of 10 to 12 dead residents and tourists are wheeled in, weighed and cataloged each day.
A sterile stench hangs stagnant in the air — so clean it's nauseating. Bodies lie in bright blue bags, their placement coinciding with their times of arrival.
But before medical examiners start to determine a person's cause and manner of death, a Clark County coroner investigator responded to a call.
While crime scene investigators and homicide detectives determine whether a crime was committed — and, if so, who is responsible — a coroner investigator has three major responsibilities: conducting a preliminary examination of the body where it is found, identifying the dead and notifying the next of kin.
"We are the eyes and ears for the medical examiners," Jones said.
In a business of death, investigators like Jones spend a lot of time talking to the living.
At a fatal car crash, for instance, they speak with law enforcement at the scene. They find out what happened, when it happened and whether the family of the dead is there.
Then they let the body talk. Keeping its clothes on, they thoroughly examine the deceased. Are the reports conclusive? Does what I see line up with what I was told? All the while, they snap photos for medical examiners to look at later.
Investigators then ask the same question that The Who's frontman Roger Daltrey belts out at the beginning of every "CSI: Crime Scene Investigation" episode: "Who are you?"
These days, identification of a body starts with a cellphone. With it, investigators like Jones can find out who the person is and whom they normally contact and find a direct link to the next of kin. But it's not always that simple. Sometimes there is no phone, and if the phone is pass code-secure, investigators are locked out.
Then they move to anything in pockets or purses — a wallet, an emergency contact card, a grocery store card. Sometimes they reach out to witnesses and landlords, which led to the uncanny misidentification of a suicide case recently. In that case, a Zappo's worker had to tell the corner's office he wasn't actually dead.
Then investigators turn to fingerprints. When those don't get a hit, it's dental records and sending in traces of comparable DNA.
It can take weeks, sometimes months to identify a person.
"We are experts at it," Jones said. "Seldom do we ever not find a family member."
Then come the familiar knocks at the door.
THE JOB CAN TAKE A TOLL
It was late when her phone rang. At the time, Felicia Borla was working part time at a hotel. She was 23, and her life had just switched gears. Once a pre-med student, Borla was instead working part time as an investigator at the coroner's office after an internship she fulfilled and fell in love with.
"Officers always ask me, 'Why?' " Borla said. "I never have two days that are the same. And it's not that I thought I was bad at what I was doing. I thought, I can do this even better."
She picked up the phone.
"I need you to meet me at the office when you get off," a senior investigator on the other end of the line said to her.
"OK, I don't get off until about midnight," Borla said.
"Stop by."
She thought to herself, am I in trouble? What did I do? She finished her shift and headed to the office at 1704 Pinto Lane, south of Alta Drive and west of Interstate 15.
There, the investigator met with her in the office parking lot. The pair sat on the tailgate of his truck.
"This job is hard," he told her. "I wanted to check in on you."
He asked whether she was doing all right. If she was really, truly doing all right.
Taken aback, Borla said she was. And almost 14 years later and now a full-time investigator, the gesture is still appreciated. Telling people their loved ones are dead day after day, year after year, can take a toll.
"Different cases stir up different emotions for different people," Borla said.
She glanced to the right. A small, green, resilient plant grows on top of a short bookshelf in her office despite death surrounding it. It's housed in a whitish-blue tin watering can.
"That was a gift," Borla said.
The same plant once sat in a burning home. A woman who used a wheelchair died in the fire. When Borla notified her immediate family — two young firefighters who lived out of state — it was a tough case.
Considering their occupations and the nature of the woman's death, Borla put them in contact with a local fire station for support. The station took the two men under their wing as they made arrangements for their relative.
Following a weekend of packing up her things and planning her funeral, the men visited Borla. They handed her the plant, the soot now wiped away from its watering can — a quiet thank you for the help she wasn't required to do.
"At the end of a life, houses fill with friends and family," Borla said. "I can be in a little room in a downtown motel and all the other rooms will come visit, too. People go out of their way."
In the absence of a loved one, Borla is there.
"Sometimes I feel like I've been adopted by family for an hour-and-a-half," she said. "We hug mom. We smell their cigarette smoke. We turn off their oxygen, take off their rings. It reminds everybody we're all the same."
A HYBRID OFFICE
The Clark County coroner's office is a hybrid one. Where some offices in other states only work under doctors, and others separate their investigative and medical staff, the relationship in the valley is symbiotic.
"We're like puzzle pieces," Borla said. "We're definitely our own piece to the puzzle. But if any one of those break off, we'll fall apart."
Coroner Mike Murphy understands that significance. Besides the spotlight CSI puts on Las Vegas forensics, the office is the only one in the nation accredited by both the National Association of Medical Examiners and the International Association of Coroners and Medical Examiners.
Murphy once served as the international association's president. Two reality-based television shows have filmed pilots in the office that may soon air.
But aside from the recognition, Murphy said the job is a day-to-day responsibility. With 75 full- and part-time employees in administrative, investigative and forensic positions, the office operates 24/7, 365 days a year.
"We run very, very lean here," Murphy said. "I have a responsibility to run an organization with compassion, empathy and efficiency. If you're not careful, this job can emotionally tax you."
THERE 'TO GRAB THAT BABY'
After a day of calls, investigators talk among themselves. They peek over cubicle walls or swing by, sit down and visit.
In the cold back rooms lined with white tile, metal tables and red toolboxes filled with scalpels and saws, doctors and technicians hold conversations during autopsies. A small transistor radio softly pumps classic rock tunes.
"I think we have our own survival mechanisms," Borla said of coping with death every day.
Rick Jones agreed, water welling in his eyes as he reflected on the woman with her newborn at the door.
"We help them through this experience," Jones said. He is a liaison between the dead and the living — the first contact relatives have when a loved one dies.
Families turn to investigators like him.
"We feel blessed," Jones said. "We would all want to be there, to grab that baby."