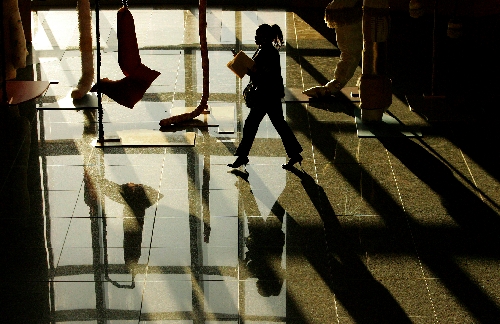 Here it comes again.
But this time, it's worse.
Facing another sharp decline in revenue, Clark County leaders again will ask most department heads to craft plans for cutting costs — by 9 percent for the next budget year.
Such austerity measures, if applied, would result in layoffs of as many as 400 people.
The eventual number will depend on how much compensation the county's biggest union is willing to give up to save jobs, County Manager Don Burnette said.
"We have to start making some tough choices," he said.
Nick DiArchangel, spokesman for the Service Employees International Union, said the county would have a hard time functioning if additional cuts occur.
"I'm kind of sitting here with my mouth open," he said Thursday after learning of the proposed reduction. "It's a heckuva thing, especially when you're stretched out so thin. We're going to cut more people? How is that possible?
"It's concessions and cuts and no promise of job security. I'm really interested to see how this plays out."
Department heads must submit their plans for rollbacks in time for county commissioners to review the preliminary budget on March 23.
A 9 percent reduction would cut general fund expenditures by about $41 million, which is the equivalent of roughly 400 positions, county spokesman Erik Pappa said. A concession from the union of 5 percent of personnel costs, which is similar to what firefighters gave up, would save $20 million and reduce the needed cost cuts by about half.
Last year, finance officials estimated that more than 500 workers would have to be laid off to balance the budget unless pay and benefits were snipped by a combined 14 percent.
County officials chose door No. 3: pulling $102 million from capital funds and a reserve.
That was a one-time fix, Burnette said, adding that the reserves are too drained to dip into again.
This year, the county must either make sizable staffing cuts that will affect services or get significant concessions from the union, he said.
Two years ago, the SEIU — the county's largest union, representing about 9,500 workers — agreed to reduce cost-of-living raises to 1 percent from 3 percent, saving the county about $10 million.
In return, the union got a one-year contract extension, but on condition that the two sides would bargain about money. After months at the table, they're at a stalemate, and the contract is set to expire in July.
"I'm disappointed that we haven't been able to reach an agreement on concessions," Burnette said.
The departments' 9 percent budget cuts would offset sagging property tax revenue, which is down $30 million from last year and expected to drop further after property owners appeal their assessed values, Burnette said. Since 2009, property taxes have dropped $110 million and the consolidated sales tax has dropped almost $100 million. Those funding sources make up more than half of the $1.2 billion general fund.
On top of that, Gov. Brian Sandoval's budget plan could cost the county $125 million a year by shifting program costs to local governments and diverting some local property taxes to the state.
Last year, Commissioner Steve Sisolak voted against siphoning money from reserve funds, arguing that the county was postponing layoffs with the slim hope the economy would improve.
The economy is still in a slump.
"I would prefer to reduce wages because I don't think we should increase unemployment more than it already is," Sisolak said.
Since the recession began, the county has laid off about 300 people, including 60 workers in development services last week. The county also has frozen or eliminated about 1,500 vacant jobs.
There are about 10,500 full-time county employees now serving about 900,000 residents in unincorporated areas. With tighter staff, the county also must provide regional services such as courts to all local residents, including those who live in the cities, Burnette said. That totals about 2 million people.
"We are absolutely a much smaller organization than we were two years ago," Burnette said.
Contact reporter Scott Wyland at swyland@review
journal.com or 702-455-4519.