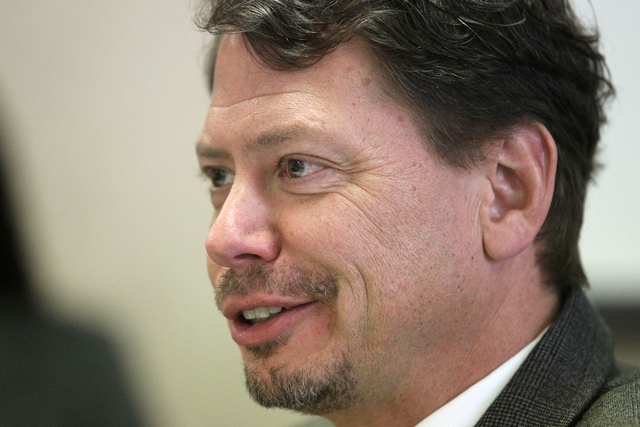 Paul Camacho, whose energetic leadership of the local IRS Criminal office has led to big trouble for tax-evading pimps and attorneys alike, is retiring at the end of the month.
Camacho, 50, is leaving the government agency after 26 years to become a compliance official in the casino industry. He has been the Special Agent in Charge of the IRS in Nevada and Utah for nearly five years.
MAKING GRADE: It's not often in recent years that I've seen a Clark County School District superintendent appear genuinely excited to speak to reporters, but public schools chief Pat Skorkowsky was just that as he met with members of the Review-Journal's editorial board this week.
Skorkowsky was compelled to play a little coy with specifics, but he was obviously proud to announce that the high school graduation rate in Clark County is on the rise.
"We are going to see some positive numbers when it comes to graduation," Skorkowsky said, adding that the improvement is because of "better systems of accountability and transparency" and improved academic focus and test preparation.
Look for real specifics Monday, he says.
The community can't wait, Mr. Superintendent.
'NO MORE': Metro Vice Lt. Karen Hughes was elated by the coverage given Wednesday to the issue of teenage sex trafficking in Nevada with the airing throughout the state of the Troy Martinez-directed documentary, "Trafficked No More."
Hughes says she hopes the documentary will start a positive dialogue in families and lead to prevention before her unit gets involved.
"By the time we get involved, 'we,' meaning law enforcement, it's too late," Hughes says. "It's got to be caught on the front end."
The documentary was part of the Nevada Sex Trafficking Awareness Campaign spearheaded by state Attorney General Catherine Cortez Masto and a host of law enforcement organizations. For more information, go to traffickednomore.org.
GOOD COP: Former Metro Intelligence Bureau Cmdr. Kent Clifford, one of the men substantially responsible for putting the Chicago Outfit out of commission on the streets of Las Vegas, died recently after a valiant battle with Lou Gehrig's disease.
The soft-spoken Clifford was a proud husband and father who was dedicated to his Mormon faith, but when it came time to take on members of Tony Spilotro's gang of killers and thieves, he was fearless. Clifford assembled a team of detectives that hounded Spilotro and Co. day and night and eventually helped turn key members of his criminal crew.
With a viewing set for 9:45 a.m., Clifford's funeral is scheduled for 11 a.m. today at the LDS Church at 3200 Mustang St. The family has requested that donations in his honor be made to alsofnevada.org.
ON THE BOULEVARD: A Thursday Black Mountain Institute presentation at UNLV was intriguingly titled, "Does It Matter If Jesus Was Married?" The program featured biblical scholars Karen L. King, Bart D. Ehrman, and Mark D. Jordan. … The local real estate market hasn't been kind to Texas businessman Lacy Harber lately, but he's sure been generous with Opportunity Village. … In a recent column, Camino Al Norte street was temporarily and incorrectly renamed Camino Del Norte. … At Mount Charleston, locals continue to work to ensure their fire and emergency services are maintained at current levels after learning that the Nevada Division of Forestry plans to close Station 1 by July 2015. The area has a sparse full-time population but receives approximately 2 million visitors each year. … Hearing good things about Frank Cullotta's latest memoir, "Hole in the Wall Gang," with Dennis Griffin. Maybe crime does pay, after all. … While we're on the subject of books, whatever became of the memoir of Nancy Spilotro, devoted wife of the late mobster?
Have an item for the Bard of the Boulevard? Email comments and contributions to Smith@reviewjournal.com or call 702-383-0295.