Clark County voters set early-voting record as nearly 40K turn out on day 1 — PHOTOS
October 23, 2016 - 8:45 am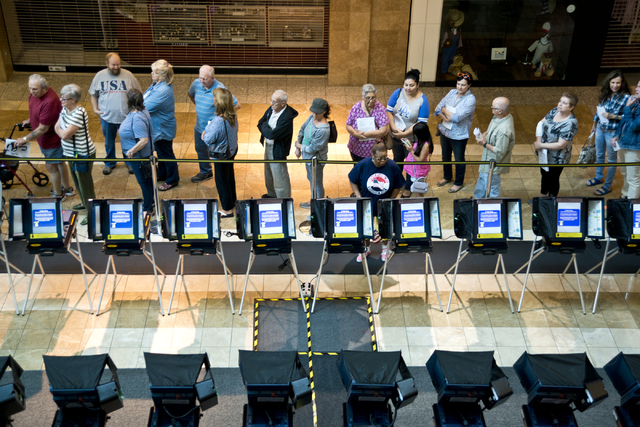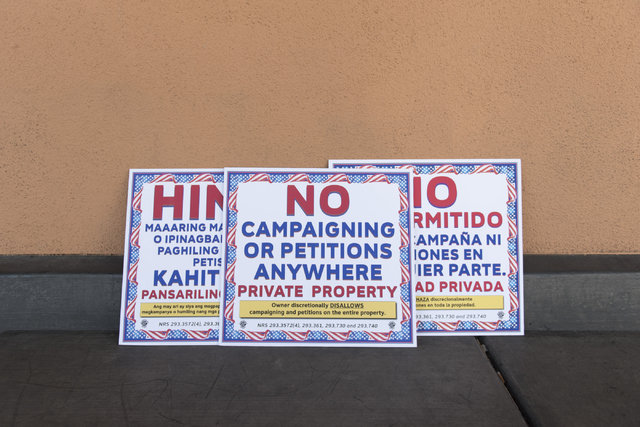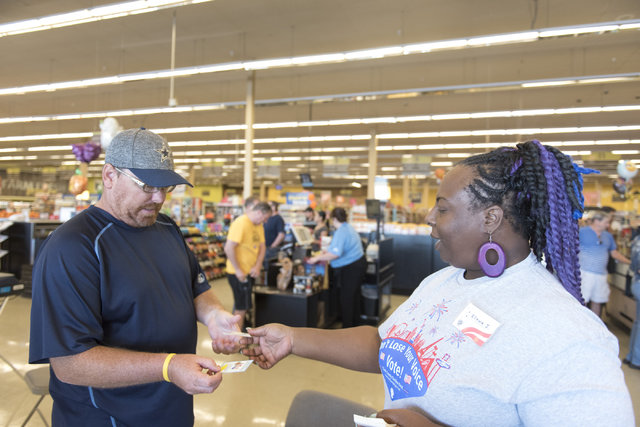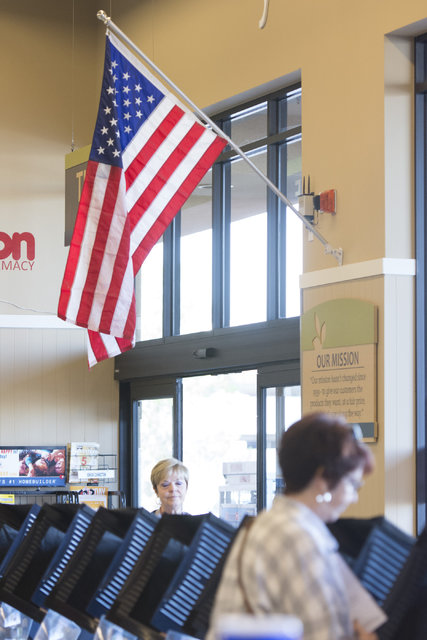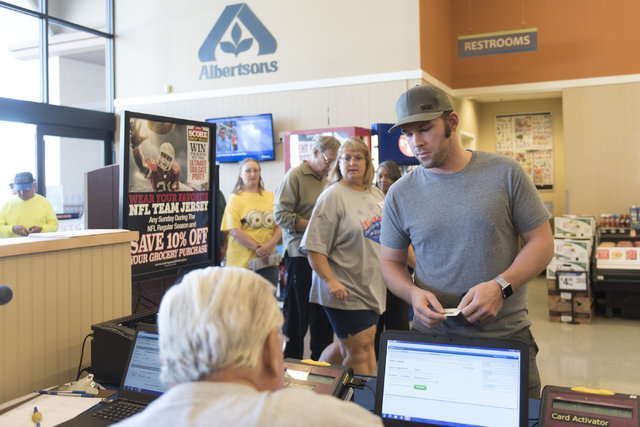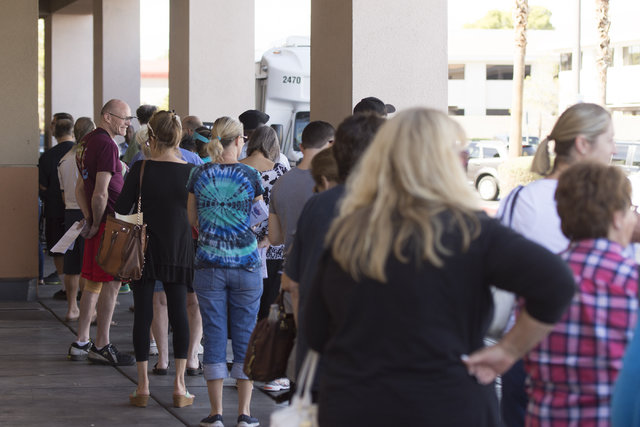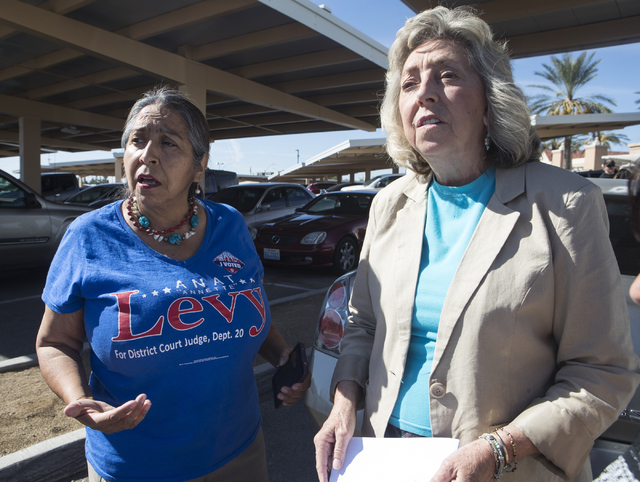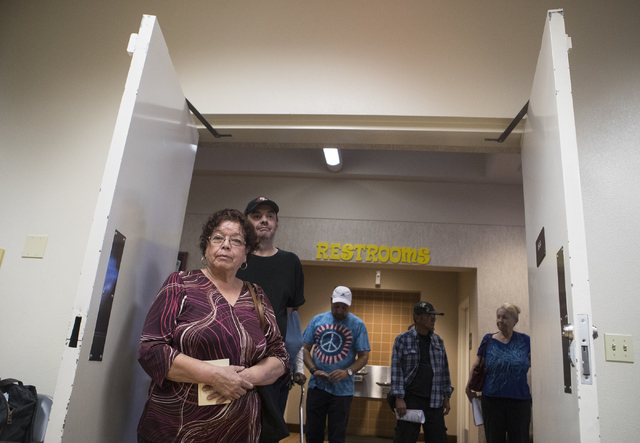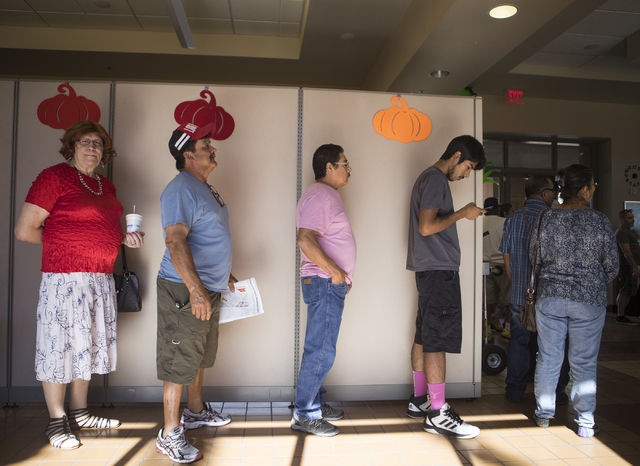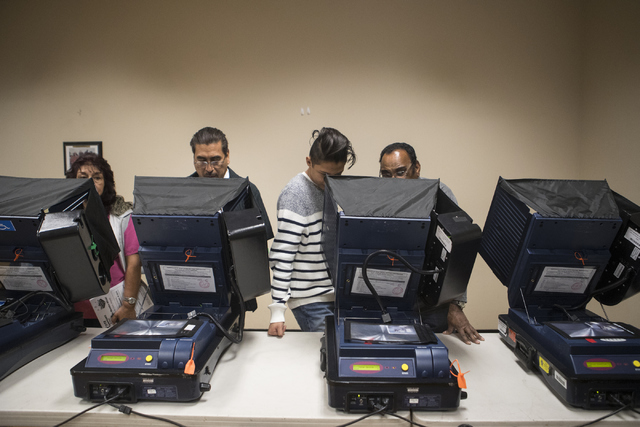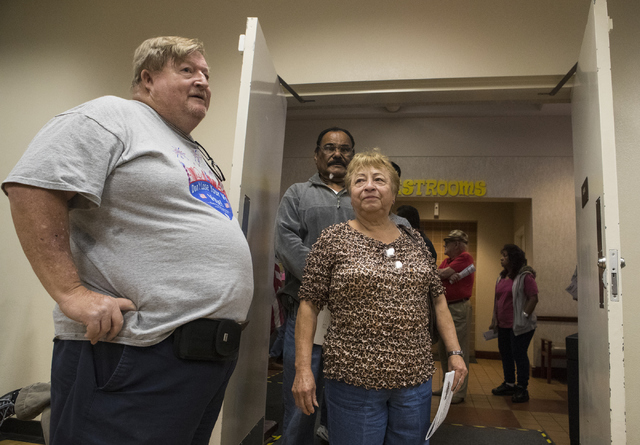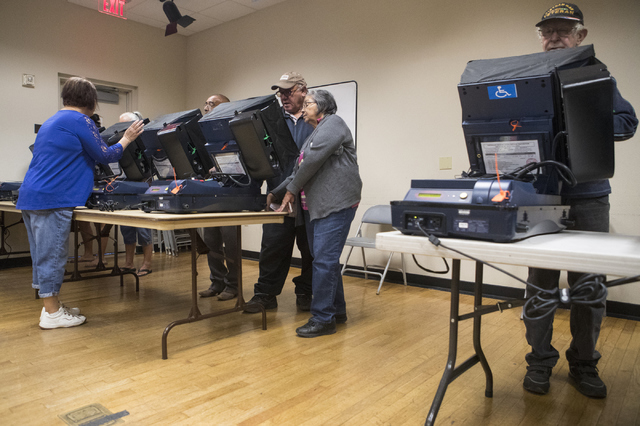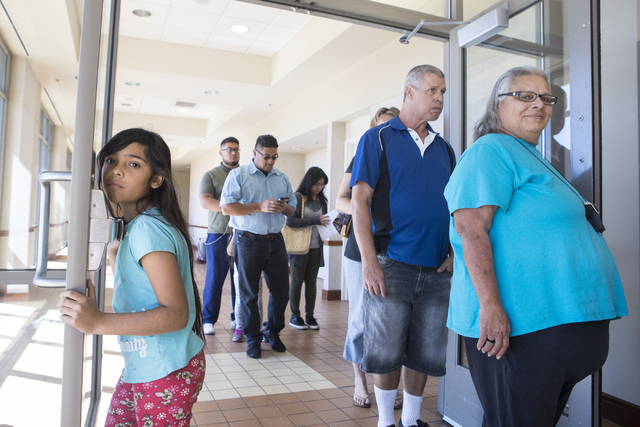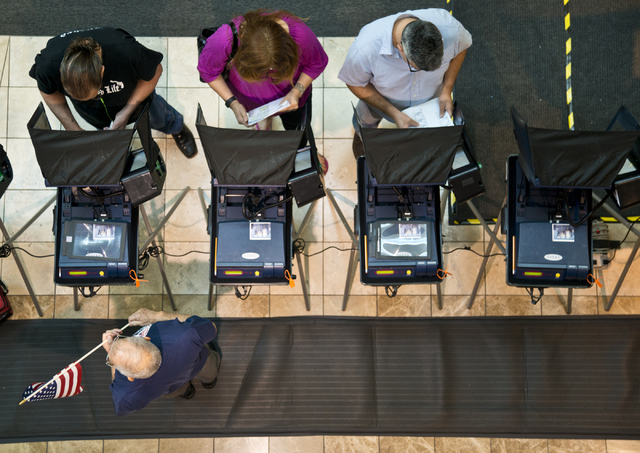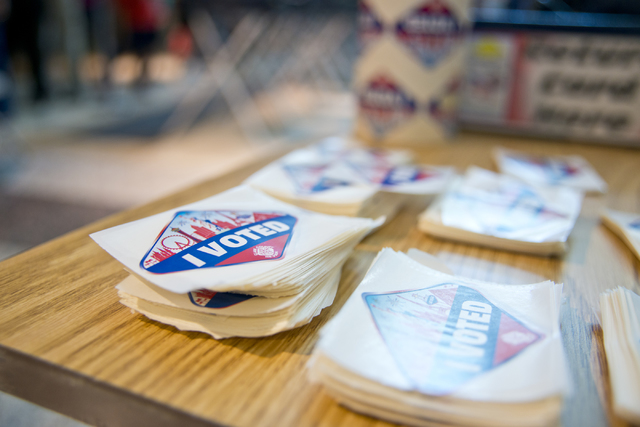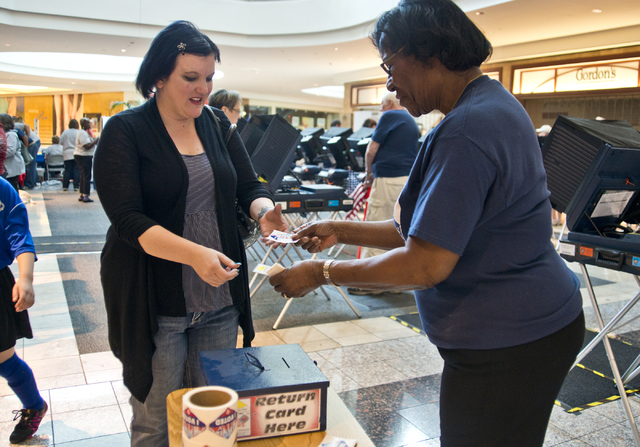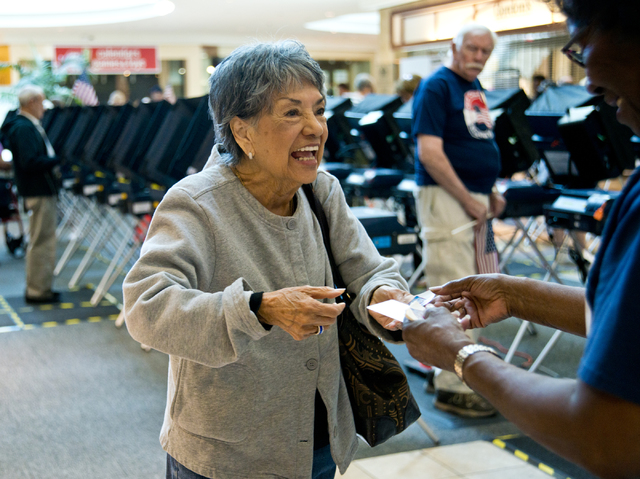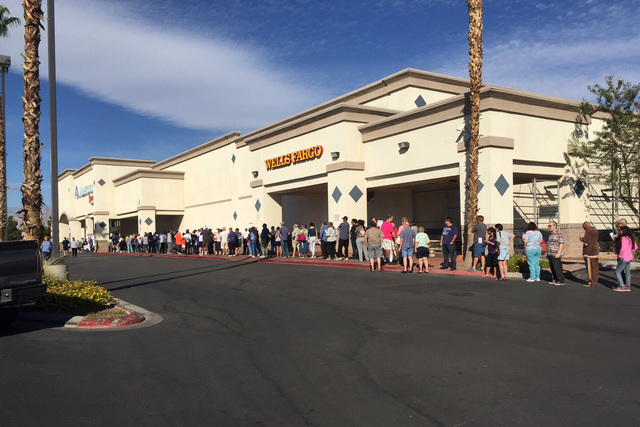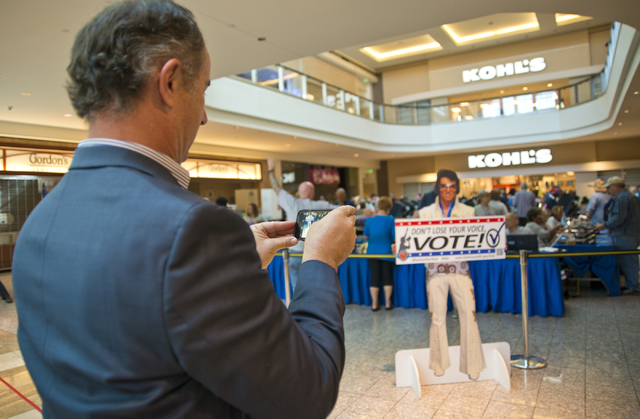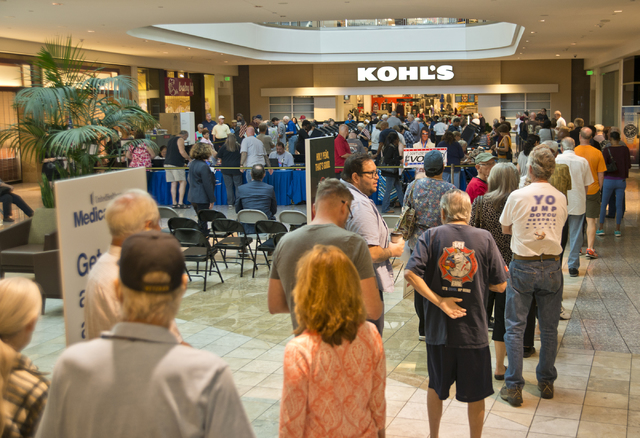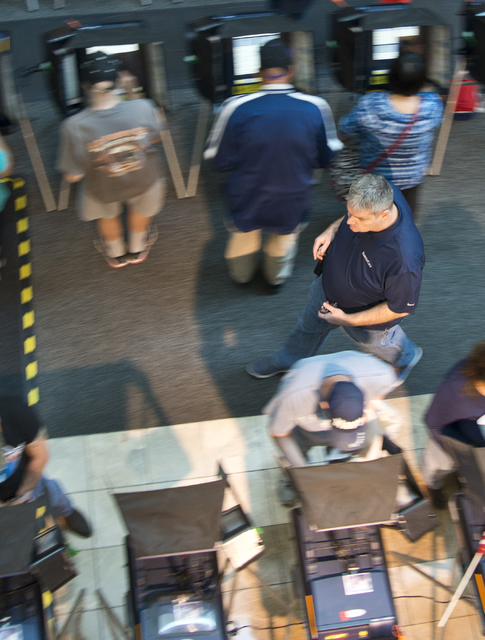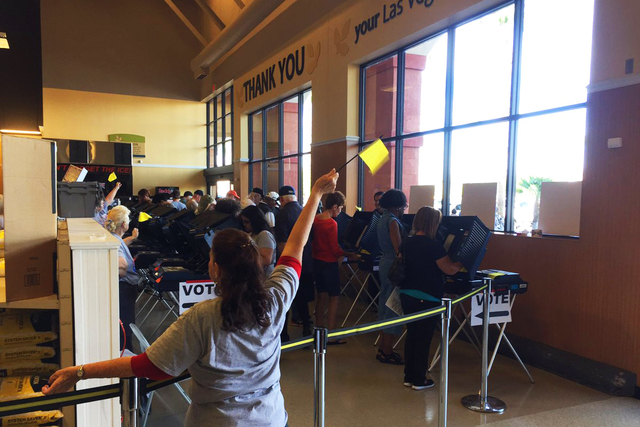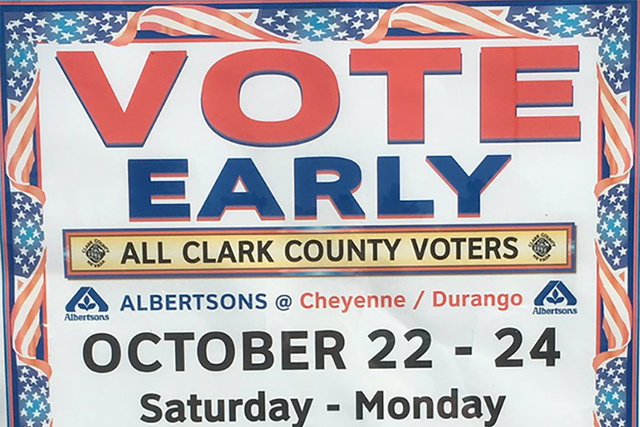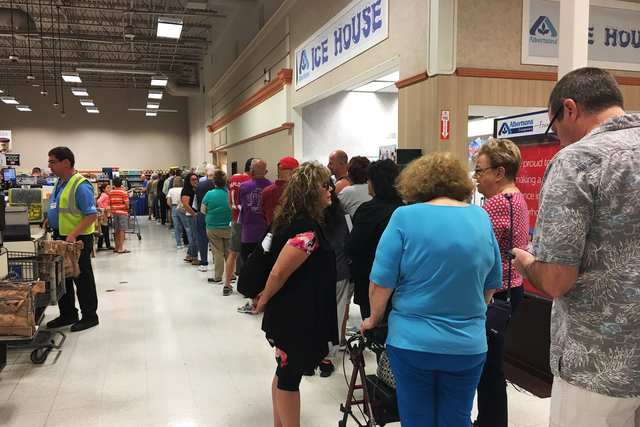 The first day of early voting in Clark County set a new record by a wide margin Saturday, as 39,309 voters turned out at polling places around the valley, Clark County Public Information Officer Dan Kulin said.
Th turnoutm beat 2012's record by over 6,000 votes. The 2012 general election saw 33,182 voters turn out in Clark County on the first day of early voting.
The final tally could be significantly higher, as polling sites in some areas stayed open as late as 7 or 8 p.m.
Earlier Saturday, Clark County Registrar of Voters Joe Gloria said no issues were reported at any of the polling sites.
"We're in good shape at all of our sites," he said Saturday morning.
Gloria said he expects continued strong turnout. "It's going to be a busy election all the way through," he said.
The line at the East Las Vegas Community Center was about 50 people long and snaked through the center's lobby at 9:55 a.m., five minutes before voting was to begin.
Vicenta Montoya , who has voted in every election but one since she was 19, said she offers rides to the polls to residents of her senior living apartment complex.
"It doesn't matter what party they are, or no party, whatever — if people want to come and vote and they don't have a way to go, I'm there to take them," the 66-year-old woman said as she stood in line.
Montoya said she's been especially active during this election because of her concerns about a Donald Trump presidency. "This has generational impact," she said. "I'm looking at my daughter and my grandchildren. … How will generations down the road be affected by my vote?"
For most of Trump's campaign, Montoya, a Democrat, said she watched the Republican nominee with baffled amusement.
"I did not become angry with Donald Trump until he said that the election is rigged …," she said. We have a history in our country of being able to have a peaceful transition," Montoya said.
"That made me angry, and more than anything, it made me come here early in the morning to vote."
DEEP DIVISIONS
Like others, Mary Lou Griffin and her husband, Kenneth, said one reason they voted early was to get it out of the way.
But there is more to it than that, Griffin said. "I vote early because I care," she said.
The biggest issue for her is abortion. A born-again Christian, Griffin said Democratic nominee Hillary Clinton's support of partial-birth abortions is unacceptable.
"I had a miscarriage about 40 years ago … and I cannot believe that a woman would do that to her own body," Griffin said. "I cannot imagine that our society has gotten so vile that they would allow that to happen."
Griffin said she agrees with everything Trump stands for, but she would have voted for the Republican nominee no matter who it was because she stands by the party's platform.
Voter Paul Gaiptman said the early voting process is "seamless, as long as people did some homework before they came here."
Regarding the presidential race, the 67-year-old retired Las Vegas resident said he had been an active supporter of Clinton's primary rival Bernie Sanders.
"I held my nose and I voted for Hillary," he said. "Hillary made some Bernie Sanders promises that she's going to have a real battle to deliver," he said, citing her plan for free state college tuition as an example.
The recently released 2005 recording of Trump talking about touching women in vulgar language also informed his vote.
"I have a daughter and she has a daughter, and I'm not going to let the women in my family be exposed to that," Gaiptman said.
He added that in the numerous "locker room talks" he's partaken in, "no one ever degraded women at that level, and that's just a character flaw."
Gaiptman said Question 3, which would require the Legislature to create an open, competitive electric energy market if passed, was another issue that moved him to vote early.
"As long as we're a monopoly, the consumer's gonna get screwed," he said. "I understand the need for investors to make money, but we should have more than a choice of none, and solar is the future.
"Our state has more than casinos and the Raiders, we have plenty of sunshine here," he said. "Let's be the solar capital of America and sell it."
HOPES FOR UNITY
In Henderson, Albert and Stacey Valentine joined a line stretching out the doors of the Albertsons on Stephanie Street and Horizon Ridge Parkway as voting began at 9 a.m.
"I'd like to see the country come together as one country," Albert Valentine, 53, said. "I'm not particularly interested in parties, but what's good for the American people."
He said he's seen "a greater sense of urgency" among Americans this election cycle. "They're taking it seriously — looking at the dynamics of this campaign, I think it's driven undue concerns and fears into the hearts of the American people," Valentine said.
Valentine wouldn't divulge which candidate he's supporting, saying he's seen the core of a family split apart over disagreements about the two major party candidates.
Chandra Sandoval said the divisiveness she's witnessed shows the country has outgrown the two-party system.
"I think it's one of the saddest elections that I've ever seen," she said. "I think that more people are voting, not necessarily for who they want to see, but instead for who they don't want to see."
She said changes are necessary "so that we don't end up with two candidates with 50 percent of the U.S. hating each one of them."
A Sanders supporter, the Henderson resident said she's voting for Clinton because her personal values align more closely with the Democratic candidate.
While she believes every issue is important in this election, some of the issues that top her list include solar power, guns, human rights and reproductive rights.
At a voting stop at Henderson's Galleria Mall, David Moscato, 47, of Las Vegas, said his mind was made up a long time ago to support Trump and that he could never vote for Clinton .
"More than anything else, he's going to be his own person and not let anybody else dictate what he does," he said.
Across the valley at a mobile voting site at an Albertson's grocery store at 8350 W. Cheyenne Ave., about 30 people waited in line for their chance to vote at about 9:30 a.m.
As a man who holds two jobs, nurse and semi-truck driver, Bervin Grady said he voted early because he wasn't sure when he would have another chance.
"I drive in 48 states. It's hard for me to get back to Vegas and vote. For me to do it early, I know it's in," he said while waiting in line outside Albertson's , a few hours before he would depart for California for work .
Grady, 62, said he's voting for Clinton based on her years of experience in government.
"When you've got history, that says something," he said. "She knows what she's talking about."
Karen Andrews, 74, also said Saturday was her best, if not her only, opportunity to vote before she leaves Sunday for a weekslong trip to Southeast Asia.
"I think this is the most important election I've voted in my entire life, with the possible exception of the first time I voted in 1964," she said. "I didn't want (Barry) Goldwater. I don't want Trump."
Paul Comei, 77, said he is voting Republican.
"I'm concerned about the potential increases in taxes," Comei said. "Runaway liberalism is what's at stake, and we should stop it."
At an Albertson's at 4850 W. Craig Road, Ashley Bagley, an Airbnb quality specialist, found significance in the long line at the voting site. "This is how you know the election is important for our future," said the 23-year-old Las Vegas mother-to-be.
"I want my kid to grow up like I did — worry-free," Bagley said. "The logic of how to make us thrive is important — I'm voting for Trump."
Rebecca Weeks came to the voting site dressed for the occasion, decked out in a red, white and blue cowboy hat and red shirt with Vote! printed across it.
"I'm ready," 51-year-old Las Vegas teacher said. "I've voted in every election since I was 18, no matter how big or small."
A Green Party member, Weeks said the issues that brought her to the site are education, women's rights, climate change, gun control and poverty.
A retired Air Force couple at an Albertson's at 7151 W. Craig Road were thinking of their grandchildren when they came to the voting site.
"We have grandkids. We're voting for the best future of the country," said Las Vegas resident Bobby Tyre, 78, who came to the voting site with his wife, Linda.
"We're Democrats, but more and more I vote for the person. This is the most critical election," his wife said, adding she is concerned about gun rights and climate change issues.
Farida Rajab Khajawall, 62, of Las Vegas, cast her ballot for Clinton at the Vons grocery at Windmill Parkway and Pecos Road.
She said the Democratic nominee is fit to serve. "We have to look at what is best for the nation right now because the world and America are facing a lot of problems and powers like China so we need someone who really knows politics," said Khajawall, a retired chemical engineer.
Khajawall said she is disheartened by the political divisiveness that pervades the country.
"When I came to America it was not like this. Now it is divided, and I don't like it," she said. "The candidates are acting like c
"I was a Republican first and I changed to Democratic. I would have voted Republican but not after Trump was the nominee."
Deborah Deckert, a retired transcriptionist who recently moved to Las Vegas from California, called Trump unstable and said nothing less than the Constitution is at stake. "Every vote counts in this one," Deckert said. She said she supports Clinton "because she has spent her whole life in service. And, I'm not really concerned with emails. We have all sent stupid emails."
Henderson resident Merry Card, 86, a retired stewardess, said Trump is her choice.
"The issue is getting Mr. Trump into the White House first," Card said. "He will take care of what we need and get America back to how it was before and get God back in America."
She said she hopes Trump can do "everything he wants to do and that he won't have any problems."
Military, education and veterans' care are the issues Card said are important.
And, she added, "I am excited to get a beautiful lovely first lady in the White House finally."
Early voting runs through Nov. 4. In Clark County, registered voters can choose from among 97 voting sites.
The county predicts more than 60 percent of the residents who will vote in this election will participate in early voting.
Review-Journal writers Natalie Bruzda, Michael Scott Davidson, Raven Jackson, Kimber Laux and Jessica Terrones contributed to this report.
More information on voting site locations and their dates and times of operation can be found online at: http://bit.ly/2ey6QbQ