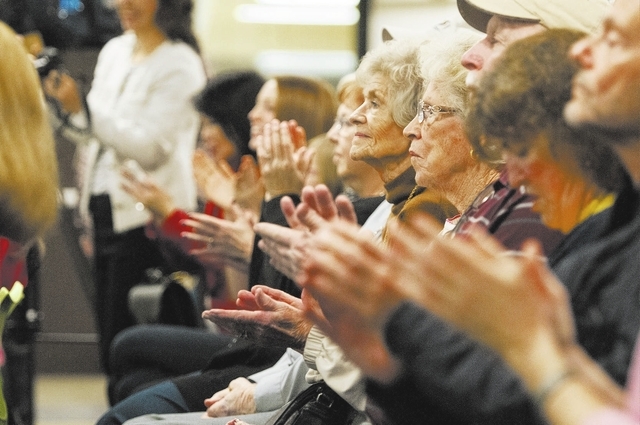 For three straight years, the privately operated Meadows School has graduated more high-achieving students than any Nevada school.
Not this year, according to the National Merit Scholarship Program competition naming the smartest 1 percent of America's high school seniors based on their PSAT scores of the previous year. These students are deemed semifinalists eligible for $35 million in scholarships this spring.
For the class of 2014, Clark High School had the highest number of semifinalists in Nevada — 14. It tied the Davidson Academy of Nevada, a Reno public school for profoundly gifted middle and high school students.
Clark, on the other hand, is a traditional high school for neighborhood students, with a twist. The school, near Valley View Boulevard and Pennwood Avenue, also has three magnet programs — finance, teacher education, and mathematics, science and applied technology — drawing students from across the valley.
"When I got the letter, I was jumping for joy. Fourteen," Clark Principal Jill Pendleton said Tuesday after a ceremony honoring the Clark County School District's 38 semifinalists.
Not since the class of 2010 has a public school produced more National Merit semifinalists than the Meadows. That year, Reno High School had eight students reach the top tier. That year, Meadows had six semifinalists.
Clark has been making progress though. Since 1990, the Las Vegas school has averaged five semifinalists a year, more than many public schools. Last year, Clark had 10 semifinalists.
"Next year, we won't be tied," said Pendleton, noting that one of Clark's semifinalists attends the finance magnet, 12 attend the math/science magnet, and one attends the school as a traditional student. "It really is attributed to great teachers offering rigorous instruction."
The school has recently come to offer every single science, technology, engineering and math course covered by the College Board, the nonprofit organization that administers the SAT. Clark can't keep up with the demand for its magnet programs. This summer Clark received 1,200 applications for 225 open seats.
Clark senior Theodore Kern, in the math/science magnet, isn't just a semifinalist. He sees himself as an ambassador for the school. He's taking seven advanced placement classes this semester. His calculus class spans three periods.
"The easy things come naturally to us," he said of semifinalists. "But, unfortunately, we never sign up for the easy things."
He usually wakes at 5 a.m. on weekdays to finish homework, then goes to school until 2:30 p.m. He stays there until 5 p.m. for clubs, such as robotics. He then goes home to study until after midnight.
"It all blurs together," he said.
Clark's magnet programs have a cap of about 800 students. The school has about 2,000 other students who are mostly zoned for the school and attend the traditional courses.
Overall, Clark County public and private schools produced 47 semifinalists this year, down from 58 last year. That drop isn't due to public schools, but private schools. Clark County School District stayed consistent this year with 38 semifinalists, just one less than last year and six more than 2012.
Public school semifinalists came out of Coronado, Green Valley, Liberty, Centennial, Clark, Palo Verde, Rancho, Silverado, Valley, Legacy, and Community College High School-South. The district's Advanced Technologies Academy and West Career and Technical Academy also produced semifinalists.
But none of the 12 other schools came close to Clark. The closest was Henderson's Coronado High School with 5 semifinalists.
"I guess you can tell why we're doing this at Clark," said School Board President Carolyn Edwards at the Tuesday event.
She represents the nation's fifth-largest district with 315,000 students, which is usually criticized for student performance that falls at or near the bottom of every national ranking. But she had something to praise Tuesday.
"It is important for the community to know we have stellar students," she said during the ceremony organized as part of American Education Week, which celebrates public education.