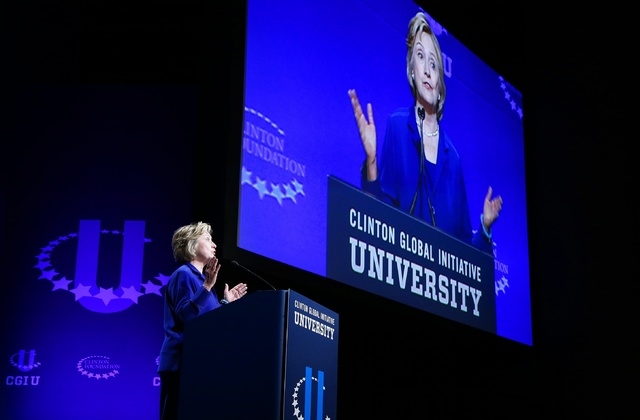 TEMPE, Ariz. — Looking out to a theater full of motivated college students, Hillary Clinton said their generation showed great promise as "open-minded and tolerant" Americans ready to step forward for an important cause.
"We are going to make sure the millennial generation really is the participation generation," Clinton said in a speech at Arizona State University, hosting more than a 1,000 students for the annual Clinton Global Initiative University conference.
As she considers a 2016 presidential campaign, Clinton has appeared at colleges packed with students who could help power a second White House bid. In 2008, Clinton wasn't their first choice during the Democratic primaries; young voters supported Barack Obama by wide margins. So if there is another campaign, their backing could prove instrumental.
At universities, Clinton often appeals to young voters' idealism and encourages civic participation. She also raises the kind of powerful symbolism — her potential breakthrough as the first female president of the United States — that helped propel Obama's history-making campaign to become the nation's first black president.
Clinton's allies are setting up a voter outreach operation that could enable her to connect with young voters and build upon the Obama campaign's success in courting women, African-Americans, Latinos and gays and lesbians.
"I don't think you're going to have this contrast in a Democratic primary that you had in 2008. I think there will be a ton of enthusiasm" for a potential Clinton candidacy, said Mitch Stewart, a former Obama campaign aide who advises Ready for Hillary, a super political action committee that's building support for a 2016 race.
"If she were decide to run, there would be an historic element to her candidacy as well that I think young people would want to be a part of," he said.
The annual Clinton university event featuring former President Bill Clinton and the Clintons' 34-year-old daughter, Chelsea, offered a window into the enthusiasm that the ex-secretary of state might tap into if she runs for president again.
The students, who have committed to service projects through the Clinton Global Initiative, roared with approval when the former first lady walked onstage for speeches Friday night and Saturday afternoon. Her Saturday address focused on the importance of higher education and vocational training, and Clinton asked the students to "make sure we turn good intentions into good outcomes."
"It seems like she's ready to get things done," said Alex Blum, a 25-year-old graduate student at Arizona State.
At Tufts University, Blum helped organize college students for Obama in 2008. He said while many of his friends and classmates support Obama, they see Clinton's experience as an asset in succeeding where the president has struggled.
That view wasn't always the case.
Running in 2008, Obama had several advantages with young voters: his opposition to the war in Iraq; the historic nature of his candidacy; a hip, next-generation profile; and a team that aggressively organized college students.
Clinton was hampered by her 2002 vote in the Senate to authorize the Iraq war, which young Democrats vociferously opposed. While both campaigns offered the potential of a barrier-breaking presidency, Clinton often played up her experience and competence more than her gender.
In Iowa's leadoff caucuses, Obama's campaign used organizing to bolster turnout among young voters. Exit polls there estimated that Obama won voters under age 30 by a 5-1 rate over Clinton, according to an analysis by the Center for Information &Research on Civic Learning &Engagement. About 65,000 voters under 30 turned out for the Iowa caucuses, more than four times the number in 2000, the center found.
Obama performed well among young voters in other early states such as New Hampshire, South Carolina and Nevada. By the end of the primaries, he had captured about 60 percent of voters under 30, compared with 40 percent for Clinton.
Since leaving Obama's Cabinet in early 2013, she has visited a number of college campuses, including stops last year at the University of Southern California, Bryn Mawr College and colleges in New York, which she represented in the Senate. More recent visits have included the University of California, Los Angeles, and the University of Miami.
Clinton encourages students to get involved in the world, touching on the themes of equality and opportunity that have been a hallmark of Obama's message.
"It is the work of this century to complete the unfinished business of making sure that every girl and boy, every woman and man, lives in societies that respects their rights no matter who they are, respects their potential and their talents, gives them the opportunities that every human being deserves, no matter where you were born, no matter the color of your skin, no matter your religion, your ethnicity or who you love," she said at Miami.