Collins plans to run for NLV mayor — if it's still there
September 2, 2015 - 6:19 pm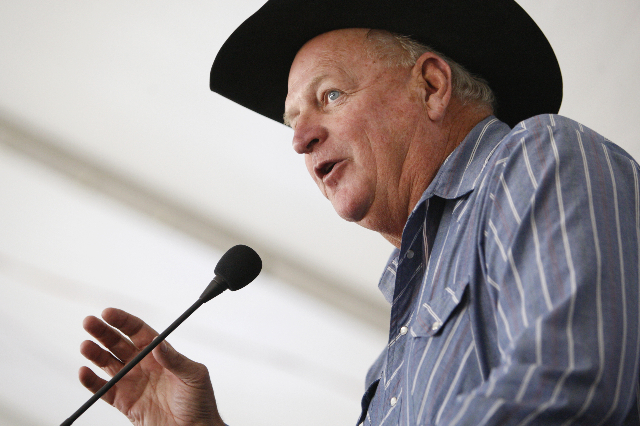 Southern Nevada probably hasn't seen the last of Tom Collins.
The former Clark County commissioner said he plans to run for the mayor of North Las Vegas — but with a caveat.
"Here's the question," Collins told a group of about 70 people Wednesday at a Hispanics in Politics event in Las Vegas. "Will North Las Vegas still exist? That's the big question. Will it even be around in two years?"
Collins questions whether that city will exist or end up taking some other form — such as an unincorporated town — by the time Mayor John Lee's seat is up for election in 2017.
Collins resigned from the County Commission in August, abruptly leaving a third and final term that otherwise would have ended after the November 2016 election because of term limits. Former state Assembly leader Marilyn Kirkpatrick was appointed to fill his commission seat.
He said he left the board to help his aging parents. His mother recently started living with him and he's helping his father relocate from Texas to Southern Nevada.
North Las Vegas had once teetered on the edge of bankruptcy and still faces a long-term deficit in the millions of dollars.
Collins said the city, the fourth most populous in the state, needs to be a place businesses want to come to.
"Apex is not our savior," Collins said, a reference to the mostly vacant industrial park. The city hopes that park will boost its fortunes with manufacturing and warehousing jobs. But Collins said the infrastructure costs are too great.
As for Lee, Collins said the mayor needs to "get off the ninth floor and come out in the community and see what's going on."
Reached for comment, Lee discounted Collins' statements and defended his record. He said Apex will bring 18,000 acres of real estate development to the city.
"That is going to be one of the watersheds of what we're going to do," Lee said.
Lee said he hasn't announced yet if he'll run for mayor 2017.
"I'm not worried," Lee said when asked about Collins' political plans. "Anybody who thinks they want this job better realize this is not ribbon cuttings. There is hard work."
Collins offered colorful answers to questions in a roundabout way.
"They were going under if they didn't merge," Collins said, when asked about the North Las Vegas Chamber of Commerce merging with the Las Vegas Chamber of Commerce. "… You can swim with alligators or get in a boat with a bunch of sharks, but it's the same thing."
"All right, serious questions," Collins said, after drawing sustained laughter.
Collins also criticized prejudice against Hispanics.
"Anybody that's Hispanic with chickens is accused of cockfighting," Collins said. "It's a prejudicial blemish that's wrong."
Collins spoke to reporters after the event.
He said he wants to focus on public safety in North Las Vegas if elected.
"Metro's saving our ass out there," Collins said. "They're over there all the time and fire departments are over there keeping us from burning down."
Collins didn't miss a beat when asked about his past struggle with alcohol and making voters feel confident.
"LBJ drank more than I ever thought of," Collins said, referencing President Lyndon B. Johnson. "And he was president, right? (President Richard M.) Nixon was pretty much into that sauce."
Collins spoke about himself too.
"I didn't have a beer until after 5 o'clock yesterday," Collins said. "I was so damn busy with stuff I didn't have a beer until after 5 o'clock. I go home and I like to drink. That's the way it is."
Contact Ben Botkin at bbotkin@reviewjournal.com or 702-387-2904. Find him on Twitter: @benbotkin1.