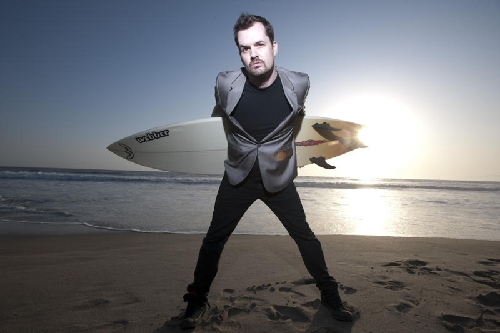 Comedian Jim Jefferies' stock just went up again in Hollywood: The FX TV network has announced it will run a comedy series based on his stand-up.
Jefferies hasn't even started filming – except for last year's pilot episode – and yet he has already scored a girlfriend from it.
"I met my girlfriend when she played a prostitute on my FX pilot," the Aussie tells me. "When I introduce her to people, I go, 'Ah, I met Kate when I employed her as a prostitute.' "
That's a good joke.
"But to some of my friends, it sounds like a plausible story. And so my girlfriend is like, 'Why do they assume you've employed so many prostitutes?' I go, 'Uh. …' "
Jefferies (my favorite stand-up ) will come to Vegas this week to record a podcast at Paris' Empire Comedy club on Thursday.
Yes, you heard me right. It's a ticketed podcast show before a live audience but not a typical stand-up gig. Tickets cost $56-$67.
Jefferies and his podcast partner, comedian Eddie Ifft, get about a half-million downloads every month. (They usually record the podcast in a home in L.A.)
They are naughty boys.
Last week, Jefferies said on his podcast that every job he has ever taken, he has thought: Will this job get me sex?
In other words, he told the truth of man.
"Even when I sold mobile phones, it was still chicks coming into the store every day, and you get to chat," Jefferies told me.
That's just how life is, he says – we improve ourselves to attract romantic or sexual partners:
"If it was just men on the planet, I would be walking around in sweatpants, probably without a shirt on."
It is becoming more common for big-name podcasters to come to Vegas to record in front of audiences.
Adam Carolla and Kevin Smith have done it. Doug Benson does it again on July 9 at Palace Station after his July 8 stand-up date there. (I'm waiting for my favorite podcaster, Greg Proops, to do the same.)
For comedians and fans, there's a high value in podcasts. Comics don't have to censor themselves generally. And comics can talk off the tops of their heads, instead of reciting the same jokes.
Jefferies swears he won't make much money off Thursday's show because he's bringing a crew of eight guys to a small room, followed by clubbing at Chateau:
"We can all go out and get (expletive) up together, the whole lot of us. It's gonna be more of a party than a stand-up gig would be. I'm only going to have a laugh."
CELINE, MADIGAN, HELICOPTERS
It must be Vegas o'clock, because Celine Dion is back in action at Caesars, and comedian Kathleen Madigan returns to town Friday to perform at The Mirage.
Madigan and I were talking on the phone last week, and she didn't seem to be a big Celine fan, no matter how sweet I told her Celine is. Madigan said:
"I saw her (Celine) on 'Oprah' once, saying she just wants to be a regular mom to whatever those kids' names are. And as she's saying this, a helicopter landed in the backyard to take her to work. I'm like, 'Lady … tell the helicopter not to come that day.' "
I have a full interview with Madigan running Thursday. Check it out. She talks about how she recently got sexually discriminated against.
PICTURE THIS
If you missed my live tweets of the Electric Daisy Carnival, look at my photos of girls and such on my Instagram account (DougElfman) or Twitter (VegasAnonymous).
Doug Elfman's column appears Tuesdays, Thursdays and Fridays. Email him at delfman@reviewjournal.com. He blogs at reviewjournal.com/elfman.