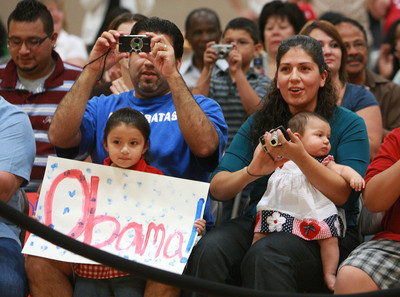 George Lopez remembers campaigning for Bill Clinton in 1992, when Lopez's career was just getting started and "nobody really cared what I thought."
Lopez is doing the same thing now — trying to get out the Latino vote for a Democratic presidential candidate — but now, the star of "The George Lopez Show," the comedian who calls himself "America's Mexican," is a household name, and feels entitled to a bit more wooing from politicians.
It took a personal call from Barack Obama, set up by fellow comedian Chris Rock, to get Lopez on board with Obama's campaign a few months ago, Lopez said in an interview in Las Vegas on Saturday.
Lopez, in town for a comedy show at the Las Vegas Hilton, stopped by the Chuck Minker Sports Complex on Saturday morning for a rally intended to get Hispanic Obama supporters to canvass their neighborhoods and register new voters.
"My message is that I personally am for Barack Obama, and if you are that's great, but more importantly, it should be a fair election and people should vote," Lopez said. "Too many states are decided not by the people that turn out but by the people that don't turn out. The fact that more people vote for 'American Idol' than for president of the United States is just incredibly wrong."
The talk of the campaign lately has been about race — whether one campaign or another played the race card, and to what effect. Lopez said discussions of race are not nuanced enough, considering the diversity America has to offer.
"John McCain is the whitest candidate you could possibly have. But Barack Obama is not the blackest," Lopez mused. "I'm darker than he is! This country is fascinated with black and white, but what about brown? It's underestimated, undervalued and it has the power to decide the election."
Republican McCain and Democrat Obama both have targeted the Hispanic vote in Nevada, where it is considered a potentially crucial demographic in a battleground state. Lopez said Hispanic voters need to be encouraged to speak up, at least in the voting booth, if not at home, where speaking one's mind may be discouraged.
"I'm as American as John McCain," Lopez, a Los Angeles native, said. "I'm as American as Barack Obama, or Nancy Pelosi, or Rudy Giuliani or Donald Trump. Our vote counts the same as their vote."
After his brief remarks to the crowd of about 75 people, Lopez was mobbed for autographs and cell-phone photos, though not many of those who came out to see Lopez seemed enthusiastic about walking around in the 110-degree heat with a clipboard.
Las Vegas resident Carlos Chavez, a 22-year-old roofer, is a legal resident who must wait another year and a half for citizenship and won't be able to vote, though his wife can. He said he's not usually interested in politics but wants to help with the campaign this year because "this has been, like, the worst times, with the economy going down and everything."
Chavez said he trusts Obama because "he seems like a regular, down-to-earth guy," and hopes the candidate will finally get the long-awaited immigration reform passed so Hispanic families aren't separated by deportations.
If George Lopez is telling people who to vote for, they may listen, Chavez said. "Every Latino watches his show," he said. "Everybody knows who he is."
Contact reporter Molly Ball at mball@reviewjournal.com or 702-387-2919.