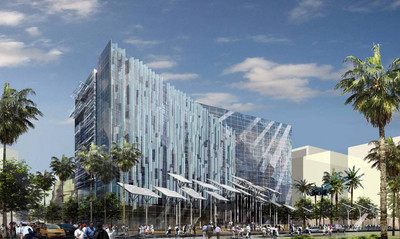 The proposed Las Vegas City Hall moved another step toward approval Friday when the Clark County Debt Management Commission voted 11-0 to allow the city to seek up to $267 million in financing for the project.
The proposed building, and the means of financing it, are also on the agenda for Wednesday's Las Vegas City Council meeting.
Culinary Local 226 members, who have vigorously opposed the city hall proposal, tried to stop the commission's approval by citing problems they saw in a revenue study that accompanied the request. A Culinary spokesman did not respond to a request for comment Friday.
The city must also get approval from the state Tax Commission before building the proposed seven-story city hall on a block of land bordered by First Street, Main Street, and Lewis and Clark avenues.
As envisioned, the $150 million building will be part of a larger office complex on what is now empty or underused land. The new building would free up the current City Hall site for commercial redevelopment.
When the new city hall is complete, developer Forest City would get land in the city-owned Union Park site to build a hotel-casino. Forecasts say increased tax revenue from downtown development would pay for the new city hall.
The union and other critics, however, have said it's too risky to take on a large, expensive project that will add to the city's debt load when the economy is sour and the city is trying to cover expected budget deficits over the next five years.
Culinary union members organized a successful petition drive to put a measure on the June 2 city elections ballot requiring voter approval for "lease-purchase" construction projects. The city is considering such a financing method for the new city hall.
After Wednesday's hearing, the city expects to get Department of Taxation approval by March 4. A lease-purchase ordinance and an agreement with the developer could be introduced by March 18, with the financing closing by April 19. Those dates could change.
Mark Vincent, the city's financial guru, has said it could be hard to sell the financing notes until after the June vote.
The city has about $392 million in outstanding or authorized debt, about 7 percent of its $5.29 billion debt limit.
Contact reporter Alan Choate at achoate@ reviewjournal.com or 702-229-6435.