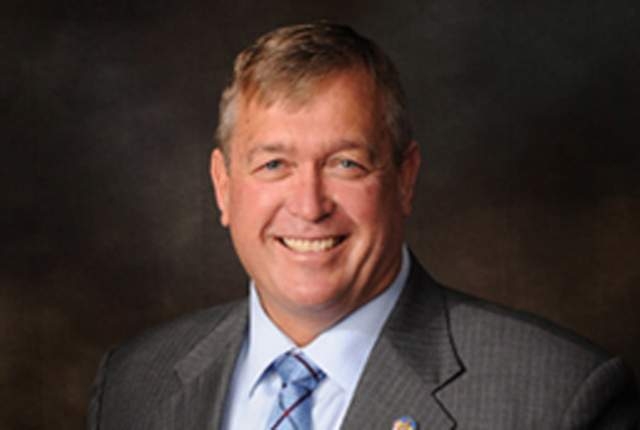 Republican Assemblyman Cresent Hardy is running for Congress as a small business owner who "knows what it takes to create jobs, make payroll, and meet a budget," according to his campaign website.
But after 20 years in business, in January 2012, his Mesquite-based construction company, Legacy Construction & Development, Inc., declared Chapter 11 bankruptcy with 73 creditors owed more than $8.1 million.
Hardy on Tuesday blamed the recession, which knee-capped the construction industry, shrinking his workforce from more than 300 in 2006 to 70 in 2010. He said the company is paying all its debts while under reorganization. Last year he sold the business to his partner to focus on his campaign to unseat U.S. Rep. Steven Horsford, D-Nev.
"All the vendors have been paid back ahead of schedule," Hardy said in an interview, although he added that a handful of vendors have yet to be paid in full. "The key thing for me is the jobs we saved."
Hardy, a two-term assemblyman, represents District 19 in Mesquite, a small city in Clark County where he grew up near the Arizona border and about 80 miles northeast of Las Vegas.
Hardy was the assistant minority leader during the 2013 legislative session. He also sat on four key committees: commerce and labor, taxation, transportation and ways and means, which doles out money for programs. He's one of the more conservative Assembly members, with a 75 percent rating from the American Conservative Union.
Over the years, Hardy, 56, has served on everything from the Mesquite City Council to the local water board.
This year, he's running for Congress, proclaiming that out-of-control government and regulations are hurting business development and job growth. He's been endorsed by GOP Gov. Brian Sandoval.
Congressional District 4 covers nearly half the state, from urban North Las Vegas and rural Clark County to parts of Lyon County and all of Esmeralda, Lincoln, Mineral, Nye and White Pine counties.
Hardy faces a GOP primary against Niger Innis, a civil rights advocate and tea party member. The winner of the June 10 primary will face Horsford on Nov. 4.
Both Innis and Horsford have had past debt problems. Innis has said he's taking care of various tax liens dating back a decade in New York. Horsford long ago took care of his unpaid bills that date back one to two decades, when he was in his 20s. The debt issue came up during Horsford's 2012 campaign for Congress.
Hardy, a fifth-generation Nevadan, said it's no secret his company declared Chapter 11 bankruptcy, which allows a firm to stay in business, reorganize and pay its bills over time under the watchful eye of a trustee. In contrast, he said he never would have filed for Chapter 7, which allows for liquidation of a company, leaving workers unemployed and debtors lucky if they get paid partial settlements.
"We could have taken the route of Chapter 7, but I just couldn't do that," Hardy said, explaining that he believed it would be irresponsible to leave hanging vendors he knew and workers he counted on. "That's family."
He said his bank wouldn't work with him to restructure his loans, so he had no choice but to reorganize. Legacy filed its reorganization plan in October, 2012, and it was accepted in February 2013, he said.
The company did a range of construction work, including building roads, dams and bridges as well as residential housing.
On Jan. 31, 2012, Legacy had liabilities totaling $8,127,862, according to Hardy's campaign. Money was owed to 70 vendors, two secured creditors and a bonding company.
As of Dec. 31, 2013, Legacy had paid off $3,053,520 owed 63 vendors and had liabilities left of $5,074,342. Seven vendors still need to be paid, including Applied Geotechnical Engineering Consultants, Apco Equipment Co., Crossroads Equipment, Little Trucking, Mesco, Mountainland Supply Co., and the U.S. Forest Service, the campaign said.
Hardy said the company's goal is to pay the remaining debt by the end of 2014.
For now, he's out of the construction business. He still owns two limited liability companies: Panguitch Lake Properties, LLC, and the Mesquite Magnificent 7, which are both recreation real estate investment companies.
Asked if the bankruptcy might hurt his campaign, Hardy brushed off the idea, saying it's old news and not uncommon in Nevada during the recent economic downturn.
"It came up the last election," Hardy said. "It's the same individuals stirring up the past. You know how it works in politics."
He said people understand that he's worked hard and knows how businesses can succeed.
"I've signed both sides of a paycheck," he said. "I know how to create jobs."
He said there's so much economic uncertainty and over regulation these days that investors are afraid to put their money behind small businesses, which he called "the backbone of the economy."
"It's the small-business guy who makes the economy work," Hardy said. "While big business gets all the breaks because they're 'too big to fail.'"
Contact reporter Laura Myers at lmyers@reviewjournal.com or 702-387-2919. Follow her on Twitter @lmyerslvrj.