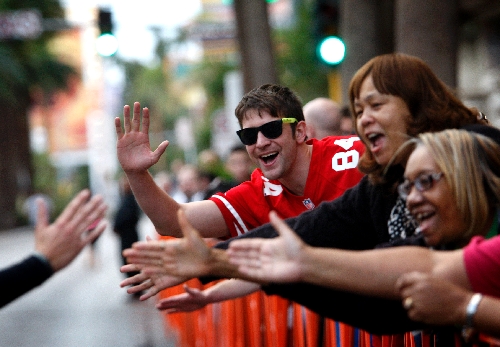 Thousands of people stretched across the pavement of Las Vegas Boulevard on Sunday evening, doing everything from calf lifts to burpees, in an effort to prepare for the 13.1- or 26.2-mile run ahead of them. With their headphones blaring and determination etched on their faces, nothing could distract them from crossing the finish line.
And that's saying a lot.
Clad in pink Under Armour, a purple cowboy hat and a rainbow tutu, Jeff Boling stood just feet away, making little effort to stretch any part of his body before the half-marathon began.
"In order to prepare, we've been drinking all weekend," Boling, a Colorado Springs, Colo., resident, laughed, as he adjusted the length of his multicolored stockings. "We told our friends we were training for the race's after party. I don't look like I'm ready, but don't let this tutu fool you."
And while it was madness, many argued that there was method to it.
More than 25,000 people gathered Sunday afternoon to participate in the Rock 'n' Roll Las Vegas Marathon and Half-Marathon, an annual event that benefits the Crohns & Colitis Foundation of America. The event, which celebrated its fourth year in Las Vegas on Sunday, attracted runners from all 50 states, as well as representatives from 52 countries around the world.
And while some of them planned to hit the ground running, most acknowledged the race as a reason to visit Las Vegas, get some exercise, and have a good time in the process.
Perhaps Boling's idea of preparation wasn't too far off. Costumes were plentiful under the neon, as everyone from Superman to Batwoman, from fairies to ballerinas made their way to the starting line. Overall, eight waves of runners were released for the full marathon, and 36 were released for the half-marathon, totaling more than 300 running Elvi plus thousands of superheroes poring into the heart of the Strip.
As more than 80,000 spectators cheered from the sidelines, the circus of runners and events continued throughout the night. More than 150 musicians gathered to perform along the course on 19 stages, comprising 40 different bands. At one point, a giant insect projected confetti into the crowd.
The race also attracted celebrities including Nikki Reed (known for her role as Rosalie in the "Twilight" saga), boyfriend Paul McDonald (a former "American Idol" contestant), and Sean Lowe (the leading-man on the upcoming Season 17 of "The Bachelor".)
Lowe, who just returned from filming the finale of "The Bachelor," raced with Team Challenge, a group of more than 1,000 members working to support the Crohn's & Colitis Foundation. And while Lowe has regularly been admired for his athletic build on previous seasons of "The Bachelorette," he admitted that this was his first half-marathon.
"My plan is to book it for as long as I can, though that probably won't be too long," he said, laughing. "There might be some walking involved at some point tonight."
While many eager fans approached Lowe to find out if wedding bells were in the near future, some didn't need to look further than the stretch of the course to see couples get hitched.
Dressed for the occasion, 101 couples – 33 getting married and 68 renewing vows – stood along the bridge at New York-New York, preparing to tie the knot, Vegas-style. While their adornments varied – veils to tutus, full gowns to white jackets – almost all perched onto the toes of their sullied running shoes to have their first kiss as a married couple. After the ceremony, the runners were off again – racing their way not only to the finish line but to their honeymoons as well.
Beth and Scott Schlossberg traveled across the country from Virginia Beach to celebrate 20 years together by renewing their vows during the marathon. The couple, who both run marathons together at home, said this was the perfect weekend because they were able to renew their vows during the race, and participate in the Santa Run, which took place on Saturday.
"This is the only place in the world you can do this," Beth said. "I mean, there's not another place that you can run a half-marathon, get married, and make it all wonderful and memorable in the same evening."
Contact reporter Tara Verderosa at
tverderosa@reviewjournal.com or 702-383-0264.