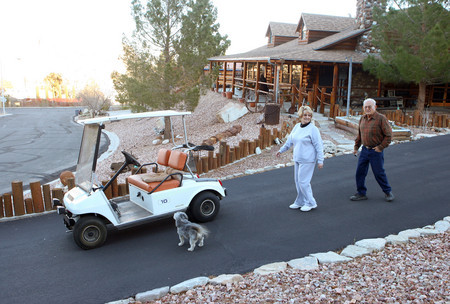 A quaint hamlet cradled in the shadows of the towering Red Rock mesas is perfect for those who want to live far enough from the city to enjoy a neon-free night sky yet close enough not to be hermits.
Blue Diamond's 300 or so residents have found solace in the tree-shrouded oasis amid rocky barrenness, wedged between the old and modern worlds.
They call their bucolic haven a village.
But in this former mining town where everyone knows their neighbors and a small general store serves the village's basic needs, people were reminded that they aren't removed from the law's long reach.
A dozen of the village elders who prefer to cruise around in golf carts were told it was a no-no. Authorities ordered the carts idled a few months ago, saying they are illegal to drive on public streets, even in a remote enclave.
Clark County commissioners, who are sympathetic, are moving to designate the streets safe for golf carts. They have introduced a code to allow the carts, but won't vote on it until at least next month.
In the meantime, residents must mothball their carts.
Patsy Leavitt, 70, said she and her husband aren't happy about their $2,000 golf cart gathering dust. She liked driving it to pick up mail from the town's tiny post office or grab milk from the store.
"It's convenient," she said.
Leavitt said she has reached an age when it's difficult to walk.
She learned about the crackdown when her husband drove the golf cart one morning and a police officer told him to take it back to the house or be ticketed, she said.
The trouble all started when an elderly man rode his cart, customized to look like a Rolls-Royce, onto state Route 159 with the aim of going to a nursery three miles away. He made it about halfway before police pulled him over.
The incident prompted police to stop tolerating the illegal carts, which had seemed innocuous in a village with a 20 mph speed limit. The golf carts go between 15 mph and 30 mph.
Blue Diamond is not a real town with a mayor or city council. The closest thing it has to government is a citizens advisory board. The panel's members asked county officials to look into creating a code that would allow residents to drive golf carts within the village.
The streets are county roads. As such, the county must deem them suitable for golf carts and give them a special designation.
Owners also must register the golf carts with the Department of Motor Vehicles and make them street safe.
That includes equipping them with rearview mirrors, seat belts and turn signals, as well as headlights, tail lights and brake lights.
County Commissioner Susan Brager said allowing golf carts in the isolated community within her district seems like a good idea.
"This is safe," Brager said. "A handful of them want to drive carts to and from the store, take kids to school."
Chris Munhall, the county's rural liaison, said Sun City Anthem and several other communities have received the golf-cart friendly designation.
But Blue Diamond is different from the others because it has no golf course nearby, he said.
In a place such as Sun City Anthem, many people want the convenience of driving their carts from their homes to the golf course, he said.
Blue Diamond's residents merely want a gasoline-saving way to get around, Munhall said. "It seems a better mode of transportation than getting into the SUV and cranking it up."
Most of the golf-cart aficionados are green-minded, as are many people in Blue Diamond, said resident Evan Blythin, who noted that all but a couple of the carts are electric.
"This is probably the most enlightened mining town in the world," Blythin said.
Blue Diamond began in the 1940s as a housing complex for miners who excavated gypsum. In the late '60s, the mining company started selling homes to the public.
Blythin said the village was made up mostly of miners and their families when he moved to Blue Diamond 30 years ago. Now it's a mix of professionals and old-timers who like being surrounded by a national conservation area rich in hiking trails and other outdoor activities.
Aside from a post office and store, Blue Diamond has a library, a park, and an elementary school that seats a couple dozen children. And trees, lots of trees, fed by an underground spring.
The push to legalize golf carts is part of a community spirit that runs deeper than the subterranean waters. To be independent yet united is why most people moved here, and why few leave.
Last week at the local hangout, known as the Tree Bar, a group of men gathered at nightfall around a cast-iron stove beneath a small wooden roof. They drank beer and talked of how golf carts reflect Blue Diamond's character.
"We're just looking to maintain our slower way of life," said Rick Turner, 55, a former advisory board member.
Laws that apply downtown don't always make sense here, Turner said, adding that the county has had to compromise before.
The county once tried to replace the village's one- and two-digit addresses with six-digit numbers but backed off after people resisted, he said.
Turner pointed to trees abutting a street and said the codes don't allow them to be so close to a county road. Years ago, the county considered chopping them down, but an arborist recommended letting them stand when he learned of the underground spring that fortified them, he said.
Blue Diamond is on a highway that takes outdoor enthusiasts to a hiking and rock-climbing mecca, but it's also perched near the Old Spanish Trail on which frontier settlers traveled west.
Golf carts belong in a village that harks back to the valley's past, said resident Phillip Toroian, 60, adding that Las Vegas once had underground springs that nourished thick tree clusters.
"This is a microcosm of what Las Vegas used to be," Toroian said. "People want transportation that doesn't fit with that giant metropolitan area."
One man in the group told of how his wife bought a golf cart for a neighbor who couldn't drive a car because gasoline fumes aggravated his lung cancer. His wife later began using a golf cart herself when she developed health problems.
Since golf carts were barred from streets, some of the older women are having a harder time attending their social events, Turner said. "We would like them to get around and be more mobile."
There's little chance of a motorist hitting a person in a cart, given that everyone must drive slow to avoid colliding with wild burros that roam freely in the area, he said.
Then, as if on cue, a burro emerged from the shadows, strolled across the street and munched on grass nearby.
Contact reporter Scott Wyland at swyland@reviewjournal.com or 702-455-4519.