Courthouse protesters demonstrate against transgender-phobia
March 14, 2014 - 11:50 am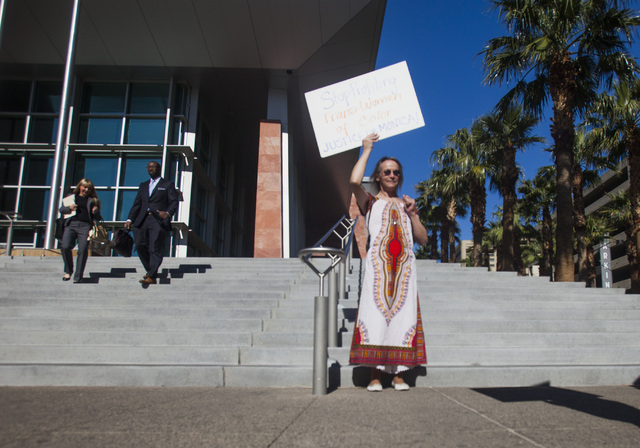 About a dozen people demonstrated against transgender-phobia outside the Regional Justice Center in downtown Las Vegas Friday.
Jane Heenan, co-director of Gender Justice Nevada, said a coalition of gay-lesbian-transgender activists were showing support for Monica Jones, an Arizona State University student arrested in Phoenix for "manifesting prostitution." Jones' trial was to begin Friday in Phoenix, Heenan said.
Jones' arrest was part of Phoenix's diversion initiative Project ROSE, run by Phoenix police and Arizona State social work students aimed at sweeping up local sex workers en mass and offering them a choice between a six-month diversion program at Bethany Bible Church or criminal charges, according to local media reports.
According to the Arizona Republic, Project ROSE has seen 30 percent of those eligible completing the diversion program.
Jones, a social work student at Arizona State, has said publicly Project ROSE is unethical and believes her speaking out led to her arrest.
Contact reporter Francis McCabe at fmccabe@review journal.com or 702-380-1039.