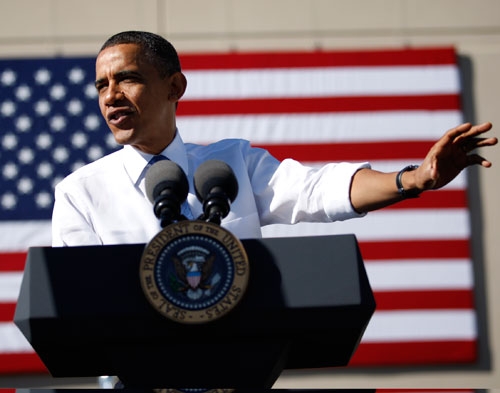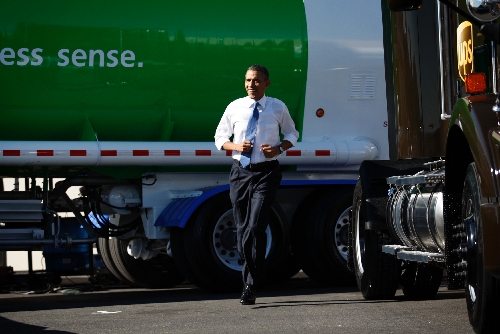 When President Barack Obama proclaimed Thursday under a brilliant sunny sky, "It's great to be back in Las Vegas," someone from a crowd of supporters yelled out: "I love you!"
"I love you back," said Obama in a call and response refrain he often uses in friendly settings.
But outside the UPS plant where he talked up alternative fuels — such as the liquefied natural gas used by the delivery company's long-haul trucks — a political briar patch awaited.
The Nevada Republican Party slammed Obama for "blowing a bunch of taxpayer money to campaign in Vegas." A conservative think tank mocked the president in a videotape that showed Obama's motorcade of "22 fossil-fueled vehicles" leaving the clean energy event for the airport.
"Priceless," a narrator said on the video from the Nevada Policy Research Institute.
And U.S. Reps. Joe Heck and Mark Amodei, the state's two GOP congressmen, held a news conference after Obama's 10 a.m. speech to knock the president for not doing more to create jobs in Nevada and help ease the home foreclosure crisis. The meeting with reporters was delayed for about half an hour because of a traffic jam Obama caused around McCarran International Airport.
"I'm glad he was here to talk about clean energy," Heck said. "I find it ironic he's here talking about natural gas. We don't have natural gas here. We have wind, solar and geothermal."
The election-year long knives were clearly out as Obama toured five battleground states after his State of the Union address to Congress on Tuesday. The official trip to Iowa, Arizona, Nevada, Colorado and Michigan, which ends today , is meant to sell the president's agenda to develop "an economy built to last." But the tour also made Obama an open target for his GOP critics.
Eric Herzik, a political science professor at the University of Nevada, Reno, said election years typically sharpen partisan warfare between the two major political parties. And 2012 is particularly divisive as the Democratic president and Senate clash with the GOP-led House on policy. Both parties are working to gain control of the White House and Congress in November's election.
"Obama could announce the cure for children's cancer, and they (Republicans) would say, 'It's more big government,' " said Herzik, a Republican. "Right now you've got such a polarized environment that nobody can agree on anything. It's going to be a long campaign."
In his visit to the UPS plant, Obama praised the shipping company for "leading by example" in converting its long-haul trucks to use liquefied natural gas instead of diesel fuel.
Obama said 14 companies across the country have converted 1 million vehicles to alternative fuel during his administration to decrease U.S. dependency on foreign oil.
Pushing to keep the energy transformation going, the president announced new incentives to get more companies and communities to switch to clean energy. He also unveiled a plan to allow more oil lease sales in the Gulf of Mexico to encourage increased U.S. energy development.
"Let's get more of these natural gas vehicles on the road," he said, noting U.S. government cars are going green, too. "The federal fleet of cars is leading by example. We've got to help local governments upgrade their fleets, too. If more of these brown (UPS) trucks are going green, more city buses should too."
Obama announced that as part of the push to shift to cleaner fuels, his administration would develop five natural gas corridors along the highways for refueling. He announced the public opening of the first Clean Energy Station in Las Vegas near the UPS plant and McCarran International Airport. It will be the link between Long Beach, Calif., and Salt Lake City.
After the speech, Heck said Obama should have addressed Nevada's home foreclosure crisis and unemployment, highest in the nation at 12.6 percent.
Last October, the president came to Las Vegas to offer more help for homeowners who can't pay their mortgages. And he cast his new energy policy as a job creator, saying natural gas development could lead to 600,000 jobs in the next decade.
Obama mentioned "jobs" 14 times in his 22-minute speech at United Parcel Service. And he noted the economy is coming back after nearly collapsing just as he was taking office in 2009.
"Today, three years after the worst economic storm in three generations, our economy is growing again," Obama said. "Our businesses have created more than 3 million jobs. Last year, businesses created the most jobs since 2005. American manufacturers are hiring again."
Kenneth Lee, a UPS package loader and safety expert who watched Obama speak, said he can see business activity returning as the demand for package deliveries has increased in the past year with the recent Christmas season one of the busiest in a long time.
"It's getting better, and I think people are seeing that," Lee said.
Lee said he was among about 50 UPS employees invited to attend the outdoor speech, which included a crowd of several hundred workers, officials and Democratic party leaders and candidates. Lee also is a volunteer for the Obama campaign, which packed the audience with friendly faces.
Lee and others who work at UPS are members of the Teamsters union, which helped Obama win Nevada in 2008. Vice President Joe Biden visited Las Vegas last summer to address the Teamsters and ensure the union will back the Democratic ticket in 2012, too.
Not everybody remains solidly on board for Obama, who must win over young voters, Hispanics and other voting blocs that backed him before and now are finding it difficult to find and keep jobs.
Andre Reynoso, a UPS worker, said he pulled an all-night shift before getting the chance to hear the president speak. Reynoso started work at 1 a.m., got off at 7 a.m., and had to wait several hours to see Obama. Like many in the crowd, Reynoso said he voted for Obama in 2008.
"It's pretty exciting when you see a president come to your job," Reynoso said.
Asked whether he would vote for Obama again in 2012, Reynoso said, "It's all up in the air."
A UPS supervisor then pulled Reynoso away and told him not to finish the conversation. Company officials explained that only authorized workers were allowed to speak to reporters.
"She's my boss. I gotta go," Reynoso said without explaining his doubts about Obama.
The UPS audience was packed with Democrats, in contrast to Obama's lonely arrival in Las Vegas on Wednesday evening when only Mayor Carolyn Goodman greeted him at the airport.
Obama seemed to want to keep a low profile. Instead of staying on the Strip, he slept at the Element Las Vegas in Summerlin, a "green" hotel, modest by presidential standards, with rates below $200 a night.
Roberta Lange, who chairs the Nevada Democratic Party, dismissed any suggestion that local politicians and candidates didn't want to be seen with Obama in a close election year. She said protocol for an official White House visit calls for a local official to be invited as well as members of the congressional delegation and statewide elected officials. Some pleaded schedule conflicts.
"This was not a campaign event," said Lange, who attended Obama's speech.
State Sen. Ruben Kihuen and former Rep. Dina Titus, who are competing for the 1st Congressional District in Southern Nevada, sat near one another in the audience. Kihuen had attended Obama's State of the Union address at the invitation of U.S. Sen. Harry Reid, D-Nev.
"It was a great experience," Kihuen said. "It was probably one of the most important speeches the president has given because it's an election year."
Titus praised Obama's State of the Union, too.
"He seemed confident," Titus said. "I think that overall he was strong."
State Senate Majority Leader Steven Horsford also was in the crowd. He is running for Nevada's new 4th Congressional District and is considered the favorite with well-financed Democratic backing.
Reid was back in Washington, where the Senate was in session this week.
U.S. Rep. Shelley Berkley, D-Nev., was nowhere to be found. Berkley is running for the U.S. Senate against Sen Dean Heller, R-Nev., in one of the closest races in the country. Her fate is tied to Obama, who can help lift Democrats on the ballot — or bring them down.
"Unfortunately, Congresswoman Berkley had to stay in Washington today for previously scheduled meetings, but looks forward to campaigning alongside President Obama in Nevada in the near future," said Berkley's campaign manager, Jessica Mackler.
Given that it's campaign season, Heller tied Obama and Berkley together anyway.
"When President Obama took office and Shelley Berkley was beginning her second decade in Washington, Nevada was hurting," Heller said in a statement. "Obama and Berkley's solution was a trillion dollar stimulus that they promised would create 34,000 jobs in Nevada. Instead, Nevada lost tens of thousands of jobs and many more Nevadans have lost their homes to foreclosure."
"I have just one question for Nevadans, 'Are Obama and Berkley's solutions working?' " he asked.
Contact reporter Laura Myers at lmyers@reviewjournal.com or 702-387-2919. Follow her on Twitter @lmyerslvrj.