Deana Martin: Dad was 'amazing guy'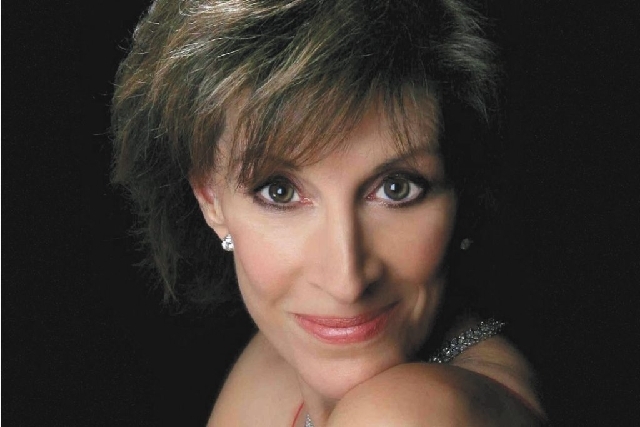 When Dean Martin's daughter Deana was 18, she turned to Frank Sinatra and asked, "How do you sing?" Sinatra looked her in the eye and delivered the unsexy truth.
"It's all about the air," he told her. "I take in a big breath, and I push from the diaphragm, and I can tell before a note comes out if I'm going to be on pitch or not."
"Does my dad do that?" Deana asked.
"No," Sinatra said. "Your father has no idea what he's doing. He's a natural."
In other words, Sinatra admitted he had to work harder than Deano to sound great.
"It was just so 'Wow,' " Deana Martin recalls of that moment in 1966.
Her father is my favorite of the Rat Pack singers. As Deana describes his voice, "you can actually hear the smile."
She also sings songs by her dad and his contemporaries (DeanaMartin.com). On Saturday and Sunday, she will sing, tell stories and show home movies at South Point.
Here is how her father told her how to make a great vocal:
"Once you know the lyrics and you know the song, you kind of feel where the song should be. Then sing from the heart."
Deana Martin saw her dad in the Rat Pack in the late 1950s.
"I was ringside, and the stage was dark. And you would hear the drum roll, or the timpani:
"Ladies and gentleman, the Sands hotel is proud to present direct from the bar … Dean Martin.
"And when he would walk out, I would hear the audience beside me saying, 'Ohhh, there he is.' I'll never forget that moment. Never ever ever."
Deana Martin recently got together with Tina Sinatra, Natalie Cole, Monica Mancini and Daisy Torme to record a Father's Day show about their dads on Sirius radio.
Have Rat Pack children thought about organizing a Vegas show of Rat Pack kids?
"We don't really want to," Martin, 64, says. "Will it ever happen? Probably. I don't know when. We're all busy with our careers."
Some years ago, she put out a book, "Memories Are Made of This," chronicling ups and downs of being Deano's daughter. But when I ask about him, it's all ups:
"My dad was so down to earth. He was so respectful. He always gave me advice. He said, 'Deana, always treat people the way you want to be treated.'
"So none of us ever got big heads. It was about being a good person — getting up, being on time and doing your work. That was how he was. A stickler for being on time: Get in there, don't complain, do your work, get in and get out."
"He was an amazing guy, a hugger. He was lovable like a bear."
NEWS AND SIGHTINGS
"Ka" reopens Tuesday. The finale scene, where Sarah Guyard-Guillot fell to her death last month, will be replaced. … Los Angeles Clippers' Blake Griffin partied Thursday and Friday at Tao nightclub with teammate DeAndre Jordan and the Toronto Raptors' Marcus Camby. … The Chicago Bulls' Carlos Boozer partied at Marquee nightclub on Friday. … The New York Knicks' Tyson Chandler danced with friends Saturday at Tao nightclub. … Strip beggars are holding crazier signs to raise funds. Spotted and posted on my Twitter (@VegasAnonymous):
■ "WHY LIE, I NEED A WHORE."
■ "No Joke, No Cup — KICK ME IN THE NUTS FOR $20."
VEGAS OVERHEARD
"I can't stop staring at all these gorgeous ladies. I feel like such a creep." — Rapper Wale onstage Friday at the Palms' dayclub-pool, while his album "The Gifted" hit No. 1 on Billboard's top 200, beating Kanye West's "Yeezus."
Doug Elfman's column appears Mondays, Tuesdays, Thursdays and Saturdays. He also writes for Neon on Fridays. Email him at delfman@reviewjournal.com. He blogs at reviewjournal.com/elfman.