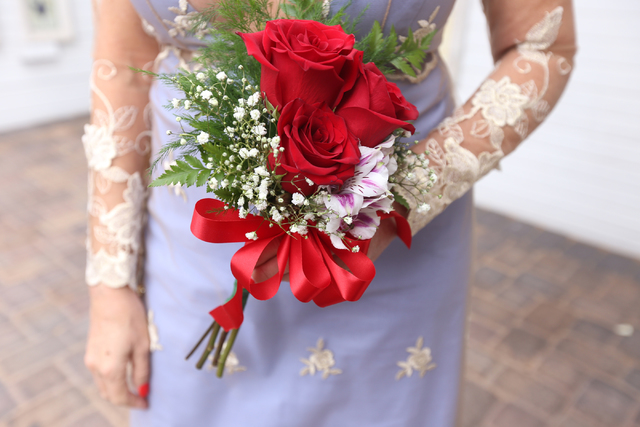 Mike Gravel, a Democrat running for president, was sort of campaigning in Las Vegas on Friday and sort of just visiting an old friend in town.
At ease in a plaid shirt, Gravel sat in the gazebo in the backyard of the house of Stacy Standley, a former aide and former Aspen, Colo., mayor, in the posh Spanish Trail development, occasionally beckoning Standley's dog, Scooter, to his side. Asked what his campaign activities for the day consisted of, he listed being interviewed by the Review-Journal.
Gravel said he also had taped some video responses to questions on his Web site — a practice he said he would continue if elected — and today is scheduled to meet with a couple of labor unions.
Gravel, whose name rhymes with the toy company Mattel, not "travel," is bringing up the rear of the Democratic presidential field. A former two-term U.S. senator from Alaska in the 1970s, he has been caricatured, by the elite few who even know who he is, as the race's Grandpa Simpson because of his insistent, scenery-chewing screeds in the Democratic debates.
Now that both proponents and opponents of the Iraq War have openly compared it to Vietnam, the 77-year-old Gravel is yet another thing the current conflict has in common with the past one.
"I was very, very controversial back in the '70s, back in the Vietnam era," he said. "I'm the guy that filibustered the end of the draft. I've been out of office for a generation, so people say, 'Who is this person?' Well, I'm back, and the reason is I don't see anyone, Democrat or Republican, who can end the war."
In a meandering hourlong near-monologue, Gravel wandered from topic to topic, moving from gambling to gun control to gay marriage. (He supports all three.) He said some things you never hear a politician say, such as, "I'm not generally for state's rights."
Gravel had no qualms calling Gen. David Petraeus "a liar," but at the same time, he is the only Democrat to embrace replacing America's tax structure with an across-the-board national sales tax.
His persistent theme was his proposed total makeover of U.S. democracy. Instead of voting for "personalities," he said, Americans should be able to vote on issues, in a regular federal initiative-and-referendum process.
Gravel said he remains proud of his role in ending military conscription "because now George Bush doesn't have enough troops to invade Iran," but he doesn't shy from connecting it to an "unfortunate unintended consequence": the use of contractors for formerly military functions.
The issue of private security contractors exploded this week with the allegedly unprovoked killing of Iraqi civilians by employees of Blackwater USA. Gravel said the incident was only one more sign that the United States needs to leave Iraq completely.
Gravel lost his Senate seat in 1980, but his former colleague, Sen. Ted Stevens, R-Alaska, is still in office and is under federal investigation in a corruption case. On Thursday, The Associated Press reported that the government's case against Stevens includes taped phone conversations with the Alaska oilman at the center of the scandal.
Gravel said Friday that he didn't know the facts of the case, but "personally, I know all the players. None of them have been supportive of me — in fact, I fought them most of my political career when I was in office."
Stevens, he said, is "one of the greatest supporters of the military industrial complex on the Republican side. … All these war profiteers, he's their acolyte."
That led to a discussion of the poisonous role of money in politics, which led in turn back to the direct democracy proposal, which led to the grander themes that animate Gravel.
"When we act from love, we inspire courage," he said pensively, "and courage is the virtue that then empowers all of our other virtues. And that's the kind of leadership I would embody. And it would be tough leadership — tough love. Tough love is what you'd get out of me. I think I'm going to use that as a slogan."