Democrats, Republicans launch election season with caucuses in Nevada
February 22, 2014 - 3:19 pm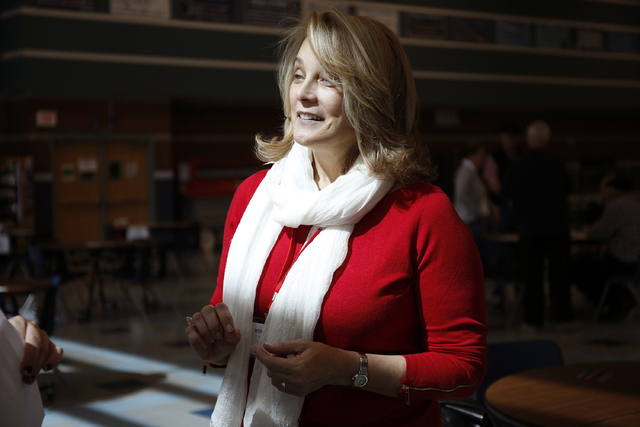 One candidate offered goody bags with a letter opener, ruler and scratch pads inside.
Another handed out plastic baggies full of treats — miniature Baby Ruths, Milky Ways and mints.
Still others passed around pens with their names on them.
The low-key campaigning happened Saturday on the sidelines as Nevada Democrats and Republicans held local precinct meetings across Clark County and Nevada, launching the 2014 process for selecting party delegates to the county and later the state conventions and shaping each party's election-year platform.
With no presidential race or U.S. Senate race on the Nevada ballot to draw excitement, the turnout was light with nobody showing up in some precincts, both Democratic and Republican.
"I had two other precincts where I had no delegates," said Sue Lowden, a Republican candidate for lieutenant governor and the co-site manager at Centennial High School. "I've been doing this kind of work for 20 years. It's not my first precinct meeting or as a site manager."
Asked if she was disappointed by the low attendance, Lowden said no, partly because it's a midterm election.
"It was expected in an off year," said Lowden, a former Nevada Republican Party chairwoman. "These are the grass-roots people who are here to support the party and the candidates. The good news is everything went smoothly."
State Sen. Mark Hutchison, a Republican who is running against Lowden in the GOP primary for lieutenant governor, also caucused at Centennial High School. But organizers didn't allow candidates to make speeches at that site, so Lowden and Hutchison didn't get a chance to publicly make a contrasting case for why each should be elected.
Lowden, a longtime casino executive and former state senator, has said her experience is a perfect fit for the duties of lieutenant governor, including promoting tourism and economic development and acting as president of the state Senate.
Hutchison, an attorney, visited several precinct sites, including his own, and addressed caucus-goers at some. He represented Nevada for free in its lawsuit against President Barack Obama's health care insurance law. Later, Hutchison supported GOP Gov. Brian Sandoval's effort to run the Silver State Health Insurance Exchange instead of ceding to federal control. Sandoval has endorsed Hutchison for lieutenant governor over Lowden.
"What I bring to the table is my experience and my passion for defending Nevada's constitutional rights," Hutchison said in an interview. He called Obamacare, which requires people to buy health insurance, a case of "federal overreach."
"We are going to have to decide whether we are sovereign states or whether we're an agent of the federal government," Hutchison said. "Or maybe a ward of the federal government. … We are 50 sovereign states, but now the attitude seems to be one size fits all. Are we going to be sovereign or is the U.S. government going to be king?"
Hutchison's campaign handed out goody bags with the envelop opener, ruler, pads and a pen inside.
Assemblywoman Lucy Flores, D-Las Vegas, who is planning on March 1 to announce her candidacy for lieutenant governor, attended her Democratic caucus meeting at the Plumbers and Pipefitters Local 525 headquarters. She asked those attending the meeting to join her March 1 for a "special announcement," according to her Twitter feed.
U.S. Reps. Dina Titus, D-Nev., and Steven Horsford, D-Nev., also made the caucus rounds, visiting several sites.
U.S. Rep. Joe Heck, R-Nev., who is in a highly competitive race to win re-election, missed the precinct meetings because the Army Reserve officer had military duty, according to his campaign.
Democrat Erin Bilbray, who hopes to unseat Heck, spoke at several caucus meetings.
At the Painters Hall in Henderson, Bilbray slammed Heck, saying his record is anti-woman because he has voted against an equal pay bill, for example. She also criticized him for opposing Obamacare, which she said is helping the uninsured get coverage. Bilbray and her physician husband started the only free pediatric clinic in the Las Vegas Valley.
Bilbray's daughters made homemade campaign signs that were placed outside caucus sites, including one in Henderson that said, "Erin Bilbray for Congress. Moving Nevada Forward."
"We want to rally the troops," Bilbray said when asked why she was hitting several caucus sites. "It's really important that people are engaged and ready to go. I know most of them because I've been coming here for years."
Bilbray was a political consultant who founded Emerge Nevada, which trains and promotes female Democratic candidates. "It's turned into an old girls network," she said, noting at least two graduates were attending the Henderson caucus.
She recalled that she attended her first Democratic caucus meeting when she was 12 years old with her father, former U.S. Rep. James Bilbray. She urged him to support Gary Hart for president over Walter Mondale, she told the crowd.
"I never really thought I would run for political office," Bilbray said. But then she decided to run after seeing her friends "lose their jobs and lose their houses" during the recession, which she blamed on GOP policies that she said Heck supports. "So I just thought I had to come forward."
"I"m going to need you," Bilbray told caucus-goers, noting that the 3rd Congressional District is about 50-50 Democratic and Republican and her race is one of the top 10 in the country as far as competitiveness. "I need every single one of you."
The next step, after the local precinct meetings, is attending the county conventions and then state conventions.
The Clark County Democratic Convention is May 3 in Las Vegas. The state convention is June 21 in Reno.
The Clark County Republican Convention is March 29. The state GOP convention is April 12-13 in Las Vegas.
Contact reporter Laura Myers at lmyers@reviewjournal.com or 702-387-2919. Follow her on Twitter @lmyerslvrj.