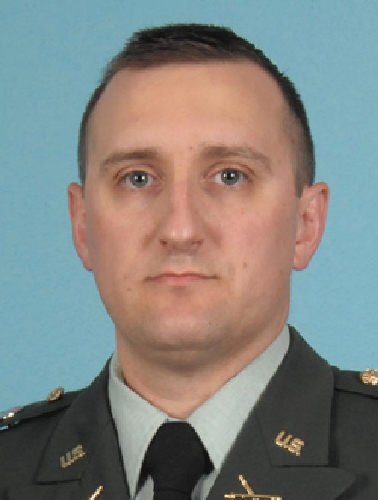 CARSON CITY — Men, women and children dived for cover as the gunman sprayed bullets across the restaurant, leaving a toddler in a high chair exposed.
That's how witnesses to Tuesday's shooting rampage described the scene inside the crowded IHOP restaurant where three Nevada National Guard soldiers and a California woman were killed by a mentally ill man wielding an assault rifle. Another seven people were wounded.
Civilian heroes were born in those moments, even as three military heroes died.
Kathy Chaney, 50, of Dayton was inside the restaurant with her two grandchildren, a toddler she was caring for, her parents and daughter-in-law when the shooting started. Everyone dived to the floor except the toddler. Chaney took quick action.
"She had to just knock her high chair over," said Chaney's mother, Ethlyn MacDonald, 78.
The family members credited a group of men meeting at another table with leading them to safety.
Kevin Carrick, 52, of Carson City urged them to crawl to safety out a back door while shots rang out.
"My brain would not comprehend the fact somebody would do this evil thing," Carrick said of the first few seconds after the gunman, 32-year-old Eduardo Sencion, rattled off about five rounds from a rifle that police said was a variant of an AK-47 assault weapon.
He said shots sprayed glass over the dining area and bullets hit the walls, with one bullet fragment landing harmlessly on his shoulder. Another landed on the table in front of them.
Carrick, a former Air Force paramedic, said he told the panicked family to get down and crawl to safety.
"I didn't freak out. I'm shocked," said Carrick, a cable company salesman who was meeting with business associates. "I stopped and I said, 'Get out.' "
He credited Larry Sowell, another man at the table, with opening the exit door.
Carrick said he regrets that he didn't have a weapon of his own. He plans to get one.
"I will never go anywhere else without it," he said.
During a Wednesday news conference in the same room where hours earlier authorities interviewed the witnesses, Carson City Sheriff Ken Furlong identified the dead and provided new details about the shooting about two miles south of Nevada's Capitol.
"This is unquestionably the most devastating attack on our community in Carson City history," Furlong said.
The victims included five members of the Nevada National Guard, three of whom were killed, and six civilians, one of whom died.
Killed were Sgt. 1st Class Christian David Riege, 38, of Carson City; Maj. Heath Kelly, 35, of Reno; Sgt. 1st Class Miranda McElhiney, 31, of Reno; and Florence Donovan-Gunderson, 67, of South Lake Tahoe, Calif.
Three people who suffered minor wounds have been released from Carson Tahoe Regional Medical Center. Four with more serious wounds remain hospitalized at Renown Medical Center in Reno. None of their names was released.
Furlong said that shortly before 9 a.m. Tuesday, Sencion, a local resident, arrived at the restaurant in a blue minivan and fired a number of shots, wounding one person.
He said Sencion, who was born in Mexico but who has been a U.S. citizen for "quite some time," then entered the restaurant and walked to the middle of the dining area. He began firing at patrons, striking 10 more people, including five members of the Army National Guard. The soldiers were having a breakfast meeting at a table in a back room of the restaurant.
Nevada Guard spokeswoman April Conway said the Joint Force Headquarters staff occasionally had breakfast meetings at the IHOP.
Sencion later went outside and turned the rifle on himself, dying two hours later at a hospital.
He had no prior criminal history. His family told authorities he had a history of mental illness, which Furlong said Tuesday night would have prohibited him from owning the two assault rifles and pistol he brought to the crime scene.
State and federal laws prohibit people who have been "adjudicated as mentally ill" or "committed to any mental facility" from owning or possessing firearms, according to the Nevada attorney general's office.
Joe Laub, the Sencion family attorney who represented Sencion in a 2009 bankruptcy case, said Sencion had been diagnosed in 2000 with some type of mental illness. He could not confirm a report it was schizophrenia.
Furlong said the sheriff's office has information that suggests Sencion had been previously committed to a mental institution.
Laub said he understood that Sencion had been taking medication for a mental disorder. He said he last saw Sencion about a year ago when he brought some family friends to his office seeking legal guidance.
"He did not show any violent tendency. He was very gentle and kind and very friendly and concerned about the well-being of his friends and family. It was quite an aberration of his personality to commit this very heinous crime," Laub said.
Sencion had a run-in with South Lake Tahoe police involving his mental health and was taken into custody but not charged, a police lieutenant told The Associated Press.
Laub said the family told him that Sencion made "zero comments about him being negative of the military."
"I don't believe he had any connection to the military or tried to join the military."
Furlong said investigators were checking whether he might have been rejected from enlisting in the military.
Witnesses reported Sencion said something before he started shooting, but authorities didn't say what.
"There were some statements uttered out," Furlong said. "Those witnesses that relayed that info to us. They were very severely traumatized by it.
"There were many acts of heroism from many persons," Furlong said.
Furlong ended Wednesday's news conference comparing the Carson City shooting to the upcoming 10th anniversary of the Sept. 11, 2001, terrorist attacks, saying "Carson City was not unlike 9/11."
"We are a resilient society," he said. "We rebuild. We don't forget. I hope we never forget.
"People suffered yesterday in much the same we did in 9/11. … The entire nation has been affected by what happened here. I hope we never forget about our veterans."
Brig. Gen. William Burks, commander of the Nevada National Guard, called the shooting devastating.
"In a few short hours we lost the same number of soldiers we lost in the entirety of operations Iraqi and Enduring Freedom," Burks said.
Conway, the Guard spokeswoman, said in the Guard family, "there is no difference" whether a citizen-soldier dies from violence at home or in a war zone.
"For us, a member of our family has passed away. The circumstances are immaterial."
Contact reporter Benjamin Spillman at bspillman@ reviewjournal.com or 702-229-6435. Contact Capital Bureau Chief Ed Vogel at evogel@reviewjournal.com or 775-687-3901. Contact reporter Keith Rogers at krogers@reviewjournal.com or 702-383-0308.
911 calls in IHOP shooting in Carson City
Warning: due to extreme nature of incident, content may be upsetting.
AC_FL_RunContent( 'type','application/x-shockwave-flash','data','https://www.reviewjournal.com/media/audio/mp3small','FlashVars','MFILE=https://www.reviewjournal.com/media/audio/ihop911_001.mp3&MSTART=no','width','135′,'height','30','movie','https://www.reviewjournal.com/media/audio/mp3small','classid','clsid: D27CDB6E-AE6D-11cf-96B8-444553540000′,'codebase','http://download.macromedia.com/pub/shockwave/cabs/flash/swflash.cab#version=8,0,0,0′ ); //end AC code
AC_FL_RunContent( 'type','application/x-shockwave-flash','data','https://www.reviewjournal.com/media/audio/mp3small','FlashVars','MFILE=https://www.reviewjournal.com/media/audio/ihop911_002.mp3&MSTART=no','width','135′,'height','30','movie','https://www.reviewjournal.com/media/audio/mp3small','classid','clsid: D27CDB6E-AE6D-11cf-96B8-444553540000′,'codebase','http://download.macromedia.com/pub/shockwave/cabs/flash/swflash.cab#version=8,0,0,0′ ); //end AC code