Disabled Air Force veteran helps spread the word in Boulder City
December 14, 2013 - 10:33 pm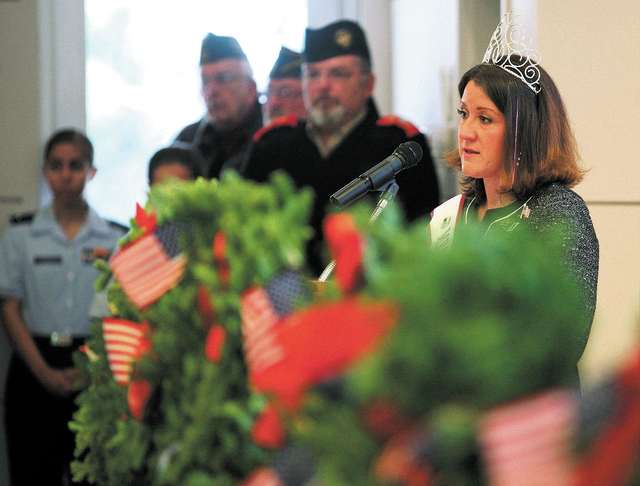 Pranava Moody is all too familiar with death.
During her 10 years with the Air Force, she helped military families deal with the loss of their loved ones who were serving their country.
The experience helping others brought fulfillment to her life, but came at a price.
Moody, the mother of four boys and wife to an Air Force sergeant, has PTSD, post-traumatic stress disorder.
She talked about her work with the military, her time supporting veterans and her disability at a Wreaths Across America ceremony at the Veterans Memorial Cemetery in Boulder City on Saturday.
When she stood at a lectern before the hundreds in attendance, the 36-year-old teared up before even saying a word.
"It's really important to look back and think about those who helped pave the road for our freedoms," Moody said, reflecting on her personal feelings and one of the goals of the wreaths program.
She served as a noncommissioned officer from 1996 to 2005. During her time in the service, she went to three continents and four states.
Moody, who worked at Andrews Air Force Base in Maryland, helped families plan the funerals for their loved ones.
"I felt like we were doing something for people who needed that rock," Moody said. "It was very much an honor just to be there for them."
In 2003, her first call as leader of the base's mortuary affairs unit came on Christmas. Master Sgt. Avery Malone had just died of a medical problem, and Moody was sent to his house to help his wife plan the funeral.
"I remember sitting in the kitchen with his wife as she picked out a casket," Moody said. "I remember his two kids were running around, and he wasn't there to see them open their presents from Santa."
Malone's wife asked Moody to carry her husband's urn at the funeral.
After leaving the military in 2005, Moody did her best as she returned to civilian life. Her husband, Scott Moody, has been in the Air Force for 21 years and is now a senior master sergeant.
After 10 years in the military, Moody said she was thankful for being able to help so many others.
"It's kind of weird," she said about re-adjusting to life as a civilian. "It does get lonely at times because there is a certain camaraderie in the military. But it's a nice comfort being able to provide for my husband because he works so hard."
Moody went to the Wreaths Across America ceremony in her native New Mexico last year. She knew right away she wanted to be involved.
"I asked if I could be a volunteer in the event here," she said. "Then they asked me if I wanted to be a speaker and I was completely overwhelmed. I feel really honored to be participating. It's something that's very dear to my heart."
Moody began having flashbacks in 2011 after she heard about the difficulties U.S. special operations forces faced when they killed Osama bin Laden and others in a secret mission in Pakistan, completing a years-long manhunt for the terrorist mastermind.
The crash of a U.S. helicopter during the mission brought on her flashbacks, even though there were no U.S. fatalities. This was several years after she left the Air Force.
"I started having flashbacks because I knew there was nothing I could do about it," she said.
Moody was diagnosed with PTSD in 2012.
She was named Mrs. Nevada Global Nations in September. She wanted to use the spotlight to bring awareness to the burdens that veterans are facing.
"I feel like if I'm given a title like this, then I'm obligated to show the world what's important to me," she said. "The title comes with responsibility and being able to help others."
Lt. Col. Victor Thomas, a Vietnam veteran, asked Moody to speak at Saturday's ceremony.
"Her family is the quintessential U.S. middle-class family," Thomas said. "The kind of America we would like everybody to be."
The ceremony had seven wreath presentations for each branch of the armed forces including the Army, Air Force, Navy, Marines, Coast Guard and Merchant Marine, as well as one for prisoners of war and those missing in action.
Three generations from each branch were presented wreaths to place on stands during the ceremony.
More 500,000 wreaths were placed on tombstones across the country during the national ceremony which began at noon Eastern time, according to organization spokeswoman Amber Caron.
Families of 783 veterans buried in the Boulder City cemetery placed the wreaths at their tombstones.
The circular shape of the wreath represents eternal life, the red ribbon on top represents death, and the green color of the wreath represents new life.
"As a veteran myself, I think this program is really important to Southern Nevada because it is the closest ceremony and closest veterans cemetery for us," Thomas said. "I think it's just important that the people of Nevada know about how many veterans are out there."
Review-Journal reporter Maria Agreda contributed to this report. Contact reporter Steven Slivka at sslivka@reviewjournal.com. Follow StevenSlivka on Twitter.