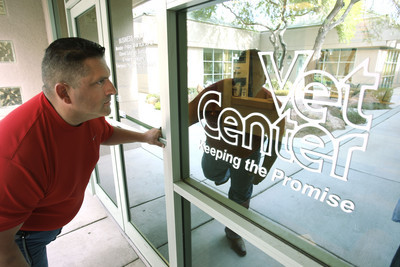 Joseph Perez, who suffered head, neck and leg injuries during a 2003 uprising at the Abu Ghraib prison in Baghdad, felt overwhelmed after his discharge from the Nevada National Guard's 72nd Military Police Company.
He knew he needed help when he began scouting locations for his own death.
"I found a spot in the desert where I was going to shoot myself," the 42-year-old Perez said. "I felt the military was throwing me away because I was broken."
Perez already had tried to kill himself by overdosing on hydrocodone pills and vodka.
That was three years ago, before a friend and fellow veteran urged Perez to visit a U.S. Department of Veterans Affairs clinic because he was showing symptoms of both a traumatic brain injury and post-traumatic stress disorder.
At first, Perez was reluctant to go.
"I had the same stigma as a lot of people about going to the VA, but it's just a way of talking the emotions out and coming up with new tools of how to deal with things," he said. "PTSD is not a sign of weakness."
His goal is to get others in his situation to go for treatment.
Perez said he is worried about the large number of National Guard and Reserve troops trying to resume civilian life, especially in rural areas where services are harder to find. He hopes a new VA hospital in North Las Vegas, due to open in 2011, will make it easier to get care.
Nearly 1,500 Nevada Army National Guard soldiers have mobilized since 2001 in support of the wars in Iraq and Afghanistan. More than a third are considered combat veterans.
As part-time soldiers, National Guard members and reservists have to adapt back to civilian life after deployment more quickly than active-duty personnel.
Perez, who the VA has classified as totally disabled, said that adjustment was painful for him.
He returned home to his wife and three daughters in rural Logandale, about 60 miles northeast of Las Vegas, to find his body, mind and sense of place had changed.
Now he goes to the Las Vegas Vet Center at 1919 S. Jones Blvd. once a week for individual and group counseling. Most other veterans in his sessions served in the Vietnam War.
"It makes me a better man for the rest of the week," he said.
Perez is involved with the Wounded Warrior Project, a group that sponsors events for injured veterans, some of whom are confined to military hospitals.
"That really helps with the mental health stuff, too," he said. "You can mix and mingle with other vets who have problems similar to yours. You can share ideas about things."
Contact reporter Alan Maimon at amaimon @reviewjournal.com or 702-383-0404.
ON THE WEB
Online interactive