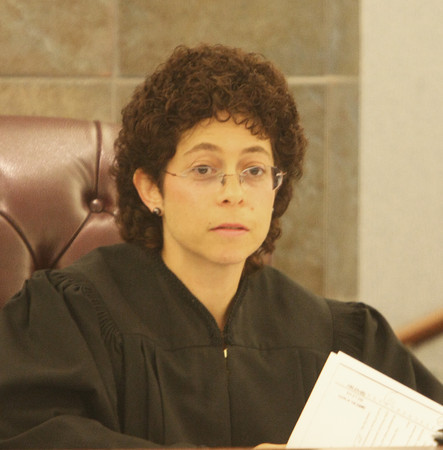 In a rare move, Clark County District Attorney David Roger went before a judge Wednesday to ask that a new jury decide the fate of a convicted killer.
Roger asked District Judge Elissa Cadish not to sentence 29-year-old convicted killer Eugene Nunnery to life in prison. Instead, he asked that she impanel a new jury to decide whether he should live or die.
"This is a three-time killer who has absolutely no remorse," Roger said. "From our standpoint, a jury should make this decision. They are the voice of the community."
A jury deadlocked Monday while trying to decide whether to give Nunnery the death penalty. Cadish allowed the jury to go home and indicated her intention to sentence Nunnery to life in prison without the possibility for release.
Roger said the judge's decision to sentence Nunnery herself could influence death penalty cases in the future.
"If we give this person who killed three people and shot at 11 people a pass, and that's exactly what we're doing here today, then what's the standard?" Roger said.
Cadish shot down Roger's request and sentenced Nunnery to spend life in prison without the possibility of parole.
"As a judge, I'm here to follow the law. I'm not here to make any political statements," she said.
A jury on July 20 convicted Nunnery of first-degree murder with a deadly weapon and other charges. He was on trial in the killing Raphael Alfred, 24, a drug dealer who authorities said shortchanged Nunnery in a $50 marijuana deal.
Nunnery also was being tried for trying to execute a 14-year-old pregnant witness to the slaying and for shooting another man during the 2006 incident.
Under a 2003 Nevada law, a judge can sentence a defendant in a capital case if the jury is deadlocked. But the judge cannot impose the death penalty. The judge also can impanel a new jury.
Cadish is the only judge under the law to sentence a defendant in a capital case after a jury couldn't reach a decision, prosecutors said. In all other cases, judges had new juries choose the punishment.
Nunnery's attorney, Special Public Defender David Schieck, asked Cadish to sentence Nunnery.
The Legislature, he said, allows judges to sentence defendants to life in prison in such cases. He said the jury listened to the evidence and knew Nunnery's full criminal history.
"The state could not convince a jury of 12 members that Mr. Nunnery deserved death in this case," he said.
Assistant Special Public Defender Randy Pike estimated the cost of a new penalty phase could run $100,000 to $200,000, but prosecutors disputed that.
It is not uncommon for a jury to deadlock in death penalty cases.
A jury deadlocked in the high-profile trial of Beau Maestas, who was tried for stabbing to death a 3-year-old girl and wounding her sister, who was left a paraplegic. A second jury later sentenced Maestas to death.
In another high-profile case, jurors couldn't agree on whether James Harrison should be put to death after they convicted him of killing a Las Vegas driving instructor and carving a swastika in his back. A new jury is set to decide his fate in October.
Authorities said Nunnery and several other men targeted Hispanic laborers and others in a series of robberies, burglaries and home invasions in the Las Vegas Valley that left three people dead.
In all, authorities said, Nunnery killed or tried to kill 11 people.
Last year, a jury convicted Nunnery of murder and sentenced him to death in the Sept. 22, 2006, slaying of Saul Nunez Suastegui. Nunnery shot and killed Suastegui, 29, in a robbery that netted him and his co-defendants $3.
Nunnery is facing a third death penalty murder trial in 2010 for the Sept. 15, 2006, slaying of Antonio Perez Martinez, 42.
Authorities said Nunnery executed Martinez during a robbery in front of a business on Eastern Avenue near Bonanza Road.
Contact reporter David Kihara at dkihara@reviewjournal.com or 702-380-1039.