Dreams and fantasy leave nothing taboo
August 18, 2008 - 9:00 pm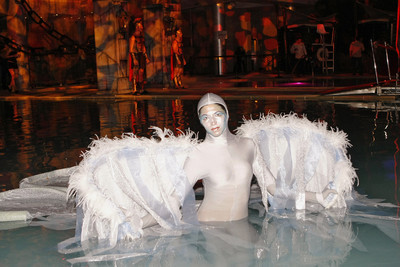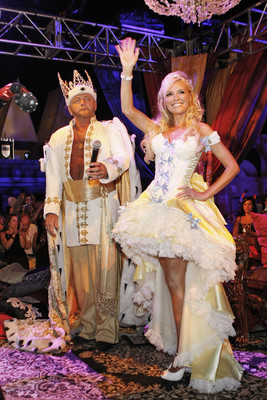 It was a Playboy party, and like all Playboy parties, women wore see-through lingerie. They tiptoed in high-heeled sandals, making their thighs and things jolt like pistons of flesh everywhere you looked.
This party at the Palms pool on Saturday night was a Renaissance costume affair. So it was that 13 men in priest costumes paid $7,000 to rent a cabana, to stand out and get these women's attention.
"Do you know where we can find little boys?" one of the "priests" asked, staying in character, then he motioned toward a bar of cocktails in his cabana. "The confessional is this way."
If this party was a confessional, the confession was that people take joy in shedding reality for fantasy. Whoever they are at 10 a.m. on Monday is not the person they want to be when given the chance.
While that theory was being bandied around in the presence of the "priests," an unusually dressed-up woman wondered aloud if many of these barely covered women suffered low self-esteem.
"I would say that's relatively true," answered one "priest," Roman Sibel (a Las Vegas surgeon). But then he played devil's advocate to contradict himself.
"There's a certain amount of female empowerment, to run around naked," Sibel said. "If they all have low self-esteem, every man would be able to pick them up," Sibel said, and clearly all the hard-body women were not getting picked up.
In fact, some guys were hopeless sad sacks. A dude with an elephant mask on top of his head lamely walked around asking women: "Does anyone here want to dance? Anyone?"
But a savvier New York "priest" in Sibel's cabana chimed in on the issue of female confidence:
"Do the girls here have low self-esteem? Some, probably. Do I care? No," the New Yorker said and added a self-mocking line he wished to bestow upon such women: "I tell ya what. Let me make you feel better. For a night."
As Vegas parties go, this Midsummer Night's Dream was expensive ($150 a ticket) and extravagant (a walk-through "castle" was built atop the pool).
And it provided equal opportunity ogling: In a rare party twist, women said there were just as many hot men as hot women. Yet no one wondered aloud if the men, especially the shirtless variety, suffered low self-esteem.
"There are definitely a lot of attractive men," said Danielle White, a tourist from Dallas who was impressed that many men came in Renaissance masks and costumes.
"This is a little — not androgynous — but more creative than a 'Pimp 'n Ho' party," she said.
White stood in an ornate angel costume featuring handmade wings, which she had professionally crafted for her. She was an exception: All her enticing bits were covered. So were her husband's, Chris.
"It's a good reason to get my wife to wear lingerie to a club," he joked.
But for the Whites, there was more to this party than stripping down. They flew in from Dallas for their first real getaway in five years, since the birth of the first of two kids. Danielle White marveled at the freedom she is not accustomed to.
"It's crazy to see everyone's inhibitions go 'whoooop,'" she said.
To make this party happen took months of preparation and cost $350,000. Different vendors were brought in to construct the walk-through "castle" atop the pool and to outfit 100 paid characters costumed as ladies of the lake, jesters and royals.
Costumes cost as much as $1,000 to design by hand, said Michelle Ferraro, co-owner of the local event company that created them, The Red Agency.
There were contortionists and fire breathers. It was so visually intoxicating for some people, a handful of men talked their girlfriends into simulating a sex act with the party's "forest thieves," dudes dressed like shrubs. These men took photos of their happy girlfriends "pleasing" the forest thieves.
Others took what they could get from an occasional low-level star sighting of Ian Ziering of "Beverly Hills, 90210."
"I dig on celebrity," said Steve Lawrenz of Fort Myers, Fla.
Somewhat unimpressed with the red carpet, Lawrenz and his wife, Marla (she was a princess, he was a ruffled-shirt guy), snuck onto the red carpet, pretending to be worthy, and paparazzi snapped their photos.
"We're attention hogs," Steve Lawrenz said. "Everybody says you get your 15 minutes of fame. We're taking ours four seconds at a time."
The queen of the night was Hugh Hefner girlfriend Bridget Marquardt. She was dressed in a princess gown, although I pointed out she was wearing a wristwatch, an anachronism at a Renaissance party.
"True," the queen said, "but I like to know what time it is."
Saturday wasn't just Renaissance night at the Palms. At the Las Vegas Hilton, women were dressed as princesses and other fantasy characters for Fan Faire, where Sony once again drew 1,800 PC video gamers.
While PBS' "Frontline" filmed them, gamers talked to game designers, played scavenger hunts, attended seminars and, of course, hooked up romantically.
The mix at Fan Faire was about 30 percent women. They made their presence felt with big game brains and personalities to match. An insider told me, "These women are not very prude," and said convincingly that men gamers were chatting them back to their rooms.
"They can speak to each other, because they share the same language" about leveling-up characters and such, the insider said.
Just like at the Playboy party, Fan Faire was adorned with women who covered themselves in body paint and let their bosoms heave forth, and they turned what could have been just another Saturday night into a metamorphosis of fantasy living.
A barely-clothed "dark elf" from Massachusetts who identified herself to me only as Lilith from the online game "Everquest" was top-to-bottom in blue paint. Gamers who saw her without paint Friday night didn't recognize her in costume Saturday night.
"I look a little different when I'm not blue," Lilith said.
Fan Faire was dreamy, she said. "We meet other players. We talk about 'Everquest' and its awesomeness!" Lilith said. "I've been playing 'Everquest' for seven years — the best seven years of my life."
As a dark elf (who poses in lingerie on her Web site, LilithAstaroth.com), she gives away game "money" to new players because this is "rewarding," and when other characters threaten her, she burns them to a crisp with supernatural fire talents. This is enriching.
"Sure, it's cool to go on and play a game by yourself or whatever. But the thing that really keeps you there is other people," she said. "Plus, I mean, the content is just awesome. … You're fighting huge dragons. What is not to love about that? When you're not fighting huge dragons, you're off running around in gigantic mushroom kingdoms, and stuff like that."
And then Lilith explained the appeal of ditching reality for fantasy, in a soliloquy that could represent the aspirations of people attending not just Fan Faire but the Playboy party and anything else that's otherworldly.
"You become your character," Lilith said. "I have become my character. You can do things you have never done in real life before, like you gain powers. All of a sudden, you have magical abilities. You're awesome. The virtual you is awesome."
The "virtual you" is the "real you" in a way, whether you're an angel with wings or a blue dark elf. That may seem obvious, but the next time you think these characters suffer low self-esteem, think again.
Doug Elfman's column appears on Mondays, Tuesdays and Fridays. Contact him at 383-0391 or e-mail him at delfman@reviewjournal.com. He also blogs at reviewjournal.com/elfman.