Drought-stricken Lake Mead falls to a level not seen since 1937
October 18, 2010 - 11:00 pm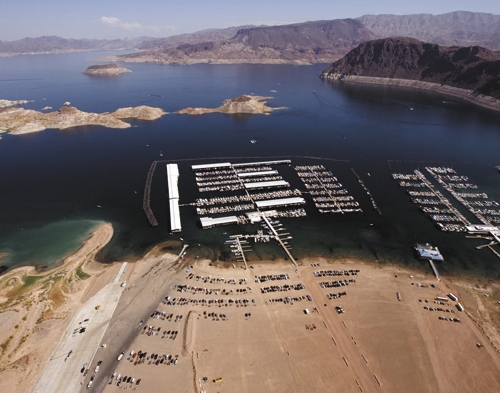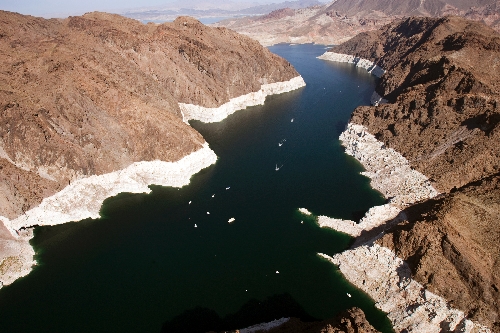 Oddly, the drought's latest milestone arrived on a rainy day.
Just before noon Sunday, as thunderstorms closed in on the area, the surface of Lake Mead slipped three one-hundredths of an inch to a new low not seen for a lifetime.
The reservoir on the Colorado River hasn't been down this far since 1937, when it was being filled for the first time behind the newly completed Hoover Dam.
Since drought took hold on the Colorado and its tributaries in 1999, the surface of Lake Mead has plunged almost 130 feet and caused fits for the National Park Service and its marina operators who must extend roads, utilities and other services to reach the shrinking shoreline.
The lake's decline poses major problems for the Southern Nevada Water Authority, which draws 90 percent of the Las Vegas Valley's drinking water from intake pipes that will start to shut down should the lake fall another 33 feet.
"I'm worried," authority General Manager Pat Mulroy said. "We're trying everything we can to keep as much water in Mead as we can."
The prognosis looks bleak. Mulroy said federal climate forecasters are predicting abnormally dry conditions during the next two winters in the mountains that feed the Colorado.
If the lake drops another 8 feet, federal officials will declare a shortage on the river, an unprecedented move that would cut Nevada's river share by about 6 percent.
The best Colorado River users can hope for at this point, Mulroy said, is to push that shortage declaration off for a year or two "and then hope the hydrology turns around."
The previous low-water mark for Mead came 54 years ago, on April 26, 1956, when the drought-stricken lake bottomed out at 1,083.19 feet above sea level.
According to the Bureau of Reclamation, the lake hit elevation 1,083.18 between 11 a.m. and noon Sunday and continued to fall. By Monday afternoon, it sank below elevation 1,083 as water was released through Hoover Dam to meet orders downstream from cities and farms in California and Arizona.
Projections by the U.S. Bureau of Reclamation call for Lake Mead to reach a low point of 1,082.1 on Nov. 2. Then it is expected to rise by about 8 feet through the end of February before starting back down again.
Water forecasters expect the lake to hit another record low by May and shrink below elevation 1,077 by September.
Two things will happen at elevation 1,075: The federal government will declare the first-ever shortage on the river, and the Southern Nevada Water Authority board will vote on whether to build a controversial pipeline to tap groundwater across eastern Nevada.
Mulroy said the multibillion-dollar pipeline project would serve as a backup supply for the community, separate from the Colorado River.
The vote on whether to build it will come down to a simple choice, she said: "How much risk do you want to put yourselves in? What's your carrying capacity for risk?"
As for its intake pipes at Lake Mead, the authority is rushing to complete a third straw, at a cost of about $700 million, that will draw water from deeper in the reservoir.
A construction mishap in July delayed the project, but Mulroy said the community will have enough water to last it until the third intake goes online in time for peak summer demand in 2014.
The shrinking reservoir has left boat ramps high and dry and pushed marinas into deeper water.
A decade ago, Lake Mead was home to nine boat launch ramps and six marinas. Five ramps and four marinas remain open today.
"For us, it's business as usual. We've been dealing with low water for 10 years," said Andrew Muñoz, spokesman for Lake Mead National Recreation Area.
The big concern is paying for the work, which has totaled about $36 million since 2000.
Muñoz said the park service funded some of the low-water improvements with proceeds from the sale of federal land in the Las Vegas Valley, but that pot has all but dried up.
Chasing the water also proves costly for marina operators.
Gail Gripentog-Kaiser is manager and part-owner of Las Vegas Boat Harbor. Her family got into the marina business at Lake Mead in 1957, back when the water was "on its way back up" from its previous record low, she said.
Moving a marina into deeper water involves relocating as many as 250 concrete anchors, each weighing more than a ton. Then there is the extension of utility lines that carry water, fuel and electricity downhill and sewage back up. "That's a big expense," Gripentog-Kaiser said.
Callville Bay Resort and Marina was preparing for its next move when an Oct. 4 flash flood caused more than $1 million in damage to the operation.
Boaters still can't refuel at the marina, but all other services have been restored. The facility's private operators are moving the marina another 150 feet out from shore to stay ahead of the falling water level.
"It's the marina business, and I've been in it a long time," said Callville Bay General Manager Kim Roundtree, who has worked at Lake Mead since 1981. "You go with the flow."
Even at its lowest level since it was first filled, Lake Mead remains the largest man-made reservoir in the United States.
The falling water level has caused some problems with access, but it has also unveiled new coves and pristine beaches that used to be underwater, Roundtree said.
"It's a new adventure," Gripentog-Kaiser said of the changing lake. "There's still plenty of space to go re-create for everybody. Once you're out on the water, it's fantastic."
Contact reporter Henry Brean at hbrean@reviewjournal.com or 702-383-0350.