Education leaders address black student success
October 28, 2013 - 10:49 pm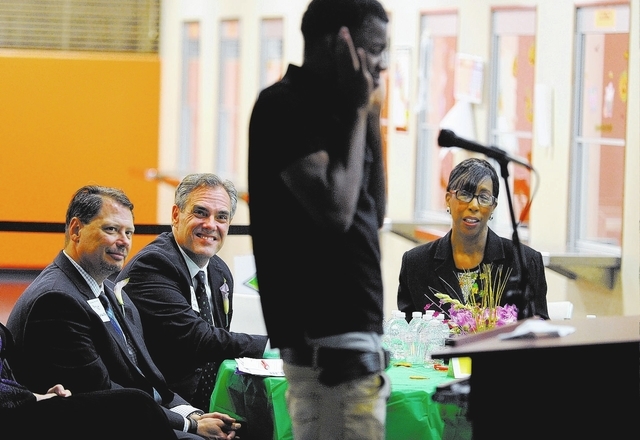 Questions inevitably turned to school security when the state's two most powerful education officials appeared together in Las Vegas on Monday, exactly one week after the Sparks Middle School shooting.
State Superintendent of Public Schools Dale Erquiaga pointed to the need for counseling to identify and help troubled students, such as 12-year-old Jose Reyes, who shot and killed a teacher, injured two other students and then killed himself.
"We want to know what happened to that 12-year-old boy," Erquiaga said at the Clark County Black Caucus' sixth annual Education Forum.
Erquiaga and Clark County School District Superintendent Pat Skorkowsky were at the Andre Agassi College Preparatory Academy to discuss the education of Nevada's least academically successful student demographic — blacks — and that is where the spotlight stayed.
Neither official addressed the elephant in the room: the investigation into testing irregularities at Kelly Elementary School, less than a block away at Lake Mead and Martin Luther King boulevards.
Nevada posts an unimpressive graduation rate of 63 percent for all students, but black students do the worst statewide and in the Clark County School District with a 48 percent graduation rate. Hispanics do a little better, with 54 percent graduating, according to the Nevada Department of Education.
In Clark County, black students are concentrated largely in central Las Vegas and its Prime Six schools, which have high black populations and poverty. Each receives $400,000 more a year than other district schools.
"We've seen amazing successes in Prime Six schools," said Skorkowsky, who didn't once address the issue with Kelly.
The elementary school is under state investigation for statistically improbable test scores, which prompted the state to subpoena seven district employees late last week.
Not even a quarter of Kelly Elementary School's fifth-graders read at grade level in the 2010-11 school year.
A year later, that more than tripled to 77 percent, according to state test results that spurred more questions than congratulations for the school.
In previous years, Kelly logged statistically questionable scores not just on the reading test in fifth grade but also on the state's reading and math tests taken annually by third- and fourth-graders. They all jumped.
After the forum, members of the small audience questioned Erquiaga about the investigation being done by the Nevada Department of Education, which he oversees, and the Nevada attorney general's office. He wouldn't give details but said it's an administrative investigation "at this point," not criminal.
Erquiaga offered no timeline for the investigation's end but said that if wrong-doing is found, the state can revoke licenses or take other corrective actions.
"We'll do this as quickly as we can and do it right," he said.
Contact reporter Trevon Milliard at tmilliard@reviewjournal.com or 702-383-0279.