9 of 21 Clark County schools tabbed for possible charter takeover
November 15, 2016 - 5:24 pm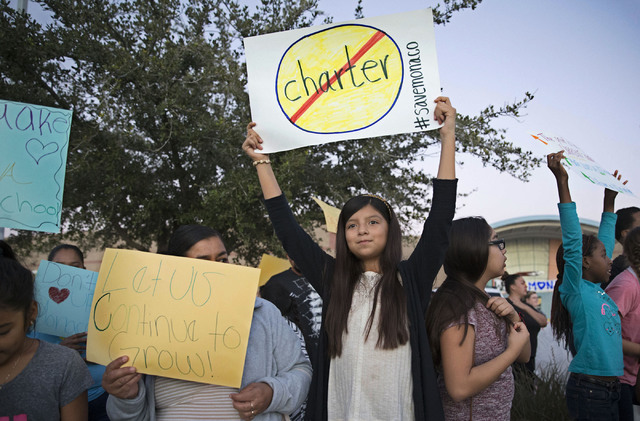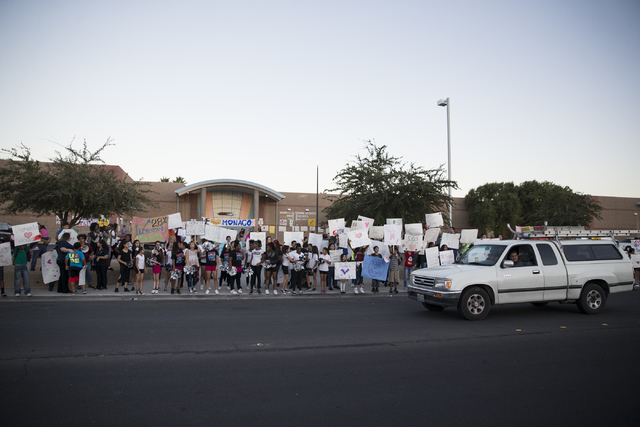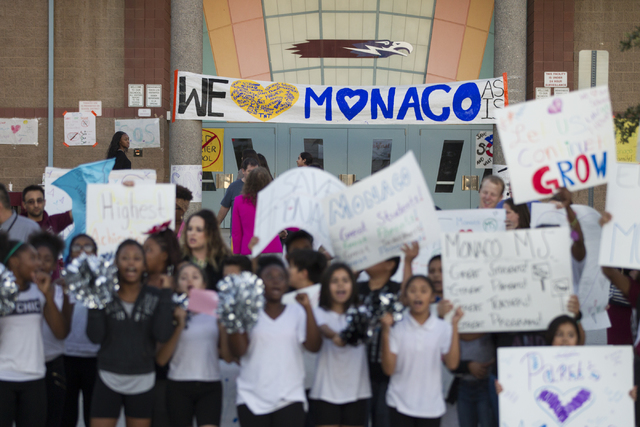 Nine Clark County schools were recommended Tuesday for the controversial new Achievement School District, which will pair underperforming schools with charter operators by next year.
Five middle and four elementary schools were included on the list. They are:
Brinley Middle School
Cambeiro Elementary
Craig Elementary
Jerome Mack Middle School
Von Tobel Middle School
Orr Middle School
Bailey Middle School
Fitzgerald Elementary
Kelly Elementary
Achievement district staff recommended the schools for consideration to the State Department of Education, eliminating the 12 other Clark County schools that were eligible for conversion in 2017.
Within 30 days, the State Board of Education will approve at least half of these schools. Achievement staff will then select a maximum of six to become Achievement schools.
Another nine schools — including West Prep Academy's Middle School — will have the option to enter a memorandum of understanding that will outline improvement efforts.
Those efforts will focus on reaching a rating of three stars, which would take the schools out of consideration for the special district.
The newest list means that the first achievement schools will be entirely in Clark County, representing 26 percent of the 34 eligible schools this year.
"These are the schools most in need of assistance," Steve Canavero, state superintendent of public instruction, said in a statement. "With today's submission to the State Board of Education we are one step closer to providing families with children in these struggling schools access to a great education."
Eligible schools were either in the bottom 5 percent of elementary and middle schools or had a graduation rate below 60 percent.
The latest recommendations stem from a complex selection process that graded those schools on a number of indicators.
Those included proficiency, growth and equity among different student groups. The grading also took into account parent surveys for some zip codes, conducted by Opportunity 180 or the achievement district.
The selection process focused on schools that consistently stayed in the bottom percentile of those areas or fell even lower in recent years.
The nine schools named Tuesday were in the bottom 5 percent based on the latest 2016 Smarter Balanced test results.
In math, proficiency levels ranged from just 7.5 percent to 16.8 percent. In reading, those levels ran from 14.2 to 23.7 percent.
All schools except for Brinley Middle fell into the lowest Tier 1 for proficiency in test scores, meaning they have consistently been in the bottom 10th percentile or have gotten worse.
The recommended schools also fell in the lowest Tier 1 in average growth percentile, which tracks the percentage of students who are on track to reach proficiency within three years.
The schools have a growth percentile below 35 in at least one subject, and have either consistently fallen below that number or dropped even further.
The achievement district has experienced considerable push-back in Clark County, where school board trustees, parents, teachers and students have rallied against charter takeovers.
Educators have argued that it's unfair to grade the schools based on the first time students took the Smarter Balanced test.
Trustees have also expressed a number of concerns with the new district, arguing partly that there is no research to prove that charter conversion will improve educational outcomes.
Contact Amelia Pak-Harvey 702-383-4630 or apak-harvey@reviewjournal.com. Follow @AmeliaPakHarvey on Twitter.
RELATED
Nevada charter school applicants come with common goals and some controversies
21 CCSD schools eligible to be converted into charter schools through new initiative