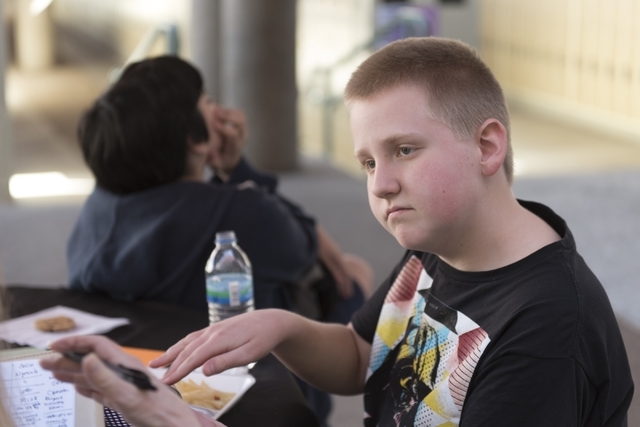 Remember junior high and the awkwardness of making new friends?
At Becker Middle School, Feb. 12 was No One Eats Alone Day, which was touted as a chance to help end social isolation among youths.
The school, 9151 Pinewood Hills Drive, held a special celebration during lunch time. Jaclyn Ayala, one of the deans at Becker, was the person behind incorporating the initiative there. It is adapted on a school-by-school basis.
"We observe the kids sticking with their own friends but not venturing out to seek others," she said. "The goal today is to see if we can include all the kids, not just the ones you know. Social isolation is something we view in junior high and everywhere. It can be a precursor to bullying. Any kid who is by himself — lonely, excluded — normally those kids are the ones we see in the office (because) they've been bullied."
She said by offering the chance to make new friends, she hoped the students would embrace the concept all year long.
Inside the school's cafeteria, high-energy music was pumped through the sound system and brightly colored balloon bouquets were anchored to the tables. The fun-time atmosphere was forwarded by the chance to have one's picture taken with new acquaintances.
Most of the students at the photo booth appeared to already know one another.
Outside the cafeteria, a handful of picnic tables sprouted more helium-filled balloons. Each table had cards with suggestions for starting a conversation: If you were an animal, what animal would you want to be and why? If you had one wish, what would it be? If you could live in another country, which would you choose and why? If you could eat only one food for the rest of your life, what food would you choose?
None of the students at the tables seemed to notice the cards or the questions they suggested. They were too busy eating lunch to talk to one another. School staff members had assigned them to sit outside at the tables on this day.
Stefany Arteaga, 12, said she always sat in the same place to eat lunch and would have a hard time approaching a student she didn't know.
"I don't really talk very much because I'm shy," she said.
Danica Drias, 11, said she was open to meeting people and thought the event might help others open up.
"I enjoy it," she said of the festive atmosphere. "… I think it's good for kids who are really shy."
Likewise, Colin Wyrsch, 11, said if he tried to sit somewhere other than his usual spot, he doubted any other students would take issue with it.
"I think they'd let me (join) their table," he said. "But I'm not going to try it."
Before long, the students were streaming out of the cafeteria to head to their next class — their food eaten, their bathroom breaks done and, presumably, photos taken to secure their place as new friends on campus.
Principal Amy Smith said social shyness among Becker students was nothing that overly concerned her, but "we've got a big, huge push this year for social and emotional learning. We give mini sessions twice a month. … So, we have a lot of lessons we do as a school. I don't see us having a major issue of kids who are extra lonely. This seemed like a fun initiative, so I said, 'Let's run with it.' "
Visit nooneeatsalone.org.
To reach Summerlin Area View reporter Jan Hogan, email jhogan@viewnews.com or call 702-387-2949.