CCSD's initial graduation rate claims proven inaccurate
April 11, 2013 - 12:07 pm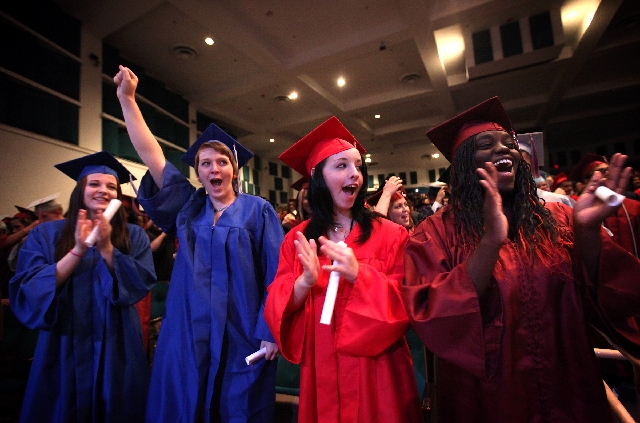 It was cause for celebration when Clark County School District officials claimed that its graduation rate jumped to
66 percent last summer.
Every high school improved, bragged then Deputy Superintendent of Instruction Pedro Martinez.
But the touted rise in students earning diplomas was inaccurate, according to information released this week by the Nevada Department of Education.
The district's 2011-12 graduation rate stands at 61 percent, a 2 percentage point gain over the previous year, not the 7 percentage point stride repeatedly held up as a sign of progress by district officials, including former Superintendent Dwight Jones, who abruptly resigned in March for personal reasons.
When asked Wednesday about the inaccurate portrayal of the graduation rate, interim Superintendent Pat Skorkowsky said, "Our graduation rate is no longer about a number — it's about individual students."
Clark County graduated 652 more students in 2012 than it did in 2011, Skorkowsky continued, and that gives them a "brighter future."
The claim of across-the-board graduation rate improvements at the district's 49 high schools — made in June by Martinez who is now superintendent of Washoe County schools — is also wrong, the district conceded Wednesday. Clark County School Board member Lorraine Alderman was stunned by the inaccuracies.
"I know I saw a difference," she said of last school year, taken aback at finding the gains were only marginal after significant resources were invested in pushing more graduates onto the stage.
In 2011-12, Jones and Martinez ordered high school principals to provide one-on-one attention and individual recovery plans for half of 20,000 failing district seniors. The district then spent $1 million on placing at-risk seniors in intensive summer courses in a last-ditch effort to have them graduate in August, the first time the district held a such a commencement.
"If we hadn't intervened, the graduation rate would've been worse," Martinez said Wednesday.
The inflated graduation rate wasn't intentional but the result of a miscalculation that happened because the high number of dropouts for the class of 2012 over a four-year period wasn't factored in.
Added Skorkowsky: "We are encouraged by the small gains in the overall graduation rate."
Although the Las Vegas Review-Journal repeatedly has requested graduation rate details of the district since its claims of improvements last year, the information ultimately was made public by the state, which requires districts to report graduation rates for verification by January.
The district won't be as quick to claim such improvements in the future, said spokeswoman Amanda Fulkerson, noting that the district had "hoped for" a higher graduation rate.
"The district will now only be providing finalized graduation numbers verified by the Nevada Department of Education," Fulkerson said Wednesday. That's being done to ensure "accurate information to the public."
The graduation rate is calculated under a relatively new system that was federally mandated for all states two school years ago. It individually tracks every student throughout high school and calculates the percentage of freshmen who graduate four years later. So, any student who drops out at any time affects the graduation rate.
The state also calculates the graduation rate for those earning diplomas in five years or less, which in 2012 increased the rate by 10 percentage points or more for some districts, such as Eureka and Nye counties.
But Clark County's fifth-year graduation rate for 2012 remained stagnant at 61 percent.
"Part of me isn't surprised," said Alderman, recalling her days as a district principal waiting for her school's results. "It always seems to come out disappointing."
It isn't the first time information from the state has shown Clark County student or school gains to be more modest than district officials had claimed.
The district in 2010 began the development of a 100-point system for assessing schools and awarded passing grades to three-fourths of its 328 schools. That furrowed the brows of national experts because Nevada ranks last in education largely because of Clark County, the nation's fifth-largest school system, according to the annual Kids Count report, which looks at progress across the states.
However, the state — which will implement a new system this summer for grading schools — won't be using the standards approved by the district. State officials have criticized the district's now-defunct star rating system for underemphasizing proficiency and giving too much weight to student improvement.
That is expected to push Clark County schools' ratings down. To avoid confusion, the district recently abandoned its fledgling, costly system developed by Jones shortly after rolling it out.
Contact reporter Trevon Milliard at tmilliard@review
journal.com or 702-383-0279.