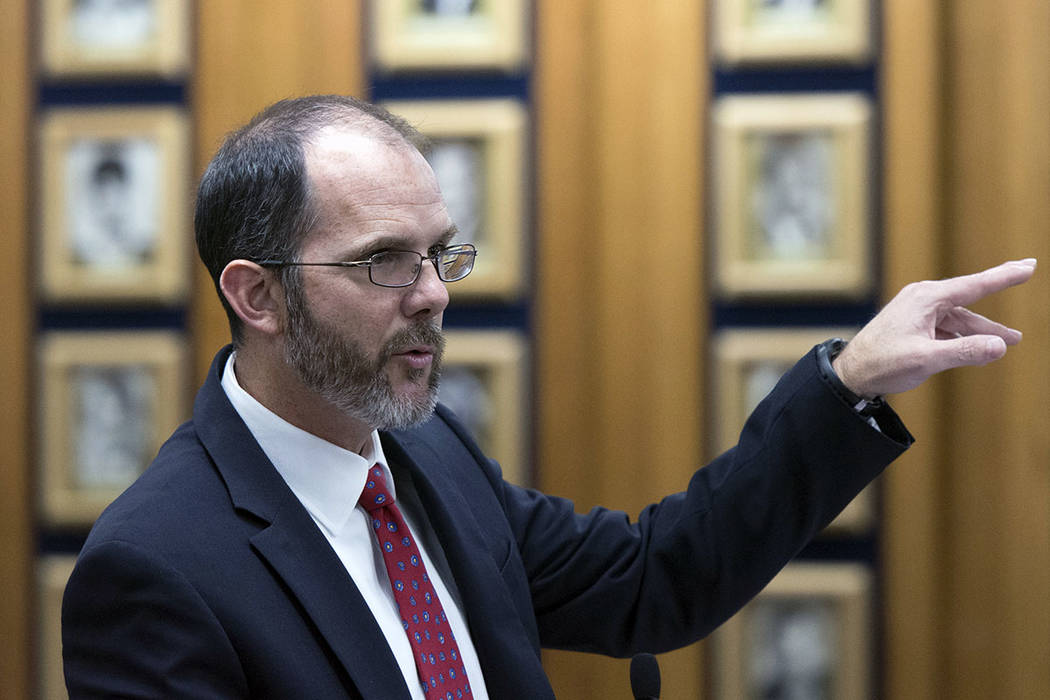 The state of Nevada is delivering an extra $34.2 million to help poor students in Clark County or those learning English stay on track academically.
The amount of funding was announced during the state Board of Education meeting Thursday. To the dismay of some school districts, Clark County students will be the beneficiaries of all but $1.8 million of the $36 million allocated by the Legislature this session.
The money can be used by schools on programs and services specifically targeting two categories of students determined to be in need of more help to perform on the same level as their peers. That type of funding is known as a weighted-funding formula.
The money will benefit 30,000 students statewide who meet three criteria:
■ They score in the bottom 25 percent on state standardized tests.
■ They qualify for free or reduced lunch under federal guidelines or are defined as English language learners.
■ They attend a school that is not already receiving Victory or Zoom funds for underperforming schools.
"This is a big transition for us," state Superintendent Steve Canavero said of the funding boost. "We made three or four steps forward."
The money, which works out to $1,200 per student, will cover all qualifying students in the lowest two tiers on the state's five-level school performance scale and some in the third.
A previous law created a "weight" — or funding boost — for special education students. The state has not yet fully funded that, but this law was seen as a step toward that goal.
Clark County officials were anxious to put the funds to work.
"This means a lot. Clearly, we're excited," said Nicole Rourke, the district's associate superintendent for community and government relations. "This means we can do more for our students."
Rourke said it was too early to offer specifics on how the money will be used, but she said a number of schools got enough funding to implement literacy centers if they wanted to.
While Clark County was happy with the funding, some districts weren't sure the money they received will translate into tangible results, and other districts received no additional money. Washoe County School District officials said the $382,000 they're receiving is less than they were expecting.
Schools should expect to receive the money by July 15, Canavero said.
After Clark County, the State Public Charter School Authority, a governing body for state-sponsored charter schools, is receiving the second-highest amount: $958,800.
The Lincoln County School District will bring in $3,600 to serve three students identified under the formula, the smallest amount allocated.
Contact Meghin Delaney at 702-383-0281 or mdelaney@reviewjournal.com. Follow @MeghinDelaney on Twitter.
Money uses
Senate Bill 178 spelled out different ways districts and schools can use the $1,200 per student to help children in poverty or who are learning English. Here are some of them:
Summer academy
Before- or after-school program
Extended school day
Literacy center
New staff to provide academic intervention
Professional development for teachers
Source: Senate Bill 178
Who got what
A look at how much money districts are slated to receive next week under the new weighted-funding formula:
Carson City School District: $40,800
Churchill County School District: $24,000
Clark County School District: $34,178,400
Humboldt County School District: $118,800
Lincoln County School District: $3,600
Lyon County School District: $8,400
Mineral County School District: $19,200
Nye County School District: $216,000
State Public Charter School Authority: $958,800
Washoe County School District: $382,800
White Pine County School District: $36,000